Alabama Women's Basketball Can't Overcome 27-Point Deficit, Falls 75-63 to No. 7 South Carolina
Jordan Lewis and Ariyah Copeland combined for 42 points but couldn't overcome an early 27-point deficit versus the Gamecocks in the quarterfinals of the SEC tournament
GREENVILLE, S.C. – Alabama outscored No. 7 South Carolina in three of the four quarters but couldn't overcome the early deficit, falling 75-63 in the quarterfinals of the 2021 Southeastern Conference Tournament Friday at Bon Secours Wellness Arena.
Jordan Lewis led all scorers with 25 points, including a 9-for-10 effort from the free throw line, and added six rebounds and four assists. She was joined in double figures by Ariyah Copeland, who had 17 points to go along with seven rebounds and two blocks.
For the game, the Crimson Tide shot 41.5 percent from the floor and 86.7 percent from the free throw line. Alabama was outrebounded by the Gamecocks, 36-29.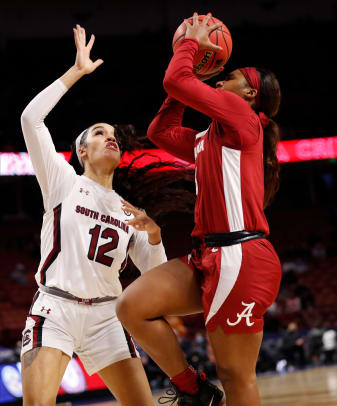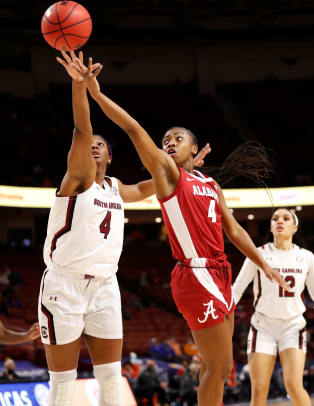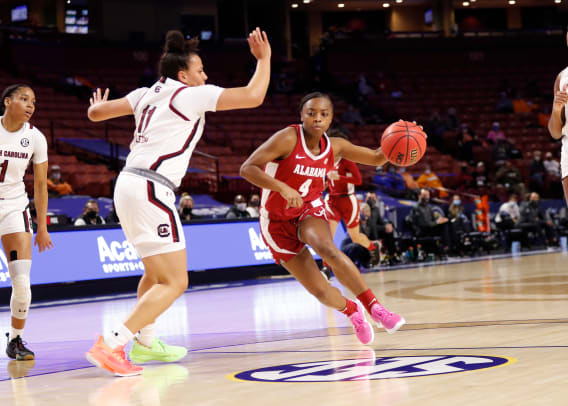 How It Happened
· Early turnovers set Alabama back early and allowed South Carolina to score 12 unanswered before the Tide got its first basket of the game at the 5:09 mark.
· The Gamecocks would extend their lead out to 20 by quarter's end, 26-6.
· South Carolina took a 27-point advantage midway through the second, however the Tide would close out the frame on a 14-3 run to set the halftime score at 42-26.
· The two teams traded baskets for much of the third with Alabama outscoring the Gamecocks 21-19 in the quarter.
· The Tide used a 12-5 run over a near five-minute span to cut the South Carolina lead to seven but was unable to get any closer down the stretch.
News and Notes
Lewis recorded her 20th double-digit scoring performance of the season and 83rd of her career. She was also above the 20-point mark for the eighth time in 2020-21.
Copeland hit seven of her eight attempts from the floor, tallying her only miss late in the fourth. She was also a perfect 3-for-3 from the free throw line.
Next Up
Alabama now awaits the NCAA Selection Show, which will air live on Monday, March 15 at 6 p.m. CT on ESPN.