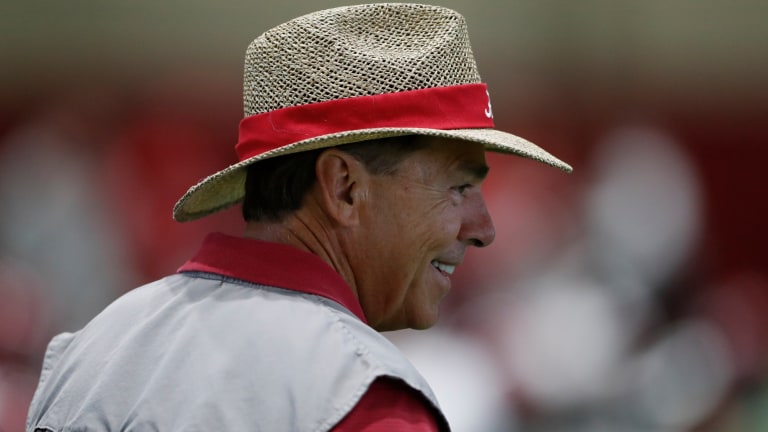 Crimson Tide Roll Call: Oct. 31, 2019
Your daily briefing on what's going on with Alabama athletics, including full TV listings
Today is … Nick Saban's birthday. It's also Halloween.
Today's Crimson Tide schedule
Soccer: Vanderbilt at Alabama, 7:30 p.m. CT, SEC Network, Live Stats
Crimson Tide results
No games scheduled
Did you notice?
• Alabama graduate student Vincent Kiprop has been named the 2019 SEC Cross Country Scholar-Athlete of the Year by a vote of the league's head coaches. He's the first Crimson Tide cross country runner to win the award. Kiprop earned his undergraduate degree with a 3.87 GPA in public health.
• Alabama releases new Bama Cuts, with Ozzie Newsome:
• Harvey Updyke failed to attend a hearing on why he hasn't paid court-ordered restitution after being convicted of poisoning Auburn's oak trees. His attorney presented a letter from the 71-year-old's doctor saying he wasn't well enough to travel. Prosecutors planned to seek a warrant for failing to appear, and Judge Jacob Walker will decide later whether to order his arrest.
• Collin Sexton finished with 18 points against the Bulls, 10 of which came in the fourth quarter.
• How did he get through the doorway?
• Congratulations to Bradley Bozeman …
• We'll leave you with this …
On this date in Crimson Tide history:
Oct. 31, 1981: Paul W. "Bear" Bryant won his 313th game, tying him with Pop Warner for second on the all-time list for major college wins. The victory certainly did not come easily as the Crimson Tide edged Mississippi State 13-10 in an extremely hard-hitting game played in Tuscaloosa. A total of 17 fumbles occurred. Alabama lost seven fumbles and Mississippi State four. However, it was safety Tommy Wilcox's interception in the end zone of a John Bond pass that preserved the win. A 28-yard field goal by Terry Sanders, subbing for Peter Kim who was flattened by a Bulldog defender on a first half three-point try, proved to be the game winner.
Crimson Tide quote of the day:
"What can I say about Nick Saban. He is the best coach in America." — Former Alabama athletic director Mal Moore