No. 6 Alabama Basketball Falters Late in 81-66 Loss to No. 20 Arkansas
The Crimson Tide couldn't overcome five Razorbacks in double-figures in crucial SEC-clash on Wednesday night
The celebration will have to wait for the University of Alabama men's basketball team.
No. 20 Arkansas (18-5, 10-4 SEC) defeated the 6th-ranked Crimson Tide, 81-66, inside Bud Walton Arena on Wednesday night, preventing Alabama from winning the outright Southeastern Conference regular-season championship, at least for now.
"Disappointing loss," Alabama coach Nate Oats said postgame. "Arkansas outplayed us. It seemed like every loose ball they were getting. They made some tough plays ... We needed to do a better job on the defensive and offensive end. Way too many turnovers. It was not some of our guys' better games tonight."
Out of the gate, Oats' squad was ice-cold from three-point range, starting 0-for-9 from deep and found itself trailing 21-11 with 11:07 in the first half. 
Then, guard John Petty Jr. and forward Jordan Bruner caught on and went 6-for-8 combined from beyond-the-arc to close the opening stanza. 
Bruner himself scored three straight triples during a 1:26 stretch to cut the Razorbacks' lead at intermission to 39-38. 
Alabama (18-6, 13-2 SEC) kept it up during the early stages of the second half, with a 7-0 run, but Arkansas countered with a 7-0 run of its own, retaking the lead, 46-45. 
A baseline-jumper from Petty gave the Crimson Tide a one-point advantage, 47-46 with 15:44 to go, but after that it was all Arkansas.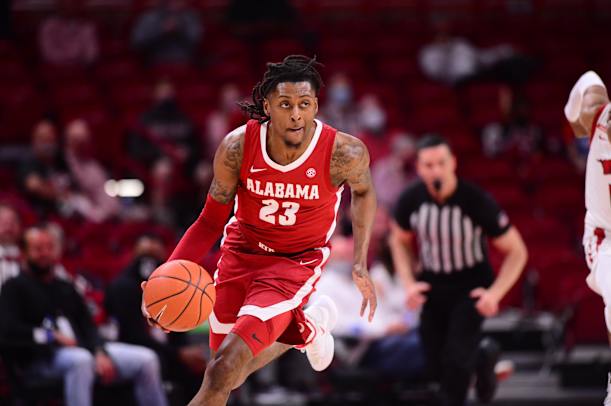 The Razorbacks proceeded to go on a 28-11 run for their biggest lead of the game, 74-58, over a 13 minute stretch to take control and ultimately seal the victory. 
Three Alabama players finished in double-digits, led by Bruner, in only his second game back from a torn meniscus, with 14 points, guard Jahvon Quinerly added 13 and Petty, who finished with 12. 
Sophomore forward Juwan Gary made his return back to the hardwood from a dislocated shoulder and finished with nine points, nine rebounds and two blocks in 16 minutes. 
"He was big," Oats said. "His energy was great. He was all over the place and playing hard. We gotta get more guys playing like Juwan. That's kind of his deal. He's an effort guy... It was great to have him back and he gave us solid minutes."
One of the major issues that plagued the Crimson Tide all night was the fouls it committed. Overall, Arkansas shot 43 free throws to Alabama's eight and was called for only 18 fouls while the visitors were whistled for 32. 
Senior forward Herb Jones fouled out with 4:18 left, sophomore guard Jaden Shackelford committed five fouls and Petty was ejected after his second technical foul for chirping back at an official after he was called for reach-in foul on Razorbacks guard Moses Moody. 
"Well we have no control over the officiating," Oats said. "So if you're going to worry about stuff you have no control over and you're not very good at the stuff you do have control over and we weren't very good at that stuff tonight. We have to quit worrying about the officiating. They're going to officiate the game the way they're going to officiate it and we've got to worry about what we can control and we have to do a better job of that.
"I'm not trying to give any money back to anybody but I'm not going to talk too much about it but part of it is, I mean, we were fouling some. We have to move our feet and get into position. We've got to try to not foul on 3-point shooters."
Oats later explained what he saw from his vantage point on Petty's ejection.
"They had him in a trap," Oats added. "John didn't think he fouled him. I didn't either.
"I have to look at the replay, I didn't see for sure. I think when the ref called the foul on him, he was a little frustrated. I think he felt like he got bumped on something earlier that didn't get called. It's a tough game. There's a lot of contact and we got called for a lot of fouls and he said something he shouldn't have said to the refs. I don't know what it was but obviously he shouldn't have said it."
Moody paced all scorers with 24 points, 16 of which came from the free-throw line. He also hauled in five rebounds, dished out four assists, blocked three shots and recorded one steal. 
Four more Hogs finished in double figures including forwards Jaylin Williams (13) and Justin Smith (11) and guards JD Notae (12) and Jalen Tate (12). 
The Crimson Tide will have another crack at winning the SEC title on Saturday afternoon, when it travels to Starkville to face the Mississippi State Bulldogs (5 p.m, SEC Network). 
"We had a great chance to win the league against the second place team and couldn't get it done," Oats said. "Now, we have to go back on the road and win at Mississippi State to win the league."