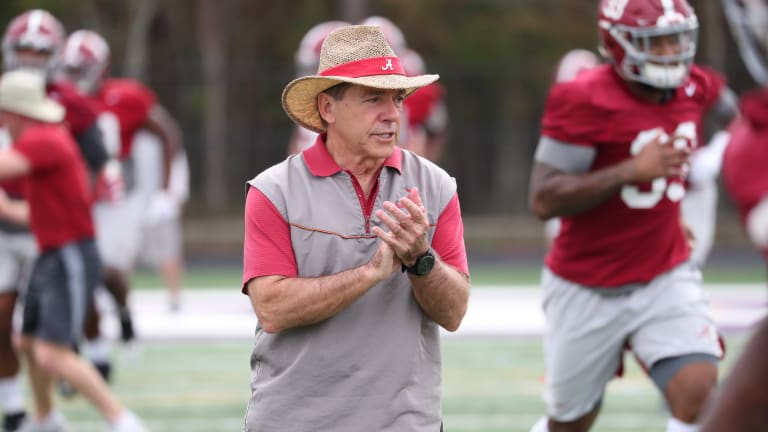 Multiple Alabama Football Players Test Positive for COVID-19
The team will begin in-person voluntary workouts on June 8
University of Alabama football players began trickling back onto campus this week, and upon arrival, each student-athlete was tested for the novel coronavirus. 
According to sources, at least five players have tested positive for COVID-19. The news was first reported by BamaInsider. Bama Central has reached out to an university official, but a confirmation or comment on the matter has not been given yet. 
Update: Later Thursday afternoon the Office of Strategic Communications at Alabama released this statement, "The health and safety of our student-athletes is a top priority. Resources and protocols are in place to ensure they receive the best medical care when returning to campus. Due to privacy laws we cannot share information specific to the health of our student-athletes."
Tuscaloosa County has reported 836 confirmed cases of the virus with 14 deaths according to the state's department of public health. Almost 400 of the new cases have came in the last 14 days.
Last month, the Southeastern Conference approved in-person voluntary workouts to begin June 8 for all respective schools. Alabama athletic director Greg Byrne released this statement concerning how the Crimson Tide would handle in-person activities: 
"The health and safety of everyone, including our student-athletes, coaches, staff and fans has been, and will continue to be at the forefront as we prepare to return," Byrne said. "We appreciate the leadership and guidance of the Southeastern Conference and its Return to Activity and Medical Guidance Task Force throughout this situation to best equip our campuses with educational materials and recommendations on best practices.
"Resumption of voluntary in-person activity is an important step in moving us towards the fall athletic season, which we are fully preparing for with a phased approach beginning June 8. In addition to our public health officials, we are fortunate to have an elite sports medicine staff here at Alabama, from our athletic trainers to our team doctors that we will continue to take direction from as we make decisions for a safe return.
"We look forward to welcoming back our student-athletes, coaches and staff to campus."
Some of the players have been using the Million Dollar Band's practice field to workout since they have returned to Tuscaloosa as seen in the videos below. These workouts were player led and not structured by any coaches.
Simone Eli of CBS42 in Birmingham is reporting that the players who tested positive were asymptomatic and the group consists of one lineman, a few skill position players, and one quarterback.
This story will be updated.