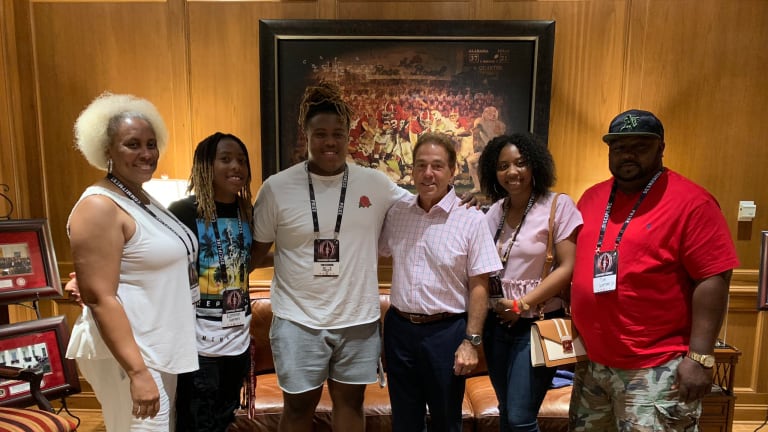 Crimson Tide Target Tim Keenan Looking to Become the Next Great Defensive Tackle from Birmingham
Four-Star prospect Tim Keenan is quickly ascending to the top of recruiting boards
One of the most iconic moments in all of professional sports is Michael Jordan's "Flu Game."
For those who do not know, Jordan dropped 38 points, seven rebounds, and five assists to beat the Utah Jazz in Game Five of the 1997 NBA Finals, while fighting through a case of influenza.
Ramsay High School's four-star defensive tackle, Tim Keenan, believes he has had a similar incident.
Keenan attended a high school team camp, in June 2018, hosted by the University of Alabama. It's where his own "Flu Game" moment occurred.
"It was the summer going into my sophomore season," Keenan said. "I was dominating the drills, and they told me that Coach Saban was wanting to see me after we got done. I walked into his office and he told me, 'We really like you. You have good speed for your size and great hands. You are powerful. You really have an opportunity to play here. We want to offer you a scholarship.'
"I call it my 'Flu Game' because during the entire camp I was dealing with a sinus infection and I felt bad, but I still had to grind. I felt like Michael Jordan."
Now a junior, Keenan recalls that memory as the starting point to where his dreams began turning into reality.
"This is what I had been working for," Keenan said. "I just sat there and could not believe that one of the top teams in the country had offered me. I thanked God and I was so excited. You have to do something great for Alabama to offer you. Going forward, I knew I was going to have a target on my back."
The Crimson Tide became the first SEC school to offer Keenan. South Carolina, LSU, Kentucky, Tennessee, Kentucky, Texas A&M, and Georgia would follow in the months and year to come.
Currently, Keenan, is nearing the end of his junior season with the Rams and his seven sacks have helped propel them to a 7-1 record with a chance to come one game closer in capturing a AHSAA Class 5A-Region 4 title with a win over Briarwood on Friday night.
"This is a huge game for us," Keenan said. "We have a championship on our mind and I believe we can go out there and get it done."

The Birmingham, Ala. native is the highest rated prospect the  Rams have ever produced. The 247Sports Composite Rankings has him as the seventh best player in the state for the Class of 2021. Rivals has him one spot higher at sixth. 
"Right now, it is a blessing, but I am still hungry," Keenan said. "I'm sitting at number seven, but I want to be number one in the state and the nation. I want to be at the top and stay at the top. It's all a blessing, but I want more. I am not satisfied. I do not want to let just being good get in the way of being great."
Keenan checks in with a monster frame of 6-foot-2 and 340 pounds that strikes fear into opposing offensive linemen. His quick hands, solid footwork, and powerful upper-body strength are just a few of the reasons that schools across the nation are salivating to acquire his services.
He also shares a special connection with some Crimson Tide defensive linemen. NFL players Da'Ron Payne and Quinnen Williams, plus current Alabama starter D.J. Dale, a freshman, all hail from the same hometown.
"I do not know Da'Ron well, but Quinnen and D.J. are my guys," Keenan said. "Quinnen always tells me to stay fast and stay hungry. I will even text D.J. my film and he will give me insight on what to do better. I look at those guys as my older brothers. I want to imitate them in the best way I can."
His college decision is not made up yet, as Keenan is taking his time and exploring all of his options, and he doesn't plan to commit until National Signing Day in 2021.
So far he's taken visits to Georgia, Tennessee, LSU and Auburn. However, this weekend he'll be back in Tuscaloosa, when the Crimson Tide takes on the Volunteers.
"This will be my first time at Bryant-Denny as a junior," Keenan said. "It should be a fun atmosphere. Alabama has always had great tradition. I am excited to check out the new lights, too."