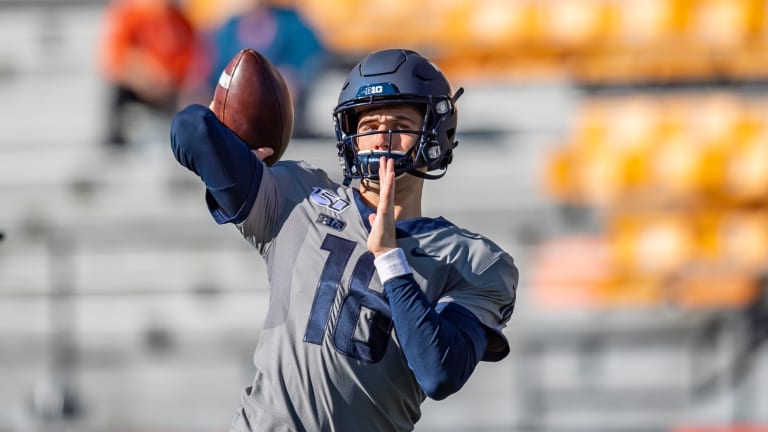 Brandon Peters Embracing Return to Hoosier State
At every level, Brandon Peters has won jersey number 18 to honor his childhood idol - Peyton Manning.
At every level, Brandon Peters has won jersey number 18 to honor his childhood idol - Peyton Manning.
CHAMPAIGN, Ill. -- Brandon Peters was raised in what would have to be considered the classic Indiana football family.
In the basketball-crazy Hoosier state, Peters did everything he could to embrace the excitement happening on the gridiron not far from his Indianapolis suburban town. Peters, and his father Dave who is in the mortgage business in Avon, Indiana, had Colts season tickets and in a lot of ways, their lives changed thanks to the superstar quarterback who landed with the franchise in the late-1990s. If it wasn't for the future Hall of Famer who Indianapolis drafted No. 1 overall in 1998, Peters might not care as much about the jersey number he's worn in every level of football.
Just like in high school, at the U.S. Army All-America Game, at the University of Michigan and now at Illinois, Peters will trot out to Ross-Ade Stadium Saturday for the second time in his career in front of a number of friends and family wearing No. 18 — to honor his idol, Peyton Manning.
"I wouldn't say I ever modeled my game around his but he was somebody that I considered a role model and looked up to definitely," Peters said of Manning.
Peters, who says he has yet to meet Manning, had everything in his childhood home related to the Colts football franchise led by the guy in the number 18 jersey behind center. The Peters family dog was named Reggie after one of Manning's favorite receiving targets - Reggie Wayne.
"I did do that, name my dog after Reggie Wayne. However, my dad and grandpa had season tickets to the Colts and the Pacers so the dog was also named after Reggie Miller too," Peters said with a smile.
The family cat was named Freeney after the Colts sack artist Dwight Freeney. As a youth football player, Peters also attended Freeney's football camp in Indianapolis.
After being named the Indiana Gatorade Player of the Year and Indiana Mr. Football in 2015, one would think Peters would have every opportunity to attend one of the two Big Ten programs in the Hoosier state. According to 247Sports.com, Peters was the No. 34 recruit in the nation, the third-best pro-style quarterback in his class, and the top recruit in Indiana. However, both Purdue and Indiana were going through coaching changes in 2016 and like a lot of previous high-profile Indiana high school talent, his star power would send him out of state.
"I went to a camp (at Purdue) and Darrell Hazell did recruit me a little bit but they never offered me and I honestly don't remember why," Peters said. "Indiana was really interested in me and (Kevin) Wilson really wanted me there."
After making an official visit, Peters selected Michigan, the alma mater of Tom Brady. Both logic and emotion would suggest sports fans are either more of a Brady guy or Manning guy. Peters spent three years in Ann Arbor, Michigan trying to walk that tightrope of being fans of both men.
"Tom Brady is one of the best to ever do it so I have a lot of respect for how he goes about it. There's not much hate for me there," Peters said. "I've met Tom twice at Michigan and have never met Peyton. That'd be cool to one day do that though."
In the era of dual-threat, spread quarterbacks, Peters embodies the classic pro-style signal-caller that was embodied by Manning in his 18-year NFL career. Despite missing most of the Minnesota game two weeks ago and all of the Michigan game, Peters still ranks tied for 38th among Football Bowl Subdivision quarterbacks in touchdown passes (12) this season. Peters already has surpassed the Illinois season passing touchdown leader for each of the past three seasons (AJ Bush Jr. with six in 2018, Jeff George Jr. with seven in 2017 and Wes Lunt with eight in 2016). Peters' four touchdown passes in the 31-23 win at Connecticut tied for seventh-most in Illinois history and the most since Lunt threw for four scores vs. Kent State on Sept. 5, 2015.
When Illinois (3-4, 1-3 in Big Ten) tries to make it two Big Ten Conference wins in a row for the first time in the Lovie Smith era, it'll be Peters's second career game at Ross-Ade Stadium against Purdue. In garbage time of a 28-10 win for Michigan in 2017, Peters successfully converted his first career pass, a four-yard dump-off completion, in his home state. Saturday, a week after Peters tossed two touchdown passes in an improbable 24-23 win over then-No. 6 Wisconsin, will represent his first career start in Indiana.
"He made some critical throws, in my opinion, down the stretch (in the win over Wisconsin Saturday)," Illinois offensive coordinator Rod Smith said Monday. "He made some plays that we want and need our quarterback to be able to make. The two third-down (conversion) throws he made were critical to the game."
After sitting out two weeks ago due to concussion symptoms, Peters was able to make some key throws in the come-from-behind win over the Badgers that stunned the college football world. While Matt Robinson was adequate in the second half against Michigan, Peters's former school, Illini head coach Lovie Smith was quick to reimplement Peters in the starting role due to his ability to take the top off a defense. Peters will face a Purdue defense Saturday that is second-worst in the nation at defending passes of 20 yards or more.
"It's amazing to me how many teams are stuffing the box and daring us to throw it and Brandon can throw it," Rod Smith said. "Our key has been making sure we keep him upright so he can throw it and give our (receivers) a chance."