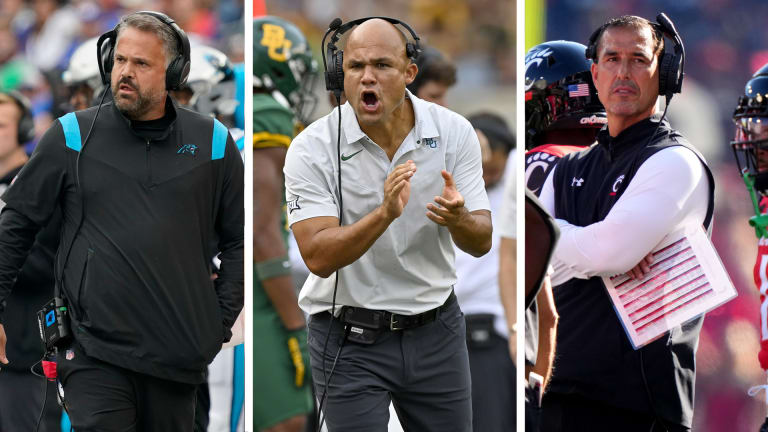 Jeremy Pernell: They're Proven and Pricey
Coaches Matt Rhule, Dave Aranda and Luke Fickell have the program-building chops that would serve Nebraska well
These next five coaches I will cover this week are who I consider to be the top guys on the board for Nebraska football. They're also the guys who will require the biggest sell job. In each case, they've either already turned down programs on Nebraska's level in the past, or they can afford to wait for a more prominent job. Athletic director Trev Alberts will need to try and sell the opportunity and resources in Lincoln. He'll need to sell the job as a chance to rebuild a once-proud blue blood program in the coach's image.
That opportunity would be very appealing to the coaches I've already covered. Can Alberts sell these guys on that? These are coaches with track records of building programs from scratch, often at schools with fewer resources than what they'd have at Nebraska. Will they leave for an opportunity to revive a sleeping giant in Lincoln?
When Nebraska hired Scott Frost in December 2017, they made him the 10th-highest-paid coach in the country at $5 million per year, according to USA Today. The budget they allocated for him to put his staff together was around $5 million, which also ranked among the highest in the country. Fast forward to 2022; if Alberts wants to be competitive, he'll need to at least get to the $7 million mark that has become the new benchmark for top-of-the-line head coaches in the Power Five.
Just look at last offseason and the contracts that were given to coaches from prominent programs. Brian Kelly signed a 10-year deal with LSU worth at least $95 million. Mario Cristobal inked a reported 10-year, $80 million deal with Miami. Lincoln Riley's contract with USC is reportedly worth around $110 million. Heck, Florida got Billy Napier at a relative bargain in comparison. He signed a seven-year, $51.8 million deal, which makes him just the sixth-highest-paid coach in the SEC.
Alberts is going to have to back up the Brinks truck for the next three guys on this list, while the two that I will cover in coming days will likely need a contract that's at least on par with Napier's. Alberts seems to know that. "I'm well aware of where the market has shifted in terms of compensation. At a place like Nebraska we're blessed to be in a position to meet market demand. Certainly resources won't be an impediment towards hiring the type of coach we want to lead the Husker program."
Well, we're going to find out if that was just lip service. Starting next year, Big Ten teams will be entering a new stratosphere for conference payouts. Nebraska will have the money to make these offers. If they want to return to national prominence, I contend they'll have to. Simply put, Alberts will need to channel his inner Vito Corleone and make one of these three an offer they can't refuse. Make them tell you no. If he doesn't, in my opinion, he isn't doing his due diligence.
Alberts has to be willing to go up to $10 million per year. Not only that, but he's going to need to give these coaches a nationally competitive assistant coach budget to assemble a staff. Last season, the program' with the top assistant coach salary pools were Clemson ($8.5 million), Georgia ($7.925 million), Alabama ($7.805 million), Texas ($7.725 million), Texas A&M ($7.612 million), Ohio State ($7.501 million), LSU ($6.97 million), and Oklahoma ($6.445 million). Those numbers are higher this year.
For these guys, the conversation has to start at $7 million - minimum. Florida gave Billy Napier an allotment of $7.5 million for on-field coaches and an additional $5 million pool to hire his support staff. That's the new standard at elite football schools. Trev Alberts needs to be prepared to keep up with the Joneses. The money is there, spend it.
There isn't much separation between these three coaches, but I want to start by mentioning Baylor head coach Dave Aranda. It's no secret I felt Scott Frost should have been fired after last season. The two guys I was campaigning for were Billy Napier and Dave Aranda.
Aranda is widely considered one of the brightest defensive minds in college football. Prior to getting his first head coaching opportunity with the Bears, he was regarded by many as the best defensive coordinator in the country during stints with Wisconsin (2013-15) and LSU (2016-19). During his last season with the Tigers, he was the country's highest-paid college assistant at $2.5 million a season.
Aranda went 2-7 during his first year in Waco, a season that was altered and shortened by the coronavirus. Not exactly an ideal situation for a first-time head coach at a new school. Among other things, Aranda wasn't able to have spring practices with his new team. Last season, however, Aranda led Baylor to a Big 12 championship and a school-record 12 wins that included five victories over ranked teams, a single-season school record. Baylor capped the season off by beating Ole Miss in the Sugar Bowl and finishing No. 5 in the final polls. Aranda was also named AP Big 12 Coach of the Year.
I love that Aranda has a background in both the Big Ten and SEC, the two most talented and competitive conferences in the country. Now with Baylor, he's built elite defenses at every stop he's been in three different Power Five conferences.
He's been part of a championship team at LSU and knows what goes into that. He knows the culture building and recruiting that's necessary to have an elite team. His time at Wisconsin gives him insight into the Big Ten and what a contending team should look like in that conference. He knows the style of play and he knows what kind of players he'd need.
When Trev Alberts spoke about some of the things he's looking for in his next coach, he may as well have just gotten finished watching Aranda's 20 minutes at the podium during July's Big 12 Media Days. "I think great coaches are people of character. I think they're people managers. They're culture builders. I think they're grinders," Alberts said. He later added, "Is this someone the players are willing to follow? It's just basic types of leadership things that are really, really important to me." Alberts was basically describing Dave Aranda.
Aranda originally signed a six-year contract with Baylor that reportedly paid him $4 million per year. In the offseason, Aranda signed an extension that keeps him under contract until 2029. Baylor is a private university, so they're not required to publicly release salaries, but it's believed he's now making over $6 million per year. Alberts would need to open the checkbook for Aranda and be generous with the amenities that I mentioned above.
But make no mistake, Baylor can match whatever the Huskers offer. Can Alberts convince Aranda that Nebraska has a higher ceiling than Baylor? I think Nebraska does, but sometimes you can't account for comfort. Aranda is building something special in Waco, is he willing to uproot and take on a rebuild at Nebraska?
The next coach on my list is Cincinnati's Luke Fickell. I know I pounded my chest a couple weeks ago and said Alberts would likely prioritize a coach within the Power Five conferences. Well, I think Fickell is the exception to this rule.
Now in his sixth season with the Bearcats, he's turned Cincinnati into a perennial contender and his overall résumé warrants overlooking the Power Five prerequisite. Fickell went 4-8 in his first season, but he has gone 11-2, 11-3, 9-1 and 13-1 since then, with the Bearcats winning the American Athletic Conference the past two seasons.
Fickell is a three-time AAC Coach of the Year (2018, 2020, 2021), and was named National Coach of the Year last season after leading the first Group of Five team to the playoffs. Cincinnati has finished in the AP Top 25 the last four seasons; 24th (2018), 21st (2019), eighth (2020) and fourth (2021). The Bearcats are currently 5-1 and ranked No. 21.
It's well known how much Fickell, born in Columbus, loves living and coaching in Ohio. This is his 23rd season as a college football coach and they've all been spent in the state of Ohio. After spending 2000-01 coaching the D-line at Akron, he returned to his alma mater and from 2002-16 coached various positions at Ohio State.
He was Jim Tressel's co-defensive coordinator for six years (2005-10) before spending the 2011 season as the Buckeyes interim head coach following Tressel's resignation on May 30, 2011, amid NCAA violations from a tattoo-parlor scandal. He was retained by Urban Meyer and spent the next five seasons (2012-16) as his co-defensive coordinator before taking over at Cincinnati.
Fickell learned valuable lessons from his time on both staffs, winning a national championship with each of them. You can see the influence of both Meyer and Tressel in the way he runs his program.
Although the Bearcats are currently a Group of Five team, Fickell has built Cincinnati like a Power Five program. In five seasons, Fickell has coached 58 All-AAC players, including 32 first-team selections. That includes the 2020 AAC Offensive Player of the Year, as well as the 2021 Offensive and Defensive Players of the Year.
Sixteen of Fickell's Bearcat players have been drafted into the NFL. His teams have stood up physically and athletically to every team they've faced under his guidance. The only exception being Alabama in last year's playoffs, but the Crimson Tide tend to make a lot of teams look pedestrian.
Cincinnati, BYU, Houston and UCF are set to join the Big 12 next season. While I wouldn't exactly call them a glorified Group of Five conference, the Big 12 certainly won't have the resources or prestige of the Big Ten or SEC. Fickell turned down Michigan State and Notre Dame the last couple offseasons. Is he content to stay at Cincinnati long-term? Is Fickell waiting to see if Ryan Day decides to give the NFL a shot and then make his move?
This past offseason, Fickell signed a two-year contract extension through 2028 that raises his annual salary to $5 million. As part of the agreement, Fickell's assistant salary pool also jumped from $3.85 million up to $5.2 million. Would he listen if Alberts doubled his salary and added $2.5 million to his allotment for assistants? Fickell knows that in order to contend for a national title, he'll need to upgrade his roster and support staff. Nebraska can offer that venue. Is it enough?
If I'm Trev Alberts, I'm keeping a close eye on Matt Rhule and the Carolina Panthers. Rhule is in his third season with the NFL team and is squarely on the hot seat. After going 5-11 and 5-12 his first two years, the Panthers are currently 1-4 this season and there's plenty of speculation regarding his job security.
It hasn't gone well for Rhule in the NFL, but frankly, I don't care. It doesn't diminish his stock at the college level at all in my eyes. Some of the best college coaches of all time failed in the NFL; Nick Saban, Urban Meyer, Steve Spurrier and Lou Holtz headline that list. Chip Kelly, Lane Kiffin, Butch Davis, Dennis Erickson, Bobby Petrino and Greg Schiano are other recent examples of successful college coaches who failed in the pros. Rhule has a reputation for turning programs around and belongs on a college sideline and not in the NFL.
Rhule rose to prominence after taking over a historically awful Temple program in 2013, and in a few short years, transformed them into an American Athletic Conference power. After going 2-10 in his first season, the Owls improved to 6-6 the following year.
The team then made a huge jump in Year 3. The Owls won their division and reached the 10-win mark, something it had accomplished only once before (1979) in school history, which dates back to 1930. They subsequently earned an invitation to just their fifth-ever bowl game, and the first since 2011. Temple spent a program-record seven weeks in the AP Top 25 during the 2015 season, the first time they had been ranked since 1979. The only other instances where the Owls had been in the AP Top 25 were in 1974, 1941 and 1936.
Temple followed up with another 10-win campaign and won the AAC championship in 2016, the program's first conference title since 1967. The Owls finished the regular season ranked No. 23 in the AP Top 25. Over the course of his last two seasons, Rhule coached 19 All-AAC players, including nine first-team selections, as well as the 2015 AAC Defensive Player of the Year.
Three days after Temple defeated No. 19 Navy 34-10 in the AAC championship game, Rhule left to take the job at Baylor. He replaced interim head coach Jim Grobe, who came out of semi-retirement to help navigate Baylor through a tumultuous 2016 season. Art Briles had been fired the previous May after a report alleging he and other coaches botched numerous sexual assault accusations levied against several football players.
Rhule took over the embattled Baylor football program, and like he did at Temple, turned it into a contender in a short amount of time. After going 1-11 in his first season, the Bears improved to 7-6 the following year, which included a bowl victory.
The big jump came again in Year 3. Rhule was named the 2019 Big 12 Coach of the Year after Baylor went 11-3, won their division and finished ranked No. 13 in the AP Top 25. Two of their three losses came to an Oklahoma team that played in the College Football Playoff; 34-31 during the regular season, and 30-23(OT) in the Big 12 Championship Game. They lost in the Sugar Bowl to the Georgia Bulldogs, who finished the season No. 4.
After his second expedited program rebuild, Rhule was a hot commodity and NFL franchises came calling. The New York Giants and Carolina Panthers both pursued him heavily, with the Panthers offering him a seven-year, $62 million contract the day he interviewed. Three years later, he is still the seventh-highest-paid coach in the NFL.
Because he is such a well regarded coach and program builder, if and when Rhule is let go by the Panthers, he will be a very popular target for every college athletic director looking for a head coach. That should also include Trev Alberts.
"Right now, where we are, we need a leader who understands the infinite details of everything about football," Alberts said late last month. "And that's why it's really complicated. People just think it's X's and O's and schemes. That's not what builds a great program. It's the foundational stuff and it's the culture stuff." Alberts may as well have been holding up an 8x10 glossy of Matt Rhule while he said that.
Alberts wants a program builder? Here he is. Rhule has proven he can build a winner in different conferences at schools located over 1500 miles from each other. His process and blueprint is portable and it fits what Alberts is looking for and what will work in Lincoln.
The formula to win at Nebraska starts with an organized, detail-oriented head coach and a staff of established, proven assistants who develop talent. A staff that grinds on the recruiting trail and assembles a team with a core made up of Midwest players and supplemented nationally.
Despite having a background as an offensive coordinator, Matt Rhule's teams at Temple and Baylor emphasized and won with defense. He's coached both the offensive and defensive lines, so he knows the value of winning the line of scrimmage, something his teams have done at every stop. His teams in the AAC and Big 12 were built like a Big Ten team. I think Matt Rhule will thrive again at the college level.
The only sticking point with him is the timing. Nebraska certainly isn't waiting until the end of the NFL regular season in January to hire its coach. Alberts is going to want his coach - no matter who it is - in place by the first week of December. What happens if Carolina is sitting at 3-8 heading into Thanksgiving week? The writing would be on the wall regarding his future at that point.
If Rhule's fired by the Panthers, the franchise would owe him the balance of his contract, roughly $35 million. If, hypothetically, Alberts decides Rhule is his guy, you have to assume Panthers owner David Tepper would be willing to negotiate his early release with the Husker brass. After all, if Nebraska was willing to pay $7.5 million to flush Scott Frost three weeks early, I'm sure there is an amicable dollar amount that would appease all parties to get Rhule to Lincoln by Monday following the end of the regular season.
That way, Rhule could get to work assembling his staff and preparing for the early signing period (Dec. 21-23). Also keep in mind the first day players can enter the transfer portal is Dec. 5, with a 45-day window ensuing. Whoever it ends up being, Nebraska's next coach will want to be ready to hit the ground running on both fronts.
Does Trev Alberts have to hire a guy like Matt Rhule, Dave Aranda or Luke Fickell? No, but I believe these are the guys who represent the closest thing to a sure bet. Alberts owes it to this program to swing for the fences. The farther down the pecking order he goes to find his guy, the smaller the bullseye gets for the dart he's throwing.
If Alberts misses out on these three coaches, don't fret, there are still two guys that are attainable who would make good options. I'll highlight them in comings days.
---
Get your Huskers tickets from SI Tickets here.
---
---