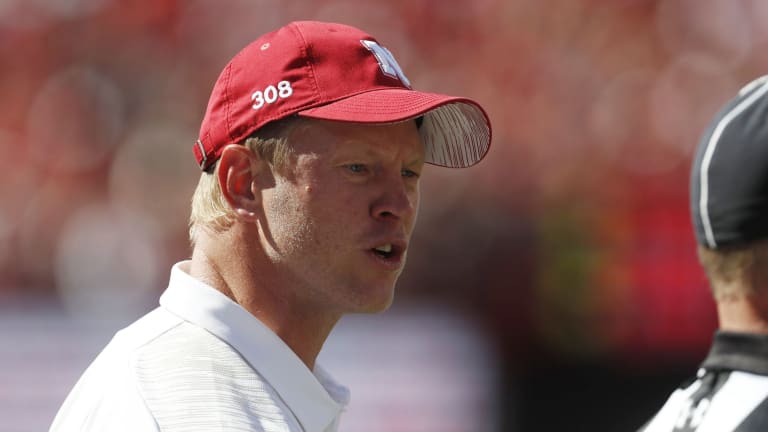 A Month in Overdrive for Husker Football Recruiting
June's hectic schedule made up for lost time and delivered results.
What a whirlwind month for college football. June 1 officially marked the end of the 444-day long COVID-19 induced dead period. Schools across the country went into overdrive to make up for lost time. The Huskers put together an ambitious schedule, and you have to tip your cap to the coaches who put in 18-hour days to bring it to fruition.
Nebraska hosted two Friday Night Light camps (June 4 and 18), a specialist camp (June 11), a 7-on-7 camp (June 13), and the Pipeline camp (June 19). They also dispatched coaches to various satellite camps, including those put on at SMU, Florida State, FIU, Mercer and Lindenwood.
Scott Frost and his staff made sure to take full advantage of the one-hour individual workouts being allowed by the NCAA. In all, Husker coaches conducted over 60 private workouts during the month and have already offered scholarships to several prospects because of them. 
The first kid the staff hosted was Jake Appleget. The Lincoln Southeast standout worked out June 1 and earned an offer after testing well and looking good in both linebacker and tight end drills. He returned to participate in Nebraska's 7-on-7 camp and followed that up with an official visit for the weekend of June 18, which culminated in a commitment.
Another intriguing 2022 prospect to come out of those workouts was John Pastore, an offensive lineman out of Erie (Colo.) that Greg Austin likes as a potential center. After an impressive June 4 workout, the Huskers gave him his first scholarship offer. He returned two weeks later for the Big Red Barbecue and participated in the pipeline camp the following day. He remains on Austin's board.
With only two or three spots available, Pastore is sitting behind a couple other guys at the moment. Austin hosted three top targets in June: Ashton Craig and Valen Erickson, June 4-6, and Jake Maikkula, June 21-23. Craig committed to in-state Notre Dame on June 26, a few days after being offered and visiting. However, the Huskers are in a very good spot with both Maikkula and Erickson. Stanford has done their best to throw a monkey wrench into the recruitment of Maikkula, having offered June 30. Despite that, I wouldn't be surprised if those two made up the O-line class.
The Friday Night Light camps also resulted in several prospects being offered from the 2022, 2023 and 2024 classes. But the kid who stole the show was 2024 quarterback Dylan Raiola, who attended the June 18 Big Red Barbecue and ensuing camp. The last name should sound familiar. He's the son of former Husker All-American center Dominic Raiola. Dylan threw roughly 100 passes at the camp and left coaches, media members, and fellow campers in absolute awe of his arm talent. Already listed at 6-foot-3 and 215-pounds, Dylan is sure to be a national recruit and a likely 5-star prospect.
In all, Nebraska brought in 20 official visitors in June, with several occupying top-of-the-board status. They hosted their top quarterback (Richard Torres, June 4-6), top two running backs (Justin Williams, June 4-6 and Ashton Hayes, June 11-13), top two receivers (Landon Samson, June 4-6 and Grant Page, June 11-13), top cornerback (James Monds III, June 18-20) and top safety (Markeith Williams, June 11-13). Thus far, they've gained commitments from Torres, Hayes and Page, and also added their class tight end, Chase Androff, who visited June 4-6.
They also welcomed Jalen Marshall (DL, June 4-6), Nico Davillier (DL, June 4-6), Hayden Schwartz (DL, June 11-13), Ernest Hausmann (LB commit, June 18-20), Tyler Martin (LB, June 11-13), Avery Powell (DB, June 11-13), Nathan Vail (DB, June 18-20), and Jaden Mangham (Ath., June 25-27).
As of today, six of those 20 visitors are committed to the Huskers. Besides Ashton Craig, two others have committed elsewhere. Nico Davillier pledged to in-state Arkansas on June 27, and Landon Samson committed to South Carolina on June 30. The other 11 technically remain on the board. Justin Williams appears to be favoring West Virginia after a mid-June visit, but Nebraska is in a good position with all the rest.
Several of the visitors are planning to decide before their senior seasons, with some like James Monds III (July 4) already having decision dates set. Now with seven known commitments, the issue might not be who wants to pledge to the Huskers, but rather, who can Frost actually take?
Like all schools, Nebraska finds itself in a bit of a predicament. They don't know what their true class size potential can be yet. The NCAA still has to decide what they're going to do in regard to scholarship numbers. The FCS has already stated super-seniors won't count towards their 63 player scholarship limits for the 2022 season. 
Will the FBS follow suit and not count super-seniors towards the 85-man limit again next year? Frost has said he is expecting to sign a small class. Until he gets better guidance on the super-senior rules, he might be looking to take a class of around 15 players, which would be a record low for the Huskers in the 85-scholarship era. The smallest recruiting class Nebraska has signed in modern-day history was 17 back in 2012.
We're talking about the NCAA, so it's unwise to expect them to do the smart thing, but I would anticipate them adopting a similar super-senior exemption with the 2022 class. They'll also need to tweak the rules for the next few years. 
Where it's really going to come to a head is when these anomalous freshman classes finally cycle through. The Huskers have 52 players that are considered freshmen or redshirt freshmen. They're not alone. The majority of schools will have gigantic freshman classes in 2021. Most schools are bringing in 20-25 kids from their 2021 classes and adding them to roughly the same number of "COVID-shirted" freshmen from the 2020 class. Not to mention all the kids who redshirted from the 2019 class who are still technically redshirt freshmen. The NCAA will need to adjust or eliminate the 25-signee limit in order for teams to absorb the loss of 40+ players in one offseason. It's something they should have done years ago, but now their hand will be forced.
The way things stand now, the Huskers are likely going to have their smallest classes in years in both 2022 and 2023. The expectation is that schools will have some clarity from the NCAA sometime in July. If the NCAA does the right thing, Frost will at least have the option of operating business as usual and signing a full class. Nebraska would like to have another half dozen priority targets committed by the time they open fall camp. That way they can zero in on big fish and turn more attention toward the 2023 and 2024 classes.