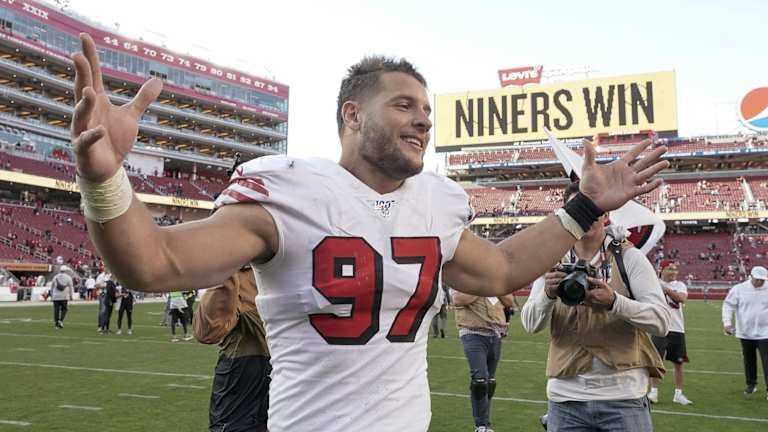 Nick Bosa Follows Chase Young's Sack Show with His Own
Ohio State defensive ends positioned to make impact for long time
Ohio State fans never got to see the dream pass rush tandem of Nick Bosa and Chase Young operate at peak efficiency, but if the events of this weekend are an indication, their collaboration might have violated the Geneva Convention.
After a Saturday in which Young demoralized Wisconsin with four quarterback sacks and two forced fumbles, Bosa demolished the Carolina Panthers with three first-half sacks and a third-quarter interception and return inside the 10-yard line.
That's the kind of contribution OSU fans expected from Bosa last year, but a core muscle injury in the season's third game sent him to the sideline and he later opted to rehab for the NFL Draft instead of return to the team.
Bosa is clearly healthy now, and delivering on the expectations the 49ers had for him as the No. 2 overall pick in the draft.
"If you watched him from Day One like we got to, he plays like a 10-year vet," 49ers cornerback Richard Sherman said of Bosa. "He plays with such a savviness, a poise and an aggression like he's been playing on this level.
He's been coached up great at a young age. Obviously his family has a great pedigree. He's an incredible talent."
Bosa became the first player in 49ers history to record three sacks and one interception in a game. He leads team with seven sacks on the season.
"He deserves player-of-the-week or rookie-of-the-week or rookie-of-the-year or everything," Sherman said. "If he just kept his stat line like it is right now he could win rookie-of-the-year. But right now he should be in line for defensive MVP." 
 While Nick was adding to his resume, big brother, Joey, was making life tough on the Chicago Bears.
 Joey finished with two sacks, joining with Nick's three to make the Bosa's the first pair of brothers to each record at least two sacks in the same week since Toby and Jimmy Williams in Week 2 of the 1985 season.
Joey Bosa finished the Chargers' 17-16 win in Chicago with seven tackles, including four for negative yardage.
He now has 42 tackles -- 10 for a loss -- and seven sacks in eight games.
Nick Bosa has half as many tackles -- 20 -- but 11 tackles behind the line of scrimmage and has matched his brother's sack total for the season.
Elsewhere in the NFL on Sunday, former Buckeye Michael Thomas won his battle against Arizona cornerback Patrick Peterson in Drew Brees' return.
Much like Young's performance in OSU's 38-7 win over Wisconsin prompted a national conversation Saturday about whether he could win the Heisman Trophy as a defensive player, Thomas' continued success in New Orleans have him prompting NFL experts to consider what would be a historic precedent.
For the latest on Ohio State football follow Sports Illustrated Buckeye Maven on Facebook and @BuckeyeMaven on Twitter.