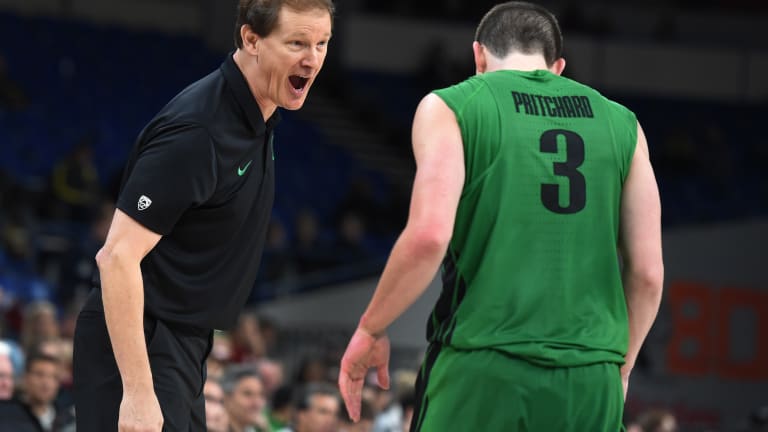 Dana Altman Sticks to His 'Work to Do' Mantra After Encouraging Green-Yellow Scrimmage
The Oregon Ducks put on an encouraging performance at the annual scrimmage on Wednesday night, but Altman is far from satisfied.
The No. 15 Oregon Ducks took to the hardwood on Wednesday night and kicked off their 2019-20 season with the annual 'Green vs. Yellow' scrimmage at Matthew Knight Arena. 
The energy was palpable, and the performance was pretty encouraging; though both teams combined for 9 turnovers in 20 minutes of play, there were four players in double-digits and 20 total assists. 
It wasn't good enough for head coach Dana Altman, who stuck to his classic mantra when it comes to his early-season teams. 
"A lot of work to do between now and Tuesday," Altman said, via 247Sports. "Hopefully, if our guys understand that, we'll make some progress."
While it was a great opportunity to get a whole host of new players in front of Oregon fans at MKA, Altman ultimately wasn't satisfied with the style of play that the Ducks resorted to. 
"Just bad basketball. Running up and down and shooting it. That's not the way we play," said Altman. "It got us in front of people, which is good and gave us an opportunity to work on a few things."
Senior guard Payton Pritchard expectedly led the way with 21 points and six assists, but the Ducks missed out on a chance to watch sophomore forward Francis Okoro, who was being held out of action with a minor injury. 
Looking forward, the Ducks will get set to take on Fresno State on Tuesday night in their season opener, and then they have a date with No. 14 Memphis a couple of weeks later at the Phil Knight Invitational, in Portland. Judging by the stat sheet, Oregon seems to be getting things going in the right direction to start the season, but you'd be hard-pressed to get Altman to admit that. For now, 'We have a lot of work to do,' is just about all you'll be able to squeeze out of the veteran play-caller, just as we all expected.