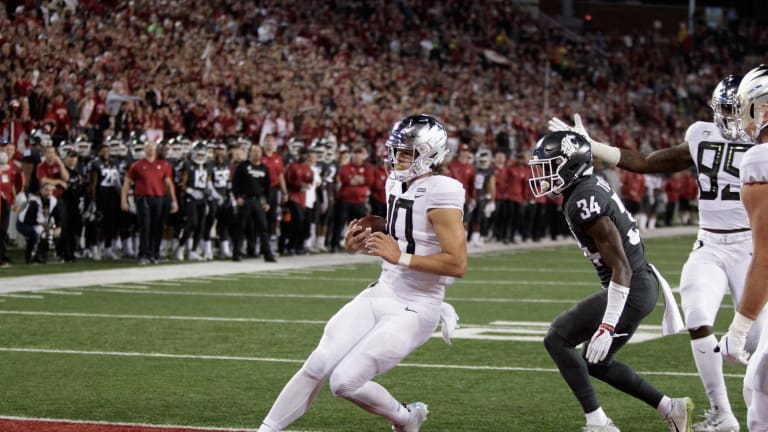 Oregon Uses Game-Winning Field Goal to Avoid Upset, Beating Washington State at Home
Follow along as the No. 11 Oregon Ducks try to end their four-game losing streak to the Washington State Cougars on Saturday night.
The Washington State Cougars have the No. 1 ranked offense in the Pac-12, and head coach Mike Leach is well known for his air-raid system that isn't shy to put points on the board. Coming off of their worst performance of the season, where they gave up 31 points to Washington, the Oregon Ducks' defense will have a huge challenge on their hands as they look to keep the point total within reach.
For the Ducks offense, Justin Herbert should be able to find much success as they are riding high after a 14-point comeback win over the Huskies, and Herbert threw for four touchdowns in the victory. The Cougars defense is also far from elite, as they allow almost 29 points per game, as compared to Oregon's 11.9 ppg. 
Join us as we live-blog and discuss UOvsWSU here in our weekly GAMEDAY Open Thread. Dive into the conversation — it's easy — by simply going to the top of the site and in the bottom right-hand corner of the Ducks Maven logo, click the follow button.
You can log in with Facebook or Google and either way, it's free. From there, sound off in the comment section and share your reactions and observations with our staff, subscribers and fellow members of the DM community as we react to the game in real-time.
Inactives
In a surprise development, Oregon's leader on defense, Troy Dye, is not suited up for this game, and it appears that he won't play. Will updated when more information is made available. 
1st Quarter
Oregon wins the toss, will open the game with the ball. 
11:25 | Ducks move the chains once, but the drive stalls near midfield. Punt to the 25. 
9:44 | Washington State is driving down the field easily, now in the red zone. 
7:36 | 3rd and goal from the 19. Incomplete pass. Oregon will hold them to an FG attempt. 
Washington State 3, Oregon 0.
6:18 | Oregon starting to get something going on offense. Crosses midfield with 17-yard pass to Spencer Webb.
3:46 | 4th and 1 at the 22 for Oregon. Ducks will kick the FG after taking a timeout. Kick is good. 
Oregon 3, Washington State 3. 
1:35 | Oregon forces a punt from the Cougars. Ball down on their own 11. 
1:15| CJ Verdell busts an 89-yard TD run to give Oregon the lead. The seas parted on that one. 
Oregon 9, Washington State 3. 
End of 1st Quarter. 
2nd Quarter
13:20 | Cougars are driving, now in the red zone. 
12:37 | Verone McKinley III gets an interception in the end zone, returns it to the Oregon 6. 
10:39 | Oregon punts the ball away after Herbert slides one yard short of a first down after a third-down scramble. Cougars start with the ball on the Oregon 36. 
8:26 | 4th and 1 for the Cougars on the 11. They'll go for it and get a completion down to the 2-yard line. First and goal. 
6:59 | Max Borghi runs it in for a touchdown from the 1.
Washington State 10, Oregon 9.
5:50 | Verdell is running hard, and the Ducks are driving. 
3:54 | Back to back terrible plays give Oregon a 3rd and 21 on the 33. 
3:44 | Travis Dye takes a pass about 10 yards, then gets hit hard to the head. Targeting is called, play under review. Offsetting penalties, replay 3rd and 21. Herbert is sacked. 
2:44 | Ducks punt and Cougars have the ball on their own 15 after a penalty. 
2:31 | Mase Funa gets a big sack for the Ducks. 2nd and 25 from the 5. 
1:51 | Jevon Holland with an interception returned for a TD. Ducks go for two. Good. Bullet to Johnny Johnson III. 
Oregon 17, Washington State 10.
0:55 | Two killer penalties on the Ducks and Washington State has the ball on the Oregon 8. Defensive pass interference on Oregon is under review. 
0:47 | WSU scores to tie the game. 
Oregon 17, Washington State 17.
0:43 | Oregon ball with two timeouts, sitting on their own 20. 
End of Half. 
3rd Quarter
14:53 | Cougars start with the ball on the 26. Fumbled opening snap, 2nd and 25 from the 11. 
13:56 | Ducks force a three-and-out, Cougars will punt. 
11:31 | Ducks starting to drive, cross midfield after a nice run by Verdell. 
9:47 | Verdell hauls in a pass for a first down. 1st and 10 at the WSU 24. 
8:16 | Oregon gets another first down, now at the Cougar 11. False start. Back to the 16. 
7:00 | Verdell carries it to the 2. Punches it in on the next play for a TD. 
Oregon 24, Washington State 17.
5:31 | Cougars cross midfield, pick up another first down. 
3:24 | Cougars with a 1st and goal from the 10. Now 3rd and goal from the 5. Incomplete. WSU will attempt an FG. Good. 
Oregon 24, Washington State 20.
0:54 | The Ducks are back in the red zone after a couple of huge runs from Verdell. 
End of 3rd Quarter
4th Quarter 
15:00 | Oregon with a 3rd and 1 from the 7. Cyrus Habibi-Likio gets the first down. 
13:20 | Verdell punches it in from the 1 for his third TD of the game. 
Oregon 31, Washington State 20. 
12:30 | A late hit by Oregon gives WSU the ball over midfield. 1st and 10. 
11:01 | Cougars hit a pass over the middle for a touchdown. WSU will go for 2 and get it. 
Ducks 31, Washington State 28
10:05 | Ducks facing a 3rd and 11 from their own 35. Juwan Johnson hauls down a pass for 17 yards and a first down. 
9:22 | Verdell breaks another 28-yarder for a first down in the red zone. 
8:00 | Cyrus takes it up the middle for a 1st and goal from the 9. 
6:34 | Oregon has to settle for an FG attempt. Kick is good. 
Oregon 34, Washington State 28. 
Headed down to the field to catch the rest of the game. Follow @ZacharyNeel4 on Twitter for Updates.