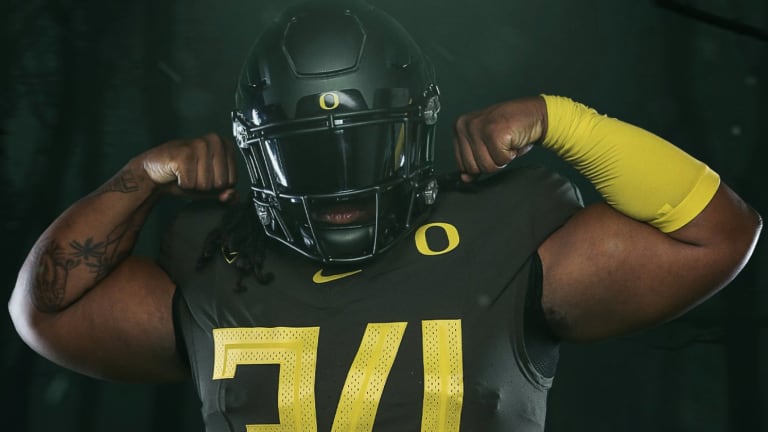 Oregon Reveals 'Nightmare Green' Uniforms for Black-Out Game vs. Washington State
The Ducks are looking to black-out Autzen Stadium on Saturday night as they try to end their losing streak to the Cougars.
The Oregon Ducks showed earlier in the week that they will be embracing the night during their 7:30 PM kickoff against the Washington State Cougars, and now they're proving it with the release of the uniform combination that they'll be wearing. 
After announcing earlier in the week that this game will be switched to a blackout for the fans, the Ducks posted to social media that they will be wearing their 'Nightmare Green' jerseys against the Cougars, which border on all-black uniforms, depending on what light you're in. 
The Ducks debuted the Nightmare Green earlier in the season at home against Cal, a game that they won easily. 
Oregon has a history of saving black-out games for some of the biggest contests of the season, and though Washington State is coming into this matchup unranked, they will still pose a significant test for the Ducks, as Oregon has lost the last four straight meetings between the two teams. The Cougars have the No. 1 ranked offense in the Pac-12, and head coach Mike Leach is well known for his air-raid system that isn't shy to put points on the board. Coming off of their worst performance of the season, where they gave up 31 points to Washington, the Oregon defense will have a huge challenge on their hands as they look to keep the point total manageable. 
For the Ducks offense, Justin Herbert should be able to find much success as they are riding high after a 14-point comeback win over the Huskies, and Herbert threw for four touchdowns in the victory. 
We always knew it was going to be a high-intensity game between the two, and now that you add a black-out into the mix, it just adds that much more to the matchup.