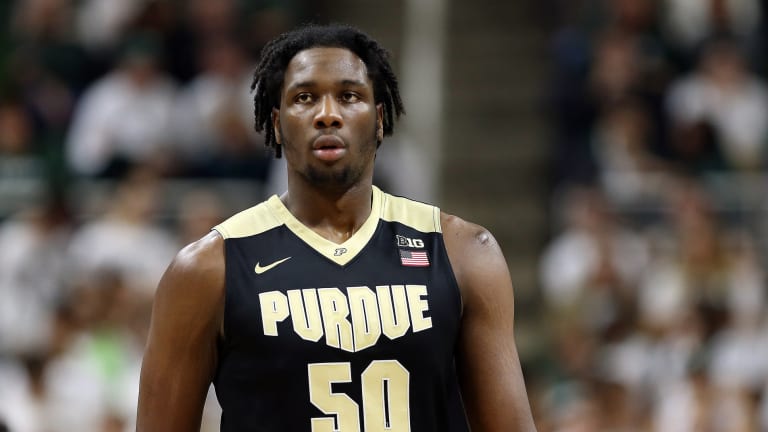 Former Purdue Basketball Star, All-American Caleb Swanigan Dies at Age 25
Caleb "Biggie" Swanigan, a consensus first-team All-American and Big Ten Player of the Year for the Purdue basketball program, has died at the age of 25 due to natural causes. He spent two seasons with the Boilermakers before taking his talents to the NBA.
WEST LAFAYETTE, Ind. — Caleb "Biggie" Swanigan, a former All-American for the Purdue basketball program and first-round NBA draft pick, had died. He was 25 years old. 
"The Purdue basketball family is deeply saddened and devastated at the loss of Caleb Swanigan," Purdue head coach Matt Painter said in a release. "Caleb was a very thoughtful individual and a gentle soul who excelled both on and off the court. He made a huge difference in everyone's lives that he touched and he will be greatly missed."
Swanigan, who was born in Indianapolis, came to West Lafayette after earning recognition as the 2015 Indiana Mr. Basketball during his senior season at Homestead High School. He played in two seasons for the Boilermakers, starting in all of his 69 games with the team. 
Following the 2016-2017 season, Swanigan garnered consensus first-team All-American honors and was named the Big Ten Player of the Year. The star averaged 18.5 points and 12.5 rebounds per game before electing to pursue the NBA Draft. 
Swanigan would eventually be selected with the 26th pick in the first round of the 2017 NBA Draft by the Portland Trail Blazers, where he would appear in 45 games. He was traded to the Sacramento Kings in 2019,  appearing in 10 games, before he was traded back to Portland. 
WANE, a television station in Fort Wayne, Indiana, reported that Swanigan died of natural causes, which was confirmed by the Allen County Corner's Office. 
Stories Related to Purdue Basketball
---
You Can Follow D.J. Fezler on Twitter at @DJFezler