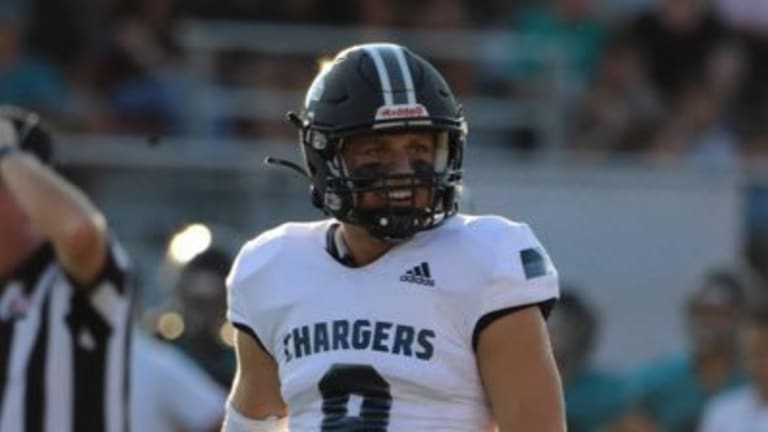 2022 Linebacker Harrison Taggart Lists Top 5, UCLA Football Makes Cut
The Corner Canyon (UT) defensive standout will be choosing between five Pac-12 programs.
The Bruins are still in the running for one of the top remaining linebackers in the region.
Class of 2022 linebacker Harrison Taggart released his top five options Monday night and UCLA football was one of the finalists. Taggart is also still considering USC, Oregon, Arizona and Utah.
The linebacker out of Corner Canyon High School (UT) measures in at 6-foot-2 and just over 200 pounds. He was also being courted by California, Colorado, Duke, Indiana, Louisville, Northwestern, Nebraska, Oregon State, Virginia and others.
Six games into his senior year, Taggart has recorded 38 tackles, 7.0 tackles for loss, two passes defended, 1.5 sacks, one interception, one forced fumble and one quarterback hurry. His junior year was even more statistically prolific, as he racked up 140 tackles, 10.0 tackles for loss, three passes defended, 5.0 sacks, three interceptions, one fumble recovery and six quarterback hurries. As an underclassman, Taggart played receiver.
Taggart also runs track at Corner Canyon, and has previously been clocked at 10.69 seconds for his 100-meter dash.
247Sports has Taggart as a four-star prospect, while Rivals and the 247Sports Composite peg his as a three-star.
Taggart is the No. 5 uncommitted linebacker in the West, according to the 247Sports Composite, and No. 2 at his position in Utah regardless of commitment status. The 247Sports Composite also ranks him as the No. 41 linebacker as No. 370 overall recruit in the class of 2022. Taggart did not make the Preseason SI99 or SI All American Watch List for linebackers.
Seven of the Bruins' current top eight linebackers will be playing their fourth, fifth year of sixth year of college football should they return to Westwood next season, with Myles Jackson being the lone exception. Whether it's this offseason or next, there is going to be major turnover in the linebacking corps for UCLA, and incoming recruits will have to compete for playing time with Jackson, sophomore JonJon Vaughns and sophomore Damian Sellers.
So far, coach Chip Kelly and linebackers coach Don Pellum have commitments from Jalen Woods and DeAndre Gill, who are both three-stars in the 247Sports Composite.
Taggart could be the third to join the position group, and he said the depth is part of the reason why he would enjoy being a Bruin.
"The depth chart at UCLA is great," Taggart told On3.com. "I have a very good relationship with coach Pellum, and I love UCLA's campus and location."
UCLA's class of 2022 has 11 commitments and currently ranks No. 41 in the nation in the 247Sports Composite.
Follow Connon on Twitter at @SamConnon
Follow All Bruins on Twitter at @SI_AllBruins
Like All Bruins on Facebook at @SI.AllBruins
Read more UCLA stories: UCLA Bruins on Sports Illustrated
Read more UCLA football stories: UCLA Football on Sports Illustrated