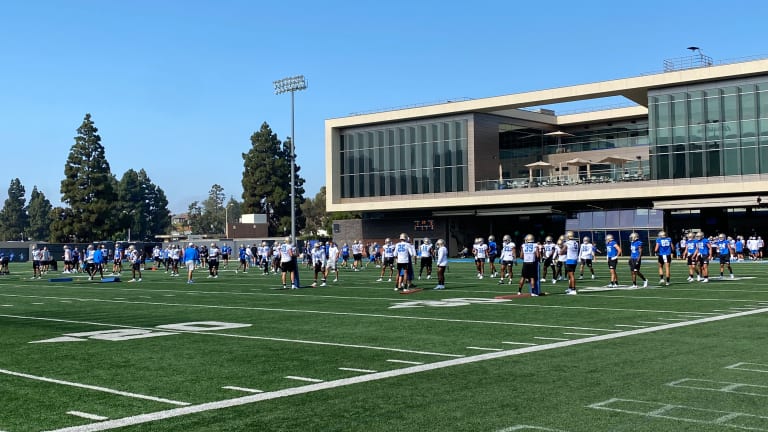 UCLA Football Practice Report: July 30
Some positional changes, injury updates and check-ins with two Bruin veterans
Fall camp has officially kicked off in Westwood.
UCLA football started its string of preseason practices Friday, the first of 16 sessions over the next 21 days. The media is only permitted to view the opening 20 minutes each day, which means there won't be much to report in terms of scrimmages or stats, especially in these early days without pads.
Still, we were able to get a read on some notable tweaks made since the end of spring ball in late May, including some key injury updates and position changes that could have significant ripple effects on the depth chart as a whole.
Defensive lineman Martin Andrus Jr. was hampered through all of spring camp thanks to an ACL injury he suffered back in 2019. He returned to drills Friday sporting two big knee braces, and he seemed to be going at somewhere near full strength again. Receivers Chase Cota and Kyle Philips, as well as safety Quentin Lake, were dinged up and missed the tail end of spring, but are healthy again heading into the season.
Running back Keegan Jones was the only player present who was seen not participating. He was wearing a hoodie and sweatpants, drifting around his teammates' drills without taking part. Coach Chip Kelly is scheduled to talk with the media bright and early Saturday, so stay tuned for updates on Jones' status moving forward.
The offensive line was in the southwest corner of the field, essentially as far away from the media as possible, so we were unable to get a read on any position changes, weight gains or absences in that unit. That also means no update on left guard Paul Grattan, who is facing multiple charges tied to a Feb. 2020 bar fight, another issue Kelly will have to clear up Saturday morning.
The defense was running sub drills right in front of the media, however, so their lineups were made a little easier to make out. Mitchell Agude started at defensive end with Otito Ogbonnia and Datona Jackson taking up the interior. Linebacker Bo Calvert, who had spent the last three seasons primarily as an inside linebacker, was instead lined up at the defensive end-outside linebacker hybrid raider spot Friday, bumping Carl Jones to the second team defense.
Jordan Genmark Heath took over Calvert's spot in the middle next to Caleb Johnson. Qwuantrezz Knight was lined up at striker, per usual, with Lake and Stephan Blaylock holding down the starting safety spots and Mo Osling III and Jay Shaw both starting at corner.
On offense, what we saw from the pass-catchers was solid. The quarterbacks were getting things done too, but it was all in simple drills with no defenders or pass rush. Dorian Thompson-Robinson looked like himself, and it will be interesting to see who wins the battle for the backup gig – Chase Griffin or Ethan Garbers.
Even true freshman Kajiya Hollawayne was looking nice for a guy with such little experience. His timing wasn't perfect and he will almost certainly redshirt the season, but his arm and frame already look like they fit at the college level.
A surprise visitor
Russell Westbrook was the talk of the town after getting traded from the Washington Wizards to the Los Angeles Lakers on Thursday, partially because he'd be returning to the city where he grew up and went to college.
The nine-time NBA All-Star wasted no time getting back to his alma mater, meeting up with the football team before they started practice Thursday.
Running back Brittain Brown said he saw Westbrook talking to athletic director Martin Jarmond and he couldn't help himself from running over to meet the former MVP.
"I just saw him casually walking around," Brown said. "It was really cool to see him in person because – I mean, it guess it's LA, so everybody be out here. He's from here, glad to have him back with the Lakers and all that. Plus he's one of my favorite players, so I had to go say what's up to him."
Considering his new home court is located in Downtown LA, Westbrook can make plenty more visits to campus even once basketball season gets underway.
The draw of Brand Jordan
In his post-practice press conference, Brown theorized that Westbrook being at UCLA had something to do with the fact that he's one of the main spokespeople for Jordan.
The Bruins' deal with Jordan started July 1 and has been a major topic of discussion for UCLA football and the rest of its teams ever since. Lake was one of the players who modeled the new Jordan uniforms and showed them off to his teammates last week, and he said being associated with the brand gives the team more motivation to strive for greatness.
"Seeing Michael Jordan, seeing some of your favorite players wear the brand, it's awesome to be part of this Jordan organization," Lake said. "When we did the jersey reveal, everybody was stoked to see the new uniforms and the minor adjustments they made."
Brown recognized the allure the brand has, as well as how valuable that could be to UCLA in recruiting, but admitted he doesn't think about it all that often.
"I think it's gonna be a big thing for the fans, the young guys have been really excited about it too," Brown said. "For me, I'm like, it's just like another thing to wear, but at the same time, I feel comfortable."
Follow Connon on Twitter at @SamConnon
Follow All Bruins on Twitter at @SI_AllBruins
Like All Bruins on Facebook at @SI.AllBruins