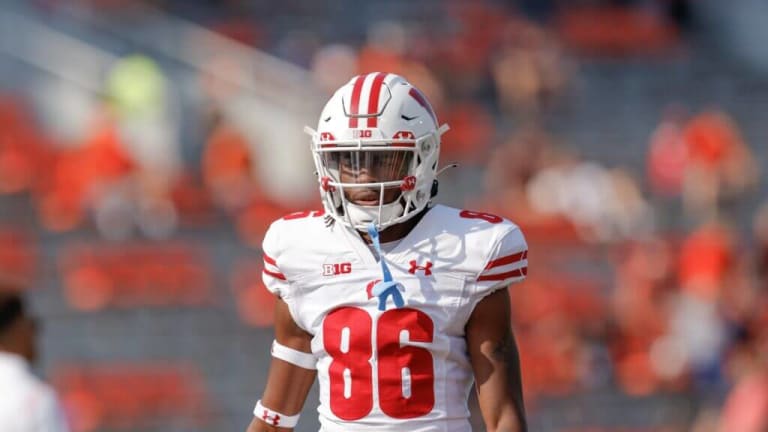 Wisconsin WR Devin Chandler Transfers to Virginia
The former Badger receiver and return specialist entered the transfer portal midway through the season
Wisconsin wide receiver and return specialist Devin Chandler is transferring to the Virginia football program, he announced via social media on Thursday.
Chandler, a redshirt freshman, was Wisconsin's primary kickoff returner this season before entering the transfer portal after six games. He had a total of 85 kickoff return yards on four attempts for an average of 21.25 yards per return. Chandler did not record a reception this season, as he rarely saw the field on offense.
In four games played in 2020, Chandler had two catches for 28 yards and returned six kickoffs for a total of 156 yards, including a 59-yard return against Wake Forest in the 2020 Duke's Mayo Bowl.
Originally a three-star recruit out of Huntersville, North Carolina, Chandler chose Wisconsin over offers from Virginia, Duke, Maryland, and Illinois. Chandler visited UVA a few weeks ago and announced his commitment to Virginia on Thursday.
---
Read more from Cavaliers Now
Big Ten Wins ACC/Big Ten Challenge for Third Straight Season
Chris Taylor Signs Multi-Year Deal to Return to Dodgers
Virginia Baseball Releases 2022 Schedule
Was Brennan Armstrong Snubbed on the All-ACC Football Teams?
Virginia Football Bowl Projections: Week 14
Virginia Quarterback Ira Armstead Enters Transfer Portal
A Second Look at Taine Murray's Breakout Performance Against Iowa