2013-14 NBA Preview: Southeast belongs to Heat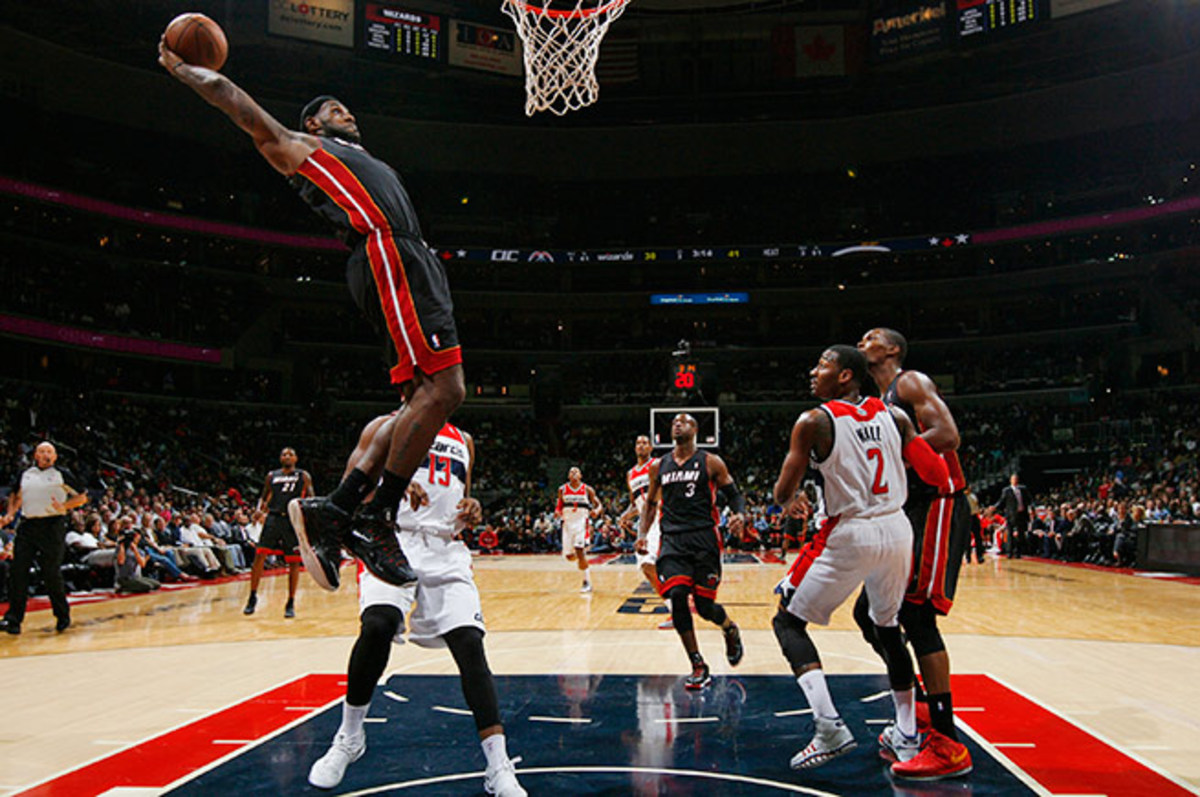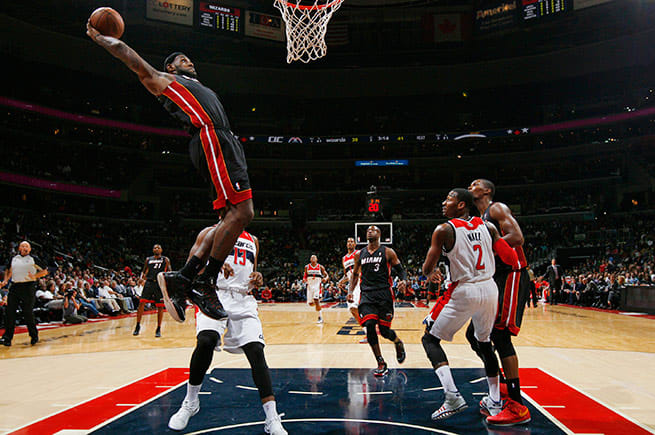 Southeast Division: How They'll Finish
The new Heat are the same as the old Heat, or just about as close as you can get. The back-to-back champions return virtually every important player from last year, save amnesty victim Mike Miller. After prevailing over San Antonio in an epic NBA Finals, Miami enjoyed a quiet offseason highlighted by the returns of center Chris Andersen, who re-signed, and shooting guard Ray Allen, who declined to opt out. The most intriguing new wrinkles are two reclamation projects in 2007 No. 1 pick Greg Oden and 2008 No. 2 pick Michael Beasley, whose careers have been derailed by injuries and off-court issues, respectively. There's no better place to get a career back on track than with these Heat, thanks to the organization's top-to-bottom stability, but it remains to be seen whether either Oden or Beasley will play more than a bit role. The overriding formula is still the same: LeBron James will lead the Big Three in pursuit of the NBA's first three-peat since the 2000-2002 Lakers. Their biggest question mark -- whether 31-year-old Dwyane Wade can hold up -- is a familiar one, too.
The skinny: Miami hasn't faced this much quality at the top of the East during the Big Three era, as Brooklyn, Chicago, Indiana and New York are all angling to unseat the Heat should an injury arise at an inopportune time.  
This summer marked the end of an era for the Hawks, who let Georgia native Josh Smith leave for the Pistons in free agency after a nine-year tenure. His replacement, the dependable Paul Millsap, was a great value signing at $19 million over two years, and he should help ensure that the Hawks remain in the playoff hunt despite a second straight season of roster turnover under general manager Danny Ferry. This year's group is chock full of underappreciated players -- Al Horford, Millsap, Jeff Teague, Lou Williams and Kyle Korver -- who combine to give Mike Budenholzer a fine talent base to work with in his first NBA head-coaching job. Without the A-list superstars to keep up with the East's projected top-five teams, though, the Hawks' sights are likely set on the conference's "best of the rest" tag. Considering the team's modest payroll and flexibility heading into next summer and beyond, that's not too bad. Ferry's mantra seems to be: If you're going to be good but not great, you might as well do it in a cost-effective manner.
The skinny: Smith's departure makes this a nice showcase season for Horford, who will carry a heavy load on both ends. The frontcourt talent drop-off behind Horford is such that any meaningful injury absence from the two-time All-Star would likely be season-altering.  
3
Washington Wizards
2012-13 Record: 29-53
Top Addition: Otto Porter | Biggest Loss:A.J. Price
It's not often that 29-win teams spend the offseason eagerly working to keep the band together, but the Wizards weren't your typical 29-win team last year. A knee injury cost franchise point guard John Wall nearly half of the season, and Washington went into its own version of a shutdown. With hopes buoyed by a 24-25 record once Wall returned, the Wizards signed him to a five-year extension this summer, in addition to giving small forward Martell Webster a four-year deal. The plan was to ride the status quo, powered by the up-and-coming backcourt duo of Wall and Bradley Beal, to a record in the neighborhood of .500, which should be enough to deliver the team's first playoff appearance since 2008. But a serious neck injury to starting center Emeka Okafor might have thrown a wrench into those plans, and the Wizards have two large expiring contracts (Okafor's at $14.5 million and Trevos Ariza's at $7.7 million) to use as trade chips if they get off to a slow start. GM Ernie Grunfeld and coach Randy Wittman are entering the final year of their respective contracts, meaning the calm that defined this offseason could prove to be temporary.  
The skinny: This group will go as far as Wall, a potential first-time All-Star, can carry it this season, but the developmental steps taken by Beal, the No. 3 pick in 2012, and Otto Porter, the No. 3 pick in 2013, will be crucial for the franchise's longer-range outlook.
The Magic and Bobcats figure to wage another tight battle for draft-lottery Ping-Pong balls at the bottom of the division, a race that could well be decided by "strategic player development" in the run-up to the loaded 2014 draft. The only marquee new face for the Magic is No. 2 pick Victor Oladipo, a talented and mature two-way player who should weigh heavily in the Rookie of the Year discussion. The Indiana University product joins center Nikola Vucevic and forward Tobias Harris to form a young core that's taking shape for the rebuilding Magic. None of the veteran pieces on the roster -- Jameer Nelson, Glen Davis and Arron Afflalo -- amount to more than placeholders in the big picture, but GM Rob Hennigan will likely do everything in his power to maximize his flexibility until he knows what type of talent the 2014 draft will bring. Second-year coach Jacque Vaughn got Orlando off to a surprising 12-13 start before the wheels came off last season, and this energetic bunch should be capable of throwing a scare into opponents again this year.
The skinny: This season will be a success if Hennigan and Vaughn finish it with a full understanding of how, when and with whom to deploy Oladipo. Of course, winning the draft lottery for the fourth time in franchise history would prove to be a bigger win than anything.
The Bobcats plunked down $40.5 million for Al Jefferson in free agency, by far the largest offseason signing by any team in the division. Will all that dough make a difference in the standings? That remains to be seen, but Charlotte should display some upward mobility with its offense, which ranked No. 28 in efficiency last season. Point guard Kemba Walker showed progress in his second season, and he'll enjoy having a reliable low-post scoring option in Jefferson for the first time in his career. Cody Zeller, a 7-footer selected with the No. 4 pick, looked like an active, skilled high-post complement to Jefferson during summer league, but the burning question is whether the Bobcats' frontcourt will be able to stop anybody. First-time head coach Steve Clifford can keep one eye toward the future this season, as he probes the best ways to maximize the effectiveness of his young core pieces: Walker, Zeller, re-signed guard Gerald Henderson, 2012 No. 2 pick Michael Kidd-Gilchrist and 2011 lottery pick Bismack Biyombo. 
The skinny: A franchise nickname change to the "Hornets" and the possibility of three 2014 lottery picks means that the 2013-14 season is really just a countdown to a brighter future that is finally coming for Michael Jordan's ragtag outfit.
Players To Watch
F
2012-13 Stats: 16.6 PPG, 6.8 RPG, 1.7 APG
Career Stats: 19.5 PPG, 8.9 RPG, 2.1 APG
James, Wade and Bosh can all become free agents next summer, and it goes without saying that Bosh is the most likely member of the trio to be looking for a new home in 2014-15. At 29, Bosh is still fully capable of being a No. 1 scoring option for a team in need, and he should expect a strong market for his services come July. In the meantime, coach Erik Spoelstra will continue to ride his peerless mid-range jumper and inside/outside versatility as the Heat aim to post the NBA's most efficient offense for the second year in a row.
G
Jeff Teague
2012-13 Stats: 14.6 PPG, 7.2 APG, 1.5 SPG
Career Stats: 9.0 PPG, 4.0 APG, 1.1 SPG
Milwaukee's four-year, $32 million offer sheet for Teague was a clear indication of its fractured relationship with Brandon Jennings, but also a nod toward the strides that Atlanta's 25-year-old point guard made over the course of his rookie deal. Asked to do a lot last season after Joe Johnson and Marvin Williams were traded and Lou Williams went down to a season-ending knee injury, the quick, opportunistic Teague responded with career highs in scoring, assists and Player Efficiency Rating (PER). The Hawks' defense will likely take a step back with Smith no longer in the picture, and Teague will be tasked with making sure that the team's balanced offensive attack hums at an above-average clip.
G
Victor Oladipo
2012-13 Stats: 13.6 PPG, 6.3 RPG, 2.2 SPG (college)
Career Stats: N/A
Widely regarded as the most "NBA-ready" prospect in the 2013 class and pegged by management to play both guard positions, Oladipo, 21, joins a Magic roster that returns its veteran starting backcourt of Nelson and Afflalo. Exactly how prominent will Oladipo's role be, and when? How much ball-handling and offense-initiation will it involve? Although Nelson has been a franchise fixture for his entire nine-year career, the torch will be passed sooner or later. Oladipo's age and maturity -- combined with Orlando's dim outlook -- suggest there's no reason to temper his opportunities this year. The future is now.
Burning Questions
Will this be the Heatles' final tour together? Miami drastically altered the NBA's landscape by bringing together the Big Three in 2010, and another seismic shift could be on the horizon in July. A punitive luxury-tax system could wind up being the death of the James/Wade/Bosh trio that could together command well more than $60 million in 2014-15 if they all opt out next summer. Will Pat Riley's recruiting acumen and meticulous roster building be enough to keep the party going?
Do the Wizards hit the panic button? There are a number of combustible elements at play in the nation's capital: on-the-record urgency (and impatience) from owner Ted Leonsis, the uncertain futures of Grunfeld and Wittman, the neck injury to Okafor, a payroll that tops $70 million for a roster with league-average (or worse) talent and depth, and more than $22 million worth of expiring contracts. Together, that's a lot of smoke when it comes to surveying for possible trade-deadline fires. Remember, the Wizards aren't trying to climb Mount Everest, they're just hoping to make the playoffs.
Should we expect a sell-off at the bottom? Charlotte possesses two sizable expiring contracts with Ben Gordon ($13.2 million) and Ramon Sessions ($5 million), while Orlando still has Hedo Turkoglu's expiring deal on its books (pending the possibility of a buyout), plus Nelson and Davis, two players on short-term deals that might make more sense on playoff teams. The 2014 draft looms as a possible turning point for both franchises, who should be particularly aggressive in exploring their options and adding to their war chests as the lottery approaches.
Bold Prediction
LeBron James will become just the second player to win the MVP, Finals MVP and Defensive Player of the Year awards in the same season, joining Rockets center Hakeem Olajuwon (1994).