Many teams added new No. 2 QBs, but who has best backup plan?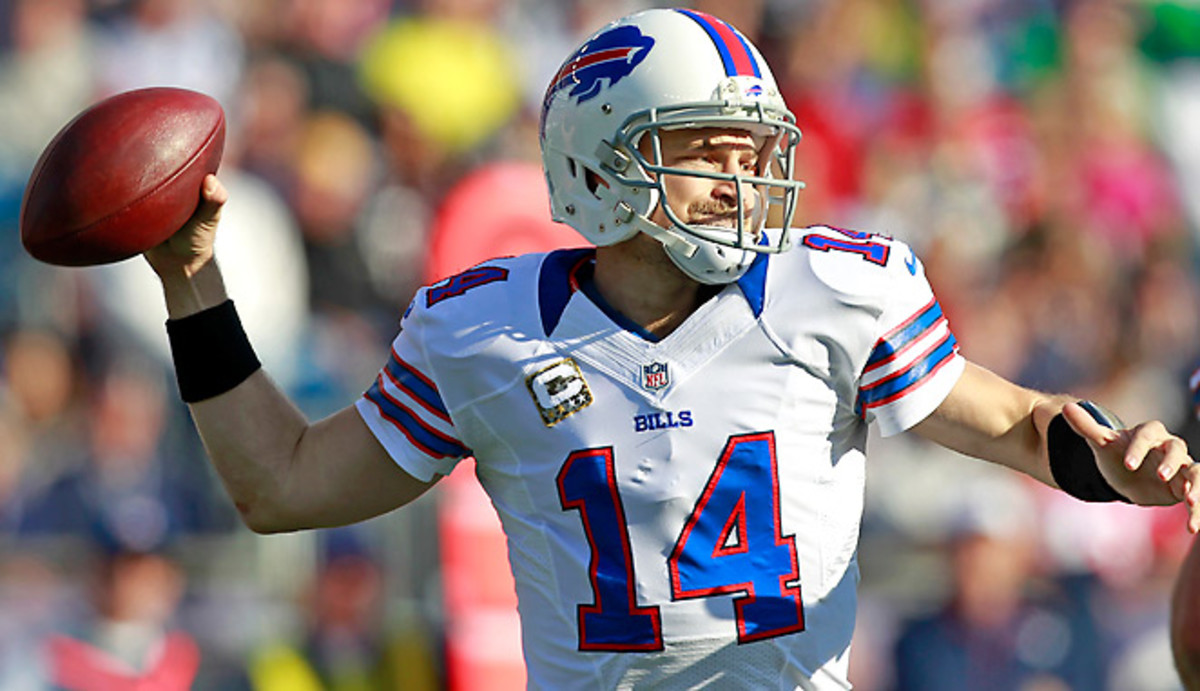 As much as 2012 was celebrated as the Year of the Rookie Quarterback in the NFL, with Andrew Luck, Robert Griffin III and Russell Wilson dazzling us in historic ways and leading their upstart teams to the playoffs, there was a still under-appreciated moment when the depth of last year's rookie class of passers emerged in spectacular fashion.
Without Kirk Cousins proving the value of a quality backup quarterback, the Washington Redskins don't have a season-ending seven-game winning streak, NFC East division title (their first since 1999), and their first playoff berth in five years to show for 2012. Because it was Cousins in Week 15 who rode to the rescue -- starting in place of the injured Griffin at Cleveland -- and kept the Redskins rolling. The fourth-rounder out of Michigan State thoroughly out-played the Browns' first-round rookie quarterback, Brandon Weeden, throwing for 329 yards and two touchdowns, with a rushing touchdown to boot(leg) in Washington's must-have 38-21 victory.
That win, the Redskins' fifth straight, moved them into a tie with the Giants in the NFC East, and proved the wisdom of head coach Mike Shanahan spending a mid-round pick on Cousins last April. That was a selection that I and many others derided as a "luxury'' purchase that Washington could ill afford after trading up so expensively for Griffin at No. 2, but I think a 104.2 passer rating and four second-half touchdown drives against the Browns in his first career start made the case for Cousins quite nicely. (Mea culpa once again, Mike).
And Cousins had already paid major dividends before that clutch Week 15 victory, subbing for the injured Griffin late in regulation at home against eventual Super Bowl champion Baltimore the previous week. Taking over for the battered RGIII, Cousins tied the game on a final-minute, 11-yard touchdown pass to Leonard Hankerson, adding a superb quarterback draw for the necessary two-point conversion that produced overtime and ultimately a galvanizing 31-28 Washington win.
Cousins and San Francisco's Colin Kaepernick were the clear-cut backup quarterback stars of the year in the NFL last season, with Kaepernick's relief job so exceptional for the 49ers">49ers that he led his team to the Super Bowl and drove former starter Alex Smith right out of town.
Once again, we learned that having a backup plan can be essential to success. Who will be the pivotal No. 2 passers in the 2013 season? With more than one-third of the league making a change at backup quarterback this season, here's our very subjective ranking of the teams that have made those moves, based on the strength of their new guy at No. 2:
1. Tennessee: Ryan Fitzpatrick-- OK, so the Bills and the rest of us found out Fitzpatrick doesn't have enough game to carry an offense on his shoulders in the No. 1 job. But as credentials go, he's over-qualified to play understudy to third-year man Jake Locker in Tennessee. Fitzpatrick is only 30, and his 80 touchdowns and 20-33 record as the Bills starter means the Titans didn't lose much in terms of experience when they let 37-year-old backup Matt Hasselbeck go.
Fitzpatrick has played the No. 2 role before, with the Rams in 2005-06, Bengals in 2007-08 and Bills in 2009, so he knows the job description. He's a good teammate, and I expect he'll be a steadying presence and helpful mentor to Locker. The more Fitzpatrick plays, the worse he tends to look, but if you need him for a two- or three-game stretch at some point, he can light it up. He'll throw some picks (64 in his 55 games as a Bill), but he also had three consecutive 3,000-yard passing seasons, including more than 7,200 yards and 48 touchdowns in 2011-12.
2. Minnesota: Matt Cassel--The Vikings weren't about to allow themselves to be in the position of relying on Joe Webb to win a playoff game again in 2013, and that's where Cassel is a huge upgrade behind starter Christian Ponder. Cassel won't be 31 until next month, meaning he's still young enough to resurrect his starting career with a strong showing in Minnesota this year.
He can look ragged at times, and he needs consistent protection to play his best, but the guy has twice led teams to 10-5 records as a starter (the 2008 Patriots and 2010 Chiefs) and not many NFL backups can match that. Cassel is a decent 29-33 as a starter, with 82 touchdowns and 57 interceptions in his twin four-season stints in New England and Kansas City. An 80.4 career QB rating and three seasons of at least 2,900 yards passing were highlighted by his 2010 Pro Bowl year (27 touchdowns, seven interceptions, 93.0 rating).
3. Indianapolis: Matt Hasselbeck--The Colts went from Drew Stanton to Hasselbeck behind Andrew Luck, and there is plenty the 14-year veteran and former Super Bowl starter can teach the franchise QB about the ins-and-outs of the AFC South, and how to read an NFL defense. And though he'll turn an ancient 38 in late September, Hasselbeck isn't all washed up as a passer, given he went 11-10 as a starter for the Titans in 2011-12, with 25 touchdowns, 19 interceptions and a 3,571 yard season in '11.
If anything should happen to Luck, Hasselbeck won't be able to fill in without a dropoff, but it won't be Kerry Collins-Curtis Painter ugly either. Then again, if the Colts hadn't taken their medicine with that 2-14 disaster in 2011, they wouldn't have Luck in their pocket today. So perhaps they owe Collins and Painter a debt of thanks.
4. New York Jets: David Garrard -- Given the disarray of the Jets quarterback depth chart these days, who knows who the real starter and backup is in New York. But we're operating under the assumption that it's Garrard behind Mark Sanchez at the moment. The good news is that Garrard is 39-37 as a starter in the NFL, has never had a season in which he started at least two games and threw more interceptions than touchdowns, and is a career 85.8-rated passer with a 61.6 completion percentage. Those aren't shabby stats for a No. 2.
The bad news is Garrard is 35, and hasn't played a game in the NFL since 2010 with Jacksonville. That could mean Garrard is healthier and raring to go, or buried beneath a layer of rust that won't be easily removed. But the bar is set fairly low for Jets quarterbacks, given Sanchez's difficulty staying out of the way of his own offensive linemen's backsides in 2012.
5. Cleveland: Jason Campbell -- The issue for Campbell is that the last time we saw him play, he was melting down in his spot start for the Bears at San Francisco on that Monday night in November. But the 49ers defense can do that to a quarterback. It's also worth remembering that Campbell was 4-2 as a starter for the Raiders in 2011, before breaking his collarbone against the Browns and setting off the whole Carson Palmer trade/disaster in Oakland. In fact, Campbell won 11 of his 18 starts for the Raiders in 2010-2011, and by recent Raiders standards, that's remarkable.
The Browns have upgraded at backup because it was Colt McCoy behind rookie Brandon Weeden in 2012, and Campbell's career numbers have McCoy beat by a mile. In his seven NFL seasons, Campbell is 31-40 as a starter with three teams, with 76 touchdowns, 52 interceptions and a solid 60.9 completion percentage. At his best, Campbell should be able to push Weeden for the starting job.
6. Kansas City: Chase Daniel -- For a guy who went undrafted in 2009 out of Missouri, has never started an NFL regular-season game, and has completed just 7 of 9 passes for 55 yards in the league, Daniel sure got paid like a proven commodity in free agency. The Chiefs pursued the former Saints backup aggressively and landed him with a three-year, $10 million contract that includes more than $4 million guaranteed. And there were other teams that wanted him.
The sheen of the Saints offensive success under Drew Brees certainly helped buttress Daniel's reputation. But he's also a very nice fit for Andy Reid's West Coast-style offense in Kansas City, plays an intelligent brand of ball like new Chiefs starter Alex Smith, and had the benefit of some strong preseason showings the past three seasons in New Orleans. He's mostly projection in terms of the regular season, but my sense is Daniel could prove to be a wise investment for Kansas City.
7. San Francisco: Colt McCoy -- His mostly failed tenure in Cleveland aside, I get the McCoy trade for the 49ers. He's young (26), has 21 games of starting experience in the league (6-15 record) and came relatively cheaply, both in terms of the trade and his 2013 salary ($2.3 million in the final year of his four-season rookie contract). Plus, McCoy is well-versed in playing in a West Coast-style offense, and has the mobility to step in for Colin Kaepernick without requiring San Francisco to abandon its read-option approach.
So far, you have to trust 49ers head coach Jim Harbaugh and his handle on quarterbacks. In two seasons in San Francisco, he and offensive coordinator Greg Roman and quarterbacks coach Geep Chryst have resurrected Alex Smith's career and unearthed a budding superstar in Kaepernick. They get the benefit of the doubt when it comes to making something out of McCoy that Cleveland couldn't.
8. Arizona: Drew Stanton -- Before the Carson Palmer trade was made by the Cardinals, it appeared Stanton was in line to be Arizona's starter, with new head coach Bruce Arians bringing him to town after both spent 2012 in Indianapolis. Stanton doesn't have much regular-season experience, but he did go 2-1 as Detroit's starter in 2010, replacing the injured Matthew Stafford. He threw for 780 yards and four touchdowns for the Lions that season, playing in six games overall, and he has a quality arm.
The Cardinals were abysmal at quarterback the past two seasons, which is largely why head coach Ken Whisenhunt and general manager Rod Graves were fired. With Palmer and Stanton on board, and the quarterback guru Arians hired as head coach, Arizona's nightmare at the game's most crucial position appears over.
9. Pittsburgh: Bruce Gradkowski -- The Steelers needed to get younger at backup quarterback, because Charlie Batch, 38, and Byron Leftwich, 33, really didn't get much accomplished last season, combining for just one touchdown pass and five interceptions in the three games that Ben Roethlisberger missed due to injury. Gradkowski, 30, is a journeyman, but he's not as bad as his 6-14 career starting record sounds. He barely played in Cincinnati behind Andy Dalton the past two years, but did record a win in relief over the Browns in 2011.
As a Raiders starter, he once upset the Steelers at Heinz Field, effectively ending Pittsburgh's defense of its Super Bowl championship in 2009. Gradkowski also had a strong preseason in 2012, throwing three touchdowns without an interception. Given Big Ben's injury track record, he'll play some for the Steelers. Gradkowski, who played high school ball in Pittsburgh, has now been with every AFC North team except Baltimore, where his little brother, Gino, is a Ravens center.
10. New Orleans: Luke McCown -- The Saints replaced the departed Daniel with McCown this offseason, after McCown spent the 2012 preseason with New Orleans. He didn't survive the team's final cut, however, and backed up Matt Ryan in Atlanta last season without throwing a pass all year. McCown is a serviceable veteran of five NFL teams, winning twice in nine career starts, four of which came way back in 2004 (0-4 with Cleveland) and three in 2007 (1-2 in Tampa Bay).
McCown last saw any meaningful action in Jacksonville, but it was eminently forgettable. He started two games, going 1-1, but threw four interceptions and no touchdowns for the Jaguars in relief of rookie Blaine Gabbert. In New Orleans, where Brees is king, McCown will only be relied on in worst-case scenarios.
11. Cincinnati: John Skelton -- The Bengals claimed Skelton off waivers from Arizona this week, after the Cardinals traded for Carson Palmer and moved on from their former starter. Skelton's career stats aren't horrible, but any quarterback who played for Arizona in the past two years has seen his reputation damaged. Skelton, 25, went 8-9 as the Cardinals starter, but was just 1-5 last season and played the role of turnover machine.
He has 15 touchdown passes and 25 interceptions in his three-year NFL career, with 3,707 yards passing, and he and former Browns third-stringer Josh Johnson are expected to compete for the No. 2 job behind Andy Dalton in the preseason. Johnson is 0-5 as an NFL starter, all with Tampa Bay from 2009-11. Cincinnati's No. 2 spot belonged to Bruce Gradkowski the past two seasons, so it's hard to see how the Bengals' quarterback depth has improved.
? Note: For now at least, Buffalo's signing of Kevin Kolb seems to make him the frontrunner to start for the Bills, with holdover backup Tarvaris Jackson returning ... Other teams that still seek a backup quarterback include Chicago, which lost Campbell and re-signed third-stringer Josh McCown; Seattle, which traded Matt Flynn to Oakland; Tampa Bay, which released Dan Orlovsky; and possibly San Diego (Charlie Whitehurst behind Philip Rivers) and St. Louis (Austin Davis behind Sam Bradford). Free-agent quarterbacks who still remain on the market include Brady Quinn, Matt Leinart, Vince Young, Byron Leftwich, Charlie Batch and Tyler Thigpen.