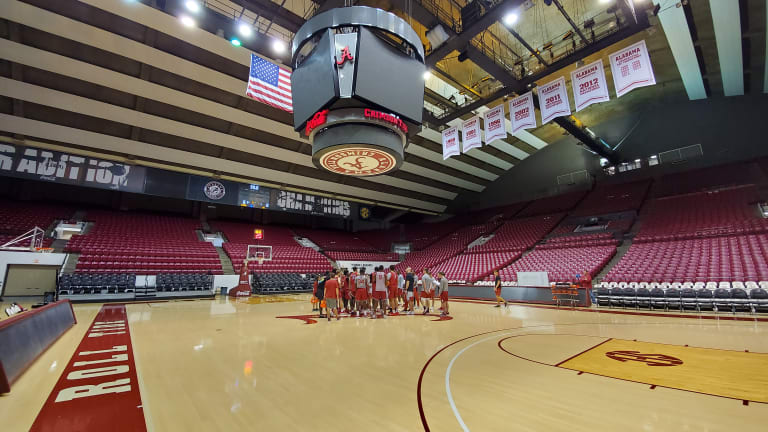 Basketball Coach Nate Oats Critical of Crimson Tide's Play in Exhibition
Head coach Nate Oats comments on improvements the team needs to work on, as well as praising two key players
TUSCALOOSA, Ala. — The Alabama men's basketball team continued its series of practices before the start of the season Thursday.
Since the Crimson Tide's 93-65 charity exhibition victory over Georgia Tech on Sunday, the team has been hard at work correcting the mistakes that occurred in the matchup with the Yellow Jackets.
Despite a positive reaction from fans after the Crimson Tide's performance, Alabama head coach Nate Oats had nothing but criticism after watching film from the game.
"Our turnovers are way too high," Oats said. "We're still learning it. It's not anywhere close to where we want it. Shooting erases a lot of mistakes, so when you make 17 threes all of a sudden everyone thinks 'you looked really good' when in reality we really got a long ways to go. Turnovers hurt us. We didn't play in the same pace we wanted to play. We finished poorly at the rim I felt like. I thought we had way better finishers at the rim. Sometimes we settled for way too many not-at-the-rim twos so it's a work in progress.
"It was our first time in front of fans with our second time ever playing anybody else so it's gonna get better and better and better as the year goes on. We don't want to be playing our best basketball in October and November. We'd like to be playing our best basketball in February and March. We'll just keep working and get better at it."
In addition to a roster that has a plethora of new talent, there are also some key returners. Last season as a true freshman, guard Kira Lewis Jr. led the team in points and assists with 458 and 98 respectively, as well as finishing second on the team in steals with 28.
Oats praised Lewis' offensive capabilities, but wants to get him more involved in the defensive side of the game.
"Kira's as skilled as any player I've coached offensively," Oats said. "We're just trying to get him to be better defensively. He's coming. He's working at it. I mean, he's young. He just turned 18, so he's still a young kid still."
Another standout at the practice was junior guard Herbert Jones, who made several big blocks and several 3-pointers during the brief scrimmage at the end of practice, and has come a long way in the off-season.
His improvement has not gone unnoticed to Oats.
"I haven't had a guy that versatile on offense and be as great on defense as Herb [Jones]," Oats said. "Herb's overall two-way offense and defense play is at an elite level. Now, if he can really start making shots—and we're encouraging him, he's been in the gym a lot working he's just got to get confidence, he's got to take it to practice and see him go in and be more confident in games—if he adds that dimension to it he's gonna be one of the better players in the country in my opinion."
Jones, who won the hard-hat award for his five point, five assist, six rebound performance in the game against Georgia Tech, agreed with his coach that confidence is a main key to unlocking his success this season.
"I mean just open-shooting with confidence you know," Jones said. "Taking the right shots, not forcing anything and playing in a full offense."
Alabama opens the season on Nov. 5 against the Penn Quakers. Tip off is scheduled for 7 p.m. CT (SEC Network+).