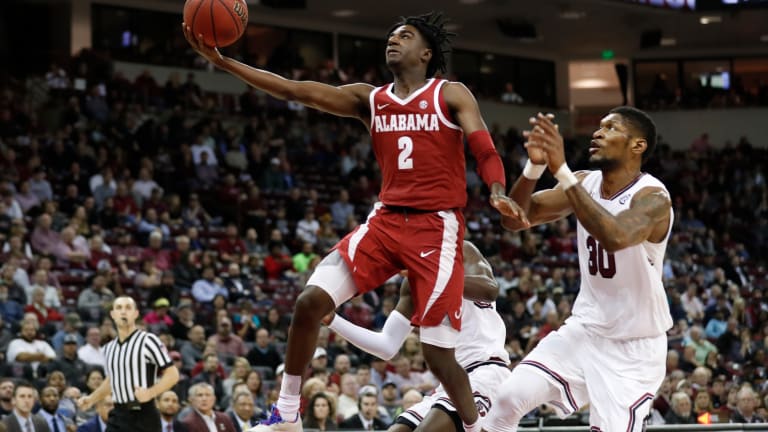 Alabama Will Look to an Older, More Experienced Kira Lewis Jr. for Success Under Nate Oats
With his freshman year under his belt, Kira Lewis Jr. aims to elevate his game in year two as one of the better players in the SEC
TUSCALOOSA, Ala. - At 17 years old, University of Alabama sophomore guard Kira Lewis Jr. was the second youngest player in all of Division 1 college basketball last season.
No one could watch a game that involved the Crimson Tide without broadcasters mentioning his ripe age. As the youngest player in the SEC, Lewis was proclaimed to be the "baby" of the conference. 
Lewis is eager to put that reputation behind him beginning noon, Sunday, when Alabama hosts Georgia Tech for a charity game for the American Red Cross Hurricane Dorian Relief Fund at Coleman Coliseum.
"It feels good to be older," Lewis said at SEC Media Days. "Everywhere I went people were talking about me being 17. I am just glad I turned 18. It is time to move forward and not worry about last year."
A youthful Lewis showed flashes of brilliance during his rookie year, averaging 13.5 points, 2.9 assists, and 2.6 rebounds in all 34 games for the Crimson Tide. He led the team in nearly every major offensive category including scoring, field goals made, free-throw percentage, and 20-point games with five. Those numbers landed him on the league's all-freshman squad.
While the Meridianville, Ala., native had a few strong individual performances, the team struggled as a whole, finishing with 18-16 record and an unexpected loss in the first round of the NIT to Norfolk State. It resulted in a coaching change that left Lewis questioning his future in Tuscaloosa.
He spent nearly two weeks in the transfer portal, weighing his options, before incoming Nate Oats was able to persuade him otherwise.
"It reminded me of high school again," Lewis said. "I was being recruited again. I had set up visits with some schools, but never went. My decision to come back was based on when I met Coach Oates for the first time. 
"I just knew he was the right coach. He told me the truth from day one and he has a great supporting cast around him."
One of Oats' selling points to Lewis Jr. was his high-powered offensive schemes that gets up and down the court quickly and maximizes each player's scoring ability. Last year, his Buffalo team averaged 84.4 points a game, which ranked sixth in the nation.
"He has a proven track record at Buffalo," Lewis said. "He has had great offensive and defensive teams. Speed, you know, we want to get the ball out fast. I just feel like his resume is going to carry over into Tuscaloosa."
Much of Oats' success in his first year at the Capstone figures rely heavily on Lewis' game, as he obviously has next-level potential.
"I did not recruit him out of high school, but Kira was one of our biggest recruits out of the transfer portal," the new head coach said.
"Playing in the NBA was a big part of that decision because he would have to sit out a year if he left. Whether he goes to the league after this year or two years from now, we are trying to get him there and he is trying to get himself there. If he does go after this year and he is a guaranteed first-rounder, that means he had a great year and we are all better off for it. Offensively, he is really good. He has to get stronger and better on the defensive end and he knows that."
Over the past summer, Lewis had the opportunity to work on his craft as he represented Team USA in the FIBA U19 World Cup in Greece. He made his impact, coming off of the bench in seven games, shooting over 54 percent from 3-point range and averaging four points and two assists in route to winning a gold medal over Mali.
"It was a great overall experience," Lewis said. "It was my first time in Greece or even being outside of the country. It was kind of like a hostile environment each time we played. The fans in each gym wanted us to lose, but it was really fun."
Lewis has heavy expectations to live up to during his sophomore campaign, as he was named to the Preseason All-SEC Second Team.
"This year, I have been in the gym getting stronger and I am looking for ways to help my teammates out as much as I can," Lewis said. "I want to be more effective on the court than I was last year. I am trying to read defensive schemes better."
The hiring of Oates has brought fresh air into a program that is ready to get the taste of a disappointing end to last year out of everyone's mouths.
"I feel like we are a top three team in the SEC," Lewis said. "If not top three, then definitely top five. I feel like we are going to have a great year and make it to the NCAA Tournament.
"We are hungry to prove people wrong from what they saw last year. It is a new season and there is a new excitement. We have a new coach and we have been working hard this offseason, just thinking about how last year finished and there are probably people counting us out, and we are working hard for them."