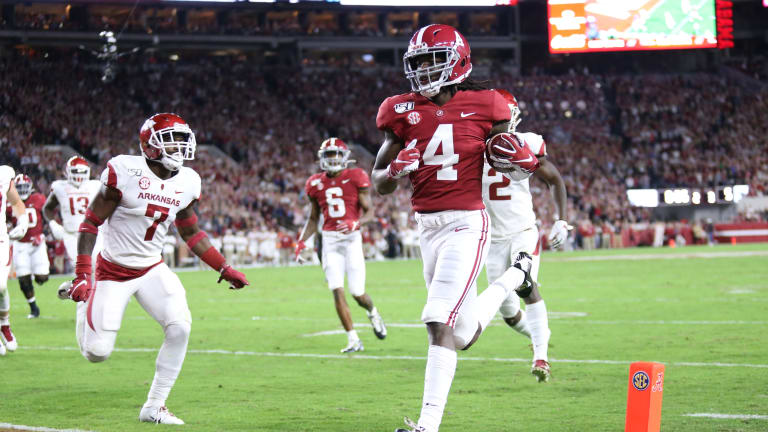 Alabama Walks All Over Arkansas in 48-7 Homecoming Blowout
Crimson Tide posts dominating win in final tune-up before showdown with LSU
TUSCALOOSA, Ala. — It was a throwback night. A reunion game. A celebration of homecoming.
And, to put it mildly, it was a butt-kicking.
Alabama simply crushed Arkansas on Saturday night, with the kind of win that was reminiscent of the 2009 national champions.
With Nick Saban's first title team at Alabama on hand for its 10-year anniversary, the Crimson Tide dominated in every facet en route to a 48-7 victory at Bryant-Denny Stadium.
"This is a game that if we would've taken any rat poison, we wouldn't have been focused on this game at all, based on everyone else and the community and the media," Nick Saban said. "The fans and the questions I get asked on the media show, you know "Nick at Noon" [luncheon]. I get asked about the next game. And we had this game. We were pleased with the way our players stayed focused on what they had to do in this game, so we could flow as a team.
"I'm sure there are things that we will see in film that we can do better, but I think our guys competed hard in the game. They played hard in the game and took care of business the way that we wanted."
Mind you, Alabama "only" defeated Arkansas 35-7 in 2009, but this Crimson Tide team showed it might be ready to play at that standard. It also used a similar formula in dismantling the Razorbacks.
The running game was effective and was a big reason why Alabama finished with a large edge in time of possession (34:34 compared to 25:26). Junior running back Najee Harris led the way with 86 rushing yards on 13 carries as he and Brian Robinson Jr. combined averaged 5.9 yards per carry.
The defense created four first-half turnovers, including senior cornerback Trevon Diggs' second touchdown return in as many weeks. This time it was an 84-yard interception return to close the first half. Redshirt junior linebacker Terrell Lewis was credited with a pressure on the play, his sixth of the game.
"As a team I thought we played better all the way around," said sophomore cornerback Patrick Surtain II, who had an impressive reach-up interception. 
Without starting quarterback Tua Tagovailoa (ankle), the play-calling was a little more conservative and ball-control oriented. Nevertheless, redshirt sophomore Mac Jones completed 12 of his first 15 attempts as Alabama scored on each of its first five possessions.
The only three incompletions while building a 31-0 lead were on a deep attempt to junior wide receiver Jerry Jeudy, the sideline miss/drop to junior wide receiver DeVonta Smith and a ball thrown away in the red zone. Alabama scored anyway, three plays later to go up 24-0 early in the second quarter.
Even at that point, there was more drama in the halftime announcement of the homecoming court, which had been decided three days prior.
Jones ended up 18-for-22 for 235 yards, with three touchdowns and no turnovers. His freshman backup, Tagovailoa's younger brother Tulia, was 6-for-8 for 45 yards.
"It was a good night," Jones said about his first career start. "I mean at the end of the day, I just told everybody to just do their job and everything would work out and take it play by play."
That everything went Alabama's way wasn't just due to playing an overmatched Arkansas team that fell to 2-6, 0-5 SEC. The No. 1 Crimson Tide had its most complete performance of the season despite having a looming showdown with No 2 LSU following a bye week.
It didn't take long for Alabama (8-0, 5-0 SEC) to set the tone.
After Arkansas opened with a six-play, 27-yard possession, which was its best of the game until the Crimson Tide had finished putting points on the board, Alabama countered with 14-play drive that culminated with a 31-yard field goal by Joseph Bulovas.
It wasn't just Alabama's longest possession in terms of plays to open a game, but its longest of the season. It previously had two lasting 13 plays, against Duke and South Carolina, although none of the three resulted in a touchdown (the others resulted in a missed field goal and made field goal, respectively).
Instead of 14 plays, it only needed that many yards to reach the end zone on its second possession. Following a near scoop-and-score by freshman linebacker Christin Harris, Jones found Henry Ruggs III in the back of the end zone.
Then the touchdowns came at a rapid pace. Jeudy had two, including one on a 40-yard bomb, and finished with seven receptions for 103 yards.
Harris also scored two before leaving the game with a twisted ankle following the first snap of the second half. He could have returned, but the scored was already 41-0.
Alabama was cautious with its banged-up players even in the first half, and ended up playing both second- and third-string players just before the stretch run to the regular season.
"Got a lot of experience with some of those players," Saban said. "I think that's probably the most important thing for our team right now."