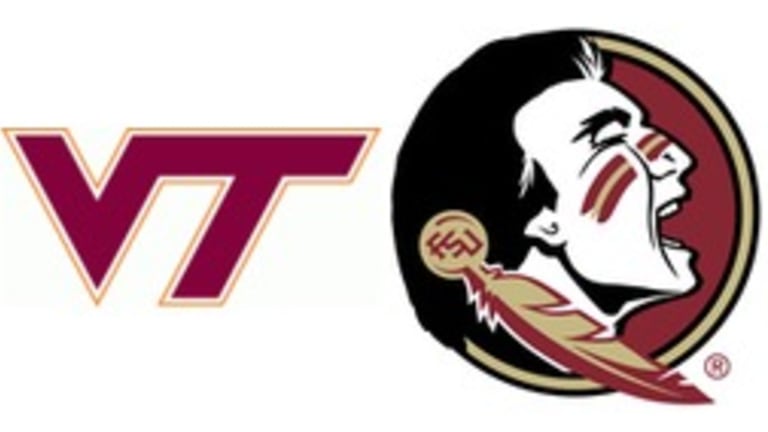 Alabama Adds Florida State, Virginia Tech Home-and-Home Series to Schedules
Crimson Tide and Seminoles to meet during 2025-26 football seasons; Hokies in 2034-35
TUSCALOOSA, Ala. – The University of Alabama football program's dance card is full when it comes to scheduling a high-profile opponent for the forseeeable future. 
Alabama and Florida State announced a home-and-home football series for the 2025 and 2026 seasons on Thursday.
"The addition of Florida State to the 2025 and 2026 schedules gives us our second non-conference Power 5 matchups of those seasons as we also play Wisconsin at home in 2025 and West Virginia on the road in 2026," Alabama athletic director Greg Byrne said in a release. "We've been working diligently at building future schedules that provide our team and our fans a lot of excitement and opportunity, and we are pleased to add the Seminoles to that mix."
The first game will take place in Tallahassee, Fla., on Aug. 30, 2025, with Florida State returning the trip to Tuscaloosa on Sept. 19, 2026.
"Our administration has worked extremely hard to upgrade our non-conference schedule in the coming years and the addition of Florida State in 2025 and 2026 is another great example," Nick Saban said. "This gives us two non-conference games against high-caliber Power 5 competition in those seasons, which is good for both our program and our fans. 
"We have played a couple of great neutral site games with the Seminoles over the years and this home-and-home series should be no different."
The Crimson Tide won the most recent matchup, 24-7, in the Chick-fil-A Kickoff Game in Atlanta, Ga., to open the 2017 season. Including the victory at Mercedes-Benz Stadium, the Tide hold a 3-1-1 advantage in the series.
 Director of Athletics announced that Alabama and Ole Miss will each play a home-and-home series with the Hokies. In addition, Babcock also confirmed that the dates for the Wisconsin series have been solidified for 2031 and 2032. Plans are also being finalized to play a home-and-home series with an SEC opponent in 2024 and 2025. 
Later Thursday, Virginia Tech announced home-and-home series with both Alabama and Ole Miss, plus the dates for a Wisconsin series for 2031 and 2032. The Hokies are in the process of finalizing plans play a home-and-home series with a yet-to-be-named SEC opponent in 2024 and 2025. 
"Wisconsin approached us within the last year about moving our game dates again or potentially even cancelling our two future games," Virginia Tech athletic director Whit Babcock said in a release. "Knowing Wisconsin and Alabama could certainly pay the collective $1 million cancellation fee if they wanted to ultimately play on our dates in 2024 and 2025, we didn't want to be left without a second Power Five non-conference opponent in those years.

"Fortunately, everyone worked together to get to our final outcome. We worked with Dave Brown of Gridiron to help identify an opportunity for us to play an SEC opponent in 2024 and 2025, then the Wisconsin contract got amended, thereby freeing up the shift, and additionally, Alabama worked with us to schedule a future home-and-home series in the out years."

The Crimson Tide will visit Blacksburg in 2034 for the first time since Frank Beamer's senior season as a player in 1969. Alabama won 17-13.
They last played in 2009 in the Georgia Dome, which began Alabama's first title run under Nick Saban. 
No. 5 Alabama overcame a 98-yard kickoff return, running back Mark Ingram II had a then-career high 150 yards as the Crimson Tide wore down No. 7 Hokies for a 34-24 victory.
With the addition of Florida State, Alabama has added seven home-and-home series to future schedules, including: Texas (2022 & 2023), Wisconsin (2024 & 2025), West Virginia (2026 & 2027), Notre Dame (2028 & 2029), Oklahoma (2032 & 2033) and Virginia Tech (2034 & 2035).
Virginia Tech has also added North Alabama to next season's home football schedule with a Sept. 26, 2020 game. North Alabama begins play in the Big South Conference in 2019.