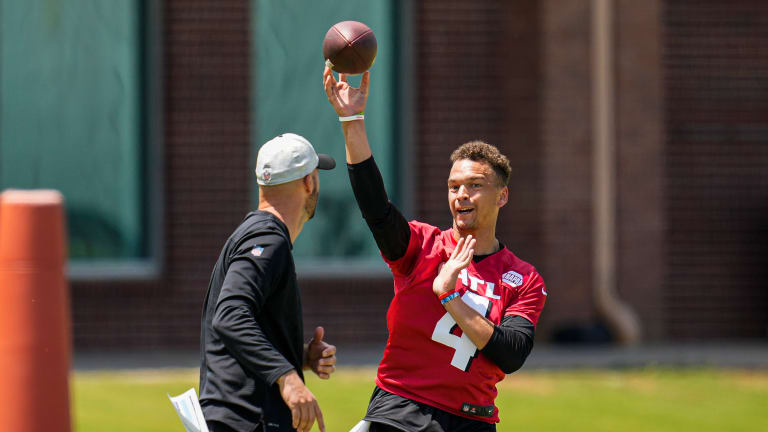 Desmond Ridder Making Strong Early Impressions With Atlanta Falcons
The rookie is ready to take on Marcus Mariota for the Falcons top QB spot.
CINCINNATI — First impressions are always important, and Desmond Ridder is doing a great job with his in Atlanta. The new Falcons quarterback is already well-versed in the playbook which he got less than two weeks ago.
"I'm in the playbook 24/7," he told Falcons reporter Tori McElhaney. "I have it down pretty good. So, when they're coming over to me, asking questions, being able to fire it back at them real quick. And they understand I have a good grasp and knowledge of the offense. That builds trust within the offense and our relationships within each other."
On top of recognizing he has to get the playbook down faster than any other player, Ridder also knows his current place in the positional hierarchy.
"I think that's the biggest things," Ridder said about respecting the process. "Marcus (Mariota) is a guy who's played a lot of games in the NFL, and obviously, had a tremendous college career. You have to give respect where respect is due... but at the end of the day - and he knows, too - it's obviously a competition, or else we wouldn't be here."
Ridder transforms every situation he enters, and that's not slowing up down south. Check out the full story here.
Make sure you bookmark All Bearcats for the latest news, exclusive interviews, film breakdowns and so much more.
You May Also Like:
Watch: Alec Pierce, Jerome Ford, Myjai Sanders Practicing at NFL Rookie Minicamps
The 2022 NFL Schedule: Bearcats Edition
Three-Star 2023 Target Locks Commitment Date; Wes Miller Offers Top-55 2024 Player
Watch: Desmond Ridder Arrives at Atlanta Falcons Facility for Rookie Minicamp
Recruiting Roundup: Bearcats Offer Top-10 2024 Athlete; Three More Recruits
Bearcats Peppered Across NFL Rookie of the Year Betting Markets
Ahmad Gardner, Alec Pierce Make List of Top-10 Scheme Fits
Look: Ahmad Gardner Buys Permanent Jersey Number From Jets Teammate
Bearcats Move up in Latest ESPN Recruiting Rankings
Bearcats Offer Four-Star 2023 Center; Bring in 2024 Sharpshooter for a Visit
Watch: Ahmad Gardner Practices With Jets Rookies, Signs Rookie Contract
PFF Lists Coby Bryant as 'Instant-Impact Day Three Rookie'
Ahmad Gardner Signs Contract With New York Jets
Four-Star 2023 Point Guard Trey Green Places UC in Top-Seven Schools
Richard Sherman: Coby Bryant 'Will be a Long-Time Starter' for Seattle Seahawks
Desmond Ridder Named one of the 2022 NFL Draft's Biggest Steals
Five UC Football Players That Could be Drafted in 2023
Ahmad Gardner, Alec Pierce Projected as 'Biggest 2022 Impact Rookies'
Wes Miller: 'Crucial Offseason' Ahead for Jeremiah Davenport, Viktor Lakhin
Report: Outgoing AAC Schools 'Fully Confident' Settlement is Reached With AAC This Month
Three-Star 2023 Quarterback Brady Drogosh Commits to Cincinnati
Ahmad Gardner Headlines Record-Breaking New York Jets Draft Class
Major Analysts Name Desmond Ridder 'Steal of the 2022 NFL Draft'
Local Four-Star 2023 Guard Rayvon Griffith Commits to UC
UC Emerges as a Major Winner From the 2022 NFL Draft
Watch: Darrian Beavers Celebrates Being Picked by New York Giants
Desmond Ridder: Atlanta is 'Going to get a Super Bowl out of me'
Corey Kiner: 'Why Come Closer to Home When I Could Just Come Home?'
Takeaways From UC's 2022 Spring Game
Bearcats Q&A: A Ball-Handling Discussion With Mika Adams-Woods
-----
Be sure to keep it locked on All Bearcats all the time!
Follow All Bearcats on Twitter: @AllBearcats
Like All Bearcats on FaceBook: All Bearcats
Follow All Bearcats on Instagram: @BearcatsTalk