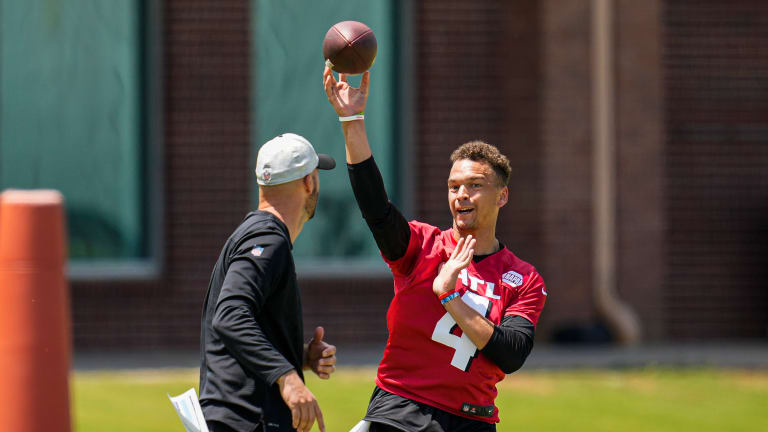 Michael Rothstein: Marcus Mariota 'Far Ahead' of Desmond Ridder
The two QBs will cement the starting job at training camp next month.
CINCINNATI — Desmond Ridder is garnering plenty of praise for how he's handling the early days of his NFL career but ESPN's Falcons beat writer Michael Rothstein thinks he's a longshot to start in Week One and doesn't anticipate him starting a game until late in the 2022 season.
"5%," Rothstein said when asked to give a percentage chance that Ridder starts the season as QB1. "Mariota appears to be far ahead of Ridder right now, and Atlanta brought Mariota in for a reason -- to be the starter at least in the short term because he has familiarity with what coach Arthur Smith wants in the offense. Plus, Mariota has looked sharp through OTAs. So why the 5%? There's always the chance of an injury, and it's also possible Ridder takes a big jump once training camp starts. Atlanta likes what it has seen from Ridder so far, but a Week 1 debut seems like a stretch."
Rothstein gave Ridder a 20% chance of riding the bench all season after what he's seen from Mariota thus far.
"20%," Rothstein explained. "The reality is if Mariota plays well and the Falcons are still mathematically eligible for the postseason, he will be the quarterback. Ridder's paths to playing at this point include:
Mariota struggles as a starter.
The Falcons are eliminated from playoff contention and decide they need to see what they have in Ridder.
Mariota gets injured.
More likely? Ridder gets some action as the season goes along, but when that comes and what that looks like will depend on both how Mariota is playing and how Ridder is progressing."
Rothstein went as far as to project that Ridder won't get his opportunity to start in the NFL until the Falcons' second matchup against the Saints.
"Week 15 at New Orleans Saints," Rothstein wrote. "The Falcons have a late bye and should know whether they are still in the playoff race at that point. If they are, Mariota would likely remain the starter. If not, it could be a good time to make the switch (unless Mariota is playing really well) because it would give Ridder an extra week to prepare and four games of play. That gives Atlanta a reasonable sample size to judge what it might need to do at QB in the 2023 season.
"If things are going poorly for Mariota, Week 11 against Chicago would be another time to watch because the Falcons would be coming off a Thursday night game in Week 10 -- again giving a rookie a little more time to prepare for a switch to starter."
The Falcons brought Mariota and his experience into the building for this exact scenario. Ridder could very well be a successful NFL quarterback, but like his development at Cincinnati, it might matriculate a bit slower than people expect. We all know what results that development path brought for UC—now we'll see if similar success can happen in Hotlanta.
Make sure you bookmark All Bearcats for the latest news, exclusive interviews, film breakdowns and so much more.
You May Also Like:
Three Bearcats Named to Phil Steele's 2022 Preseason All-American Team
UC Commit Brady Drogosh Gets off to Slow Start in 2022 Elite 11 Finals
Perry Eliano: Coby Bryant Took Unseen Work 'to a Whole Other Level'
UC Football Recruiting Rankings Check-In
Recruiting Roundup: UC Offers Four-Star 2024 Sharpshooter, Rising 2023 Guard
Seven Things That Need to Happen for Bearcats to Have Successful Season
Over/Under: Bearcats Win Total Set for 2022 Season
Ahmad Gardner Notches Pick-Six, Impresses in Jets' Final Open Minicamp Practice
Watch: Ahmad Gardner Makes Virtual Visit to New York-Area Children's Hospital
Falcons Head Coach Arthur Smith: Desmond Ridder 'Light Years Ahead of Most Young QBs'
Report: Ahmad Gardner Paid $50,000 for New York Jets Jersey Number
Three-Star 2023 CB Cameron Calhoun Commits to UC
John Cunningham: UC Increasing Media Revenue 'More Than Two Times' With Big 12 Move
UC Football Sells out of 2022 Season Tickets
UC Offers Local 2024 Center Raleigh Burgess; Four-Star Guard Trey Green Discusses Recruitment
Sporting News Names Luke Fickell Fifth-Best Coach in College Football
Bob Huggins on UC Joining Big 12: 'They Better get Ready Because it is Hard'
Three-Star 2023 Defensive Lineman Kamari Burns Commits to UC; Class of 2023 now Highest-Rated in School History
Four-Star Wide Receiver Ayden Greene Commits to UC
Four-Star Safety Daeh McCullough Commits to UC
The 2022 NFL Schedule: Bearcats Edition
Bearcats Peppered Across NFL Rookie of the Year Betting Markets
Five UC Football Players That Could be Drafted in 2023
Takeaways From UC's 2022 Spring Game
Bearcats Q&A: A Ball-Handling Discussion With Mika Adams-Woods
-----
Be sure to keep it locked on All Bearcats all the time!
Follow All Bearcats on Twitter: @AllBearcats
Like All Bearcats on FaceBook: All Bearcats
Follow All Bearcats on Instagram: @BearcatsTalk