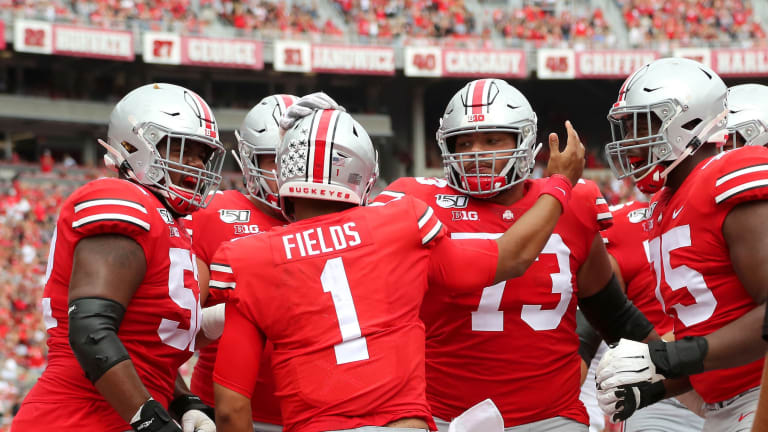 LIVE BLOG...Ohio State vs. Wisconsin
Unbeaten, third-ranked Buckeyes play host to 6-1, No. 13 Badgers
We are minutes away from kickoff as No. 3 Ohio State plays host to No. 13 Wisconsin at Ohio Stadium (Fox-TV) with the Big Ten's College Football Playoff hopes on the line.
The Buckeyes (7-0) have an inside lane to the Playoff in head coach Ryan Day's first season because they are unbeaten and will get fellow-unbeaten Penn State at home on Nov. 23.
The Badgers (6-1) were dominant through the first half of the season and still boast the nation's No. 1 defense in every category, but are coming off a shocking 24-23 loss to Illinois last week.
Join us for a LIVE BLOG throughout the game.
It's easy and free to be part of the conversation.
Go to the top of the site and on the right side of the SI Buckeye Maven logo click the follow button.
Post in comment section.
HERE.
WE.
GO...
I set the over-under on Jonathan Taylor rushing yards at 72. First carry gets 3, which is about what I expect to be the norm.
Third-and-3, Taylor looked like he had it, then Malik Harrison showed up. Badgers will punt. Big win for OSU early.
Joel Klatt says Justin Fields is the biggest unknown for Ohio State. Interesting, since he's rated OSU No. 1 for weeks. How can you rate a team No. 1 when you have questions about its QB? It's not like there aren't other teams out there with experienced QBs (Alabama, Oklahoma, Clemson).
Sack of Fields on second down blew up that series. That will be the key for him today...recognizing what the Badgers' linebackers are doing. Which ones are covering. Which ones are rushing.
Second Wisconsin series gets a first down, but then third-and-8. Badgers can't live there. What I absolutely do not understand is taking Taylor out and putting the fullback in. Who gives you the better chance to convert on a screen? If it's not Taylor, then there's something wrong with your evaluation skills. Paul Chryst does this a lot, and it makes no sense.
Ohio State is starting to move Wisconsin up front. The holes are allowing Dobbins to have success. He's not getting hit until 3 yards down the field.
 Fields' fumbled snap torpedos a promising drive. Surprised Drue Chrisman didn't pin the Badgers' deeper than the 18 with that punt.
Badgers get out of their deep end with a Wildcat run, but Coan throws behind Cephus on third down. First quarter has 1:19 left, which means OSU will likely have it to start the second quarter, and that's when it's been blistering everyone. Buckeyes have scored 21 or more in the second quarter of each of their last six games.
Well, if we get three more quarters like that, this is going to be some game. But it still feels like OSU has superior speed and eventually will just make an individual play to break this one open. Wisconsin has not shown that same explosiveness on offense. Defensively, the Badgers look pretty good so far. No idea what happened to them in the fourth quarter last week.
Coan makes a third-down conversion under pressure, but he looks shaky. The next throw is high over the middle. Bad mistake. Lucky he got away with it.
So far, Jonathan Taylor 8 carries, 17 yards. What I expected.
A bit of a halting drive, but OSU perseveres through some penalties and Blake Haubeil cashes a 49-yard field goal for the game's first score. It's 3-0 Ohio State with 7 minutes left in the half.
Taylor has no where to go so far. We'll see if he can have any success on third-and-3. Bread and butter down for the Badgers, typically.
Instead, Wisconsin goes with Coan on a keeper and comes up short. Jumbo package didn't work on third down. Chryst taking a big risk on fourth down from his 42. Taylor gets it, but barely.
Badgers go no where thanks to another sack of Coan. It punts to OSU with 2:37 left. Chance for the Buckeyes to get aggressive and pad their lead, or play it safe, knowing they get the ball to start the second half.
Dobbins 17-yard run on the first play makes the decision for Ryan Day. They're going tempo with two minutes left.
First downs on four of last five plays. That's what Day talks about when he says his offense feeds off its own success.
Wisconsin takes back some of the momentum with a fourth sack, but after an OSU timeout the Buckeyes strike on a cross-and-go route with Olave catching the TD pass from 27 yards. Looked like the same pattern he ran last week at Northwestern, only this time from the right side, instead of the left.