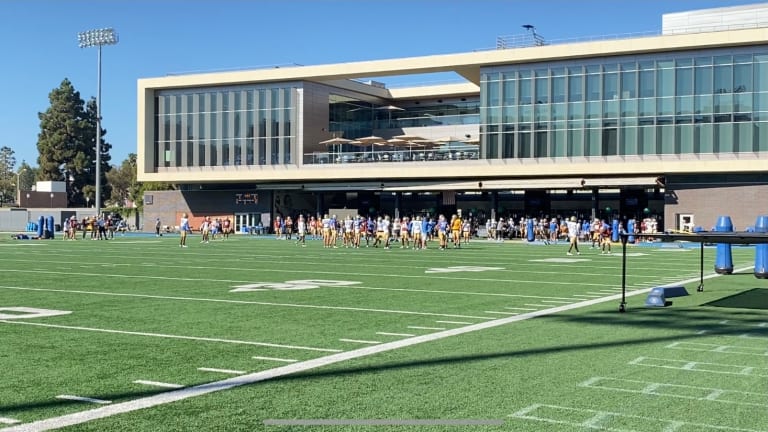 UCLA Football Practice Report: September 22
A final update of the Bruins' personnel for their Week 4 matchup with the Cardinal.
For the first time all week, the Bruins might have gotten some positive news on the injury front.
No. 24 UCLA football (2-1) practiced in front of the media for the final time before heading up to Palo Alto for its conference season opener against Stanford (2-1) on Saturday. The injuries had started to pile up starting last Saturday against Fresno State and continuing into Tuesday's practice, but Wednesday signified a few key personnel notes.
Defensive lineman Otito Ogbonnia, who left the game with the Bulldogs, was back as a full participant Wednesday. The player he stuck with on the side for most of Tuesday's practice, safety Quentin Lake, was not participating in the drills the media saw in the first 30 minutes, but coach Chip Kelly said he would be participating in some capacity. Running back Brittain Brown was also back at full strength.
Edge rusher Mitchell Agude also suffered a lower body injury at some point Tuesday, leading to him spending time with trainers and looking gimpy when he returned to drills. While it didn't look like he was back to 100% on Wednesday, he was running drills with his position group from the get go and was not sporting any visible braces, wraps or casts.
The rest of the group of injured players was again made up by offensive lineman Siale Taupaki, defensive lineman Martin Andrus, offensive lineman Benjamin Roy, defensive lineman Sitiveni Havili-Kaufusi, running back Christian Grubb and defensive lineman Quintin Somerville. Considering none of them have seen the field so far this year, it isn't as if UCLA is going to be down its best players against Stanford.
The lack of depth is more of a concern for the season moving forward, not for an individual game three days away.
There was no sign of tight end Mike Martinez, who was last seen wearing a boot and riding a knee scooter on Monday.
One of the players who could fill in and get more snaps should Martinez be missing Saturday is Michael Ezeike, who stood out in his own way Wednesday.
The practice started out with the usual special teams walkthroughs and mixed position drills, with nothing new popping up of note there. On the far field though, once the offense started getting underway running routes for the quarterbacks, Ezeike made the play of the day when he went upfield on a seam route and made a diving over the shoulder grab. With all the quarterbacks lined up in the same spot, it was hard to tell who tossed it, but Ezeike made up for their slight overthrow with a highlight reel play.
Martinez has thrived as a blocker so far in 2021, while Ezeike is playing just his first season since making the transition from wide receiver. His receiving skills are clearly still prevalent, and it will be interesting to see how or if Kelly will adjust his play-calling to account for the potential change in play style at TE2.
The defensive line drills were held close to the media. Most of the time was spent following Agude to track his health, but a few guys made some standout plays amid the injury drama.
Freshman Tiaoalii Savea cleanly picked off a pass on a drill where linemen were supposed to release from a sled and jump to swat down the ball. Datona Jackson tipped one to himself and did the same not long after. One more player recorded an interception during the drill, but they were wearing a scout team jersey rather than their normal number.
Raider Carl Jones also had a one-handed interception in another drill, taking things back to his safety roots a bit.
The defensive line has already picked off one pass this year – courtesy of Jackson – and we'll have to wait and see if someone can do it versus Stanford and quarterback Tanner McKee come Saturday.
Follow Connon on Twitter at @SamConnon
Follow All Bruins on Twitter at @SI_AllBruins
Like All Bruins on Facebook at @SI.AllBruins
Read more UCLA stories: UCLA Bruins on Sports Illustrated
Read more UCLA football stories: UCLA Football on Sports Illustrated