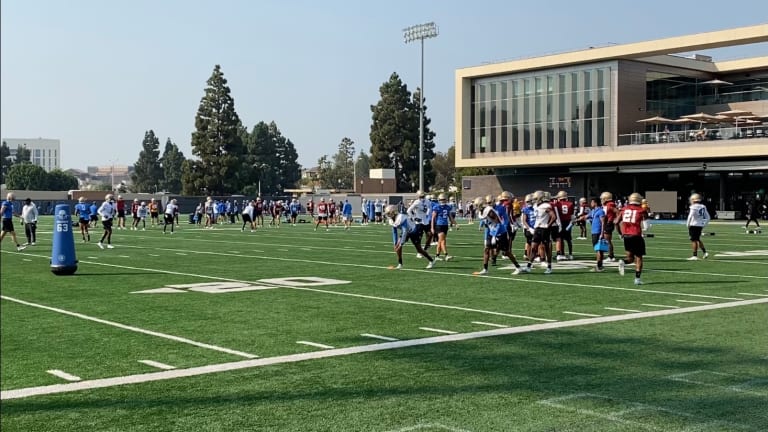 UCLA Football Practice Report: September 20
On-the-nose music choices and a laundry list of injury insights stood out at Monday's practice session.
For the third week in a row, the Bruins blasted "Don't Stop Believin'" over the Wasserman Football Center loudspeakers to start their first practice of the week.
Next up on the playlist was "The Show Goes On" by Lupe Fiasco.
Two weeks ago, those songs would have meant something a little different – more along the lines of "Don't stop believing in our undefeated season" and "The show that just beat a ranked SEC team is still in season." But now, the context has changed the meaning, and it's back to square one for the Bruins.
No. 24 UCLA football (2-1) got back on the practice field Monday for the first time since its upset loss to Fresno State (3-1) late Saturday night. After going down big in the first half, the Bruins fought back and held multiple leads late, only to give it away in the final minute.
Whether it was play-calling, execution or certain coordinators' decision making lapses that led to the blown game down the stretch, the only place to fix it is at Wasserman over the next couple of days.
Per usual, it was a drill-heavy portion of practice that was open to the media. While we couldn't get a real look at play-calling, formations, lineups or production, there were plenty of personnel notes based on the new crowd of faces that were held to the side Monday.
Tight end Mike Martinez and defensive lineman Quintin Somerville were both wearing boots – Martinez on his left foot and Somerville on his right – and were on knee scooters. Somerville has been missing from practice since August and has been in a boot for most of the past month, but Martinez was a new addition to the theoretical injury report.
Defensive lineman Otito Ogbonnia and safety Quentin Lake, both of whom left Saturday's game against the Bulldogs, were not participating in drills either. Defensive lineman Martin Andrus, offensive lineman Siale Taupaki, defensive lineman Sitiveni Havili-Kaufusi, linebacker Kobey Fitzgerald, running back Christian Grubb, offensive lineman Benjamin Roy and receiver Bradley Schlom were all in the weight room area doing warmups and rotating on the workout bike, also separated from the rest of the team during the open part of practice.
Timetables and details are hard to come by for the Bruins thanks to coach Chip Kelly's adherence to UCLA Athletics' COVID-era policy to list any student-athlete with an injury, suspension, ineligibility, positive coronavirus test or contact tracing as "unavailable." Almost virtually no other coaching staff on campus really followed that policy over the past year – UCLA men's basketball immediately disclosed Chris Smith's torn ACL in January, UCLA baseball coach John Savage routinely told reporters technical injury and rehab details for his players and even running backs coach DeShaun Foster told the media about Grubb's torn achilles during fall camp.
The lack of transparency wasn't a major hinderance over the past few weeks, when it was really only Schlom, Roy and Somerville – who was visibly in a boot – on the sidelines. Now, there's a lot more speculation to take care of with the number of dinged up players reaching double digits heading into Week 4.
Scout team kick returns, punt coverage and special teams block shedding drills opened up practice before the individual position groups went their separate ways.
It was our first look at both the scout team for Stanford and last week's scout team players of the week..
Receiver DJ Justice, tight end Michael Churich, running back Brian Kowall, linebacker Carson Schwesinger and defensive back Evan Thomas were wearing the yellow jerseys introduced last week to honor historic UCLA alumni. Churich, Kowall and Schwesinger were part of last week's team too, with Church donning No. 81 for Charles Arbuckle and Kowall's No. 13 standing for Kenny Washington.
Schwesinger was wearing an orange pinnie over his jersey, so it was unclear what historic number he was wearing, although he wore No. 41 for Ken Norton Jr. last week. Justice wore No. 4 – potentially for former All-American wideout Kevin Jordan – and Thomas wore No. 31, which may have been in relation to former All-American and UCLA Hall of Famer Carnell Lake, who is also the father of Quentin Lake.
Quarterback Chase Artopoeus wore the No. 18 cardinal red jersey to stand in for Stanford quarterback Tanner McKee on the southern offensive field. The other quarterbacks who suited up for the scout team – Parker McQuarrie and Kajiya Hollawayne – wore No. 5 and No. 6, which belong to Cardinal receivers.
Follow Connon on Twitter at @SamConnon
Follow All Bruins on Twitter at @SI_AllBruins
Like All Bruins on Facebook at @SI.AllBruins
Read more UCLA stories: UCLA Bruins on Sports Illustrated
Read more UCLA football stories: UCLA Football on Sports Illustrated