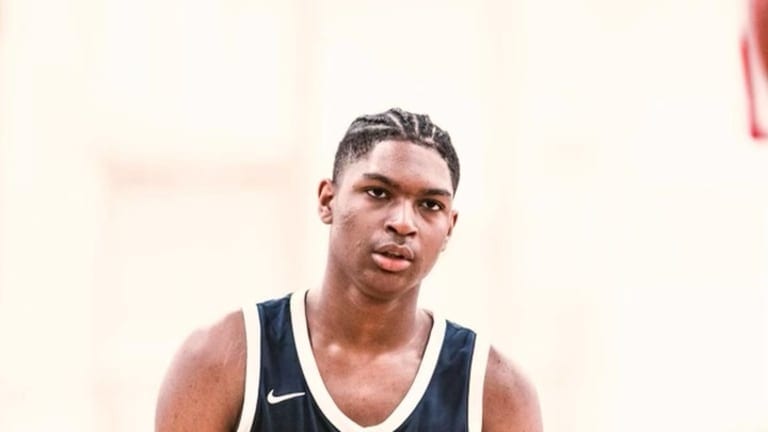 2024 SG Isaiah Elohim details UCLA interest in exclusive SI All-American blog post
The rising high school sophomore is transferring to Sierra Canyon to play with Bronny James and 2022 UCLA commit Amari Bailey
There's officially a new target on the Bruins' board, even if he's still several years away from college ball.
2024 shooting guard Isaiah Elohim wrote his first personal blog post for SI All-American on Wednesday, running through his thoughts on everything from his recruitment to international and high school hoops. Elohim has offers from Arizona State, Washington and Oregon, but while UCLA men's basketball has yet to officially extend one, Elohim said he'll be visiting Westwood within the month.
My recruitment has gone great!

My latest offer was from Washington, but Texas, Auburn, Michigan State, UCLA, Kentucky and a bunch of other schools are all in touch with my coach. I'm too young to talk to the coaches directly right now, but I'm still having fun with it.

My social media following has grown a lot, so that's fun, but I'm prouder that more people are respecting my game more and more.

That means more to me.

I feel like I have a bigger bull's-eye now, but it doesn't matter to me at all. I don't even really pay attention to that because I play with a chip on my shoulder. I'm always looking to go at people, that's just how I'm wired at all times.

I'm planning to take an unofficial visit UCLA next month, so that should be fun too.
Other key points in Elohim's blog post surrounded his recent transfer to Sierra Canyon (CA) and his upcoming experience trying out for Team USA U16, which competes in Mexico next week.
In joining Sierra Canyon, Elohim will now be in the same backcourt as combo guard Amari Bailey, the No. 1 player in the class of 2022 who will be joining the Bruins next season. Also at Sierra Canyon are recent USC commit Kijani Wright and class of 2023 combo guard Bronny James, the son of LeBron James.
Late in his freshman year at Heritage Christian (CA), Elohim actually matched up with Sierra Canyon. Bailey led his team to the 88-76 win with a team-high 28 points, while Elohim led his squad with 17 points.
Elohim is rated as a five-star recruit by ESPN and is a consensus top-five player in the class of 2024. He made waves at the Nike Peach Jam in July, leading the 15U division with 28.5 points per game.
UCLA does not currently have any commitments for its 2023 class, let alone 2024.
Follow Connon on Twitter at @SamConnon
Follow All Bruins on Twitter at @SI_AllBruins
Like All Bruins on Facebook at @SI.AllBruins