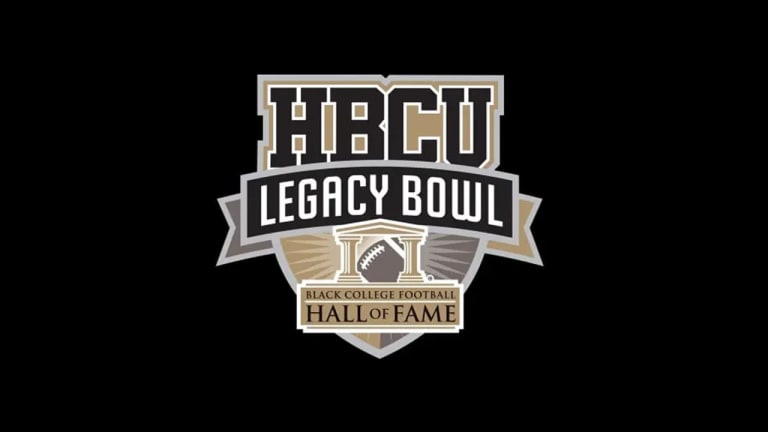 NFL Draft: HBCU Legacy Bowl Roster Tracker
View the latest updated tracker for the HBCU legacy Bowl NFL Draft All-Star game.
The following players have been invited to the 2022 HBCU Legacy Bowl. Be sure to check back frequently for continuous updates. NFL Draft Bible brings you the names you need to know first since 2002, celebrating 20 years of independent scouting analysis!
Senior Bowl | Shrine Bowl | Hula Bowl | Cajun Bowl | CGS | Tropical Bowl
HBCU Legacy Bowl
TEAM GAITHER (White Jerseys)
Head Coaches: 
Buddy Pough - South Carolina State
Damon Wilson - Bowie State
Jersey Pos. First Last, School" Height | Weight
#0 DB Zafir Kelly, South Carolina State: 6'1 | 181
#1 WR Imeek Watkins, Chowan: 5'9 | 170
#2 DB Trey Giles, Miles College: 6'0 | 185
#3 WR Charles "Trey" Gross III, Delaware State: 6'4 | 210
#4 P Neil Boudreau, Morgan State: 6'3 | 205
#5 DB Tevin Singleton, Bowie State: 5'11 | 180
#5 WR Marquis McClain, Southern: 6'3 | 220
#6 RB Calil Wilkins, Bowie State: 5'8 | 190
#6 DE Antonio Golden, Fort Valley State: 6'2 | 230
#7 DB Elvin De La Rosa, Fayetteville State: 6'1 | 200
#8 DL Keshawn James, Fayetteville State: 6'3 | 295
#8 QB Juwan Carter, Norfolk State: 6'0 | 185
#9 DB Joshua Flowers, Winston-Salem State: 6'2 | 195
#9 WR Will Vereen, South Carolina State: 5'11 | 200
#10 DB Taeyonn Reynolds, Elizabeth City State: 6'2 | 207
#11 DB Myles Wolfolk, Bowie State: 6'0 | 200
#12 QB Steven "Bryce" Witt, Chowan: 6'3 | 230
#15 LB Chad Gilchrist, South Carolina State: 6'1 | 225
#15 WR Ryan McDaniel, North Carolina Central: 6'2 | 210
#18 TE Isiah Macklin, North Carolina Central: 6'5 | 230
#19 DL Jamal Holloway, Central State: 6'3 | 245
#19 QB Geremy Hickbottom, Tennessee State: 6'4 | 228
#21 WR Korey Banks Jr., North Carolina A&T: 5'11 | 193
#22 DE Javon Frazier, Virginia State: 6'2 | 252
#24 DB Will Adams, Virginia State: 6'3 | 195
#25 RB Isaiah Totten, North Carolina Central: 5'9 | 195
#27 DB Aaron Walker, Howard: 5'10 | 195
#30 RB Jah-Maine Martin, North Carolina A&T: 5'11 | 215
#34 LB Devon Hunt, Shaw: 6'0 | 230
#35 LB Wesley Bowers, Bowie State: 6'0 | 236
#50 LB Noah Rainbow-Douglas, North Carolina Central: 6'0 | 227
#51 LS John Davis Jr., North Carolina A&T: 6'0 | 215
#52 OL Savion Hopes, Virginia Union: 6'4 | 295
#65 OL Jalen Powell, Norfolk State: 6'3 | 305
#66 OL Louis Chandler, Langston University: 6'5 | 307
#68 OL Matthew Derks, Delaware State: 6'3 | 320
#70 OL Gregory Brooks, Fayetteville State: 6'2 | 300
#72 OL Jaylan Galloway, Fayetteville State: 6'5 | 310
#73 OL Tison Gray, South Carolina State: 6'5 | 315
#74 OL De'Jour Simpson, North Carolina A&T: 6'3 | 320
#76 OL Cam Durley, Tennessee State: 6'6 | 310
#78 OL Zachary Wilcox, Virginia State: 6'5 | 310
#88 DL Rafiq Abdul-Wahid, Chowan: 6'3 | 267
#88 K Jefferson Souza, Virginia Union: 6'1 | 190
#90 DL DeShaan Dixon, Norfolk State: 6'5 | 255
#93 DL James Fagan, Hampton: 6'7 | 300
#98 DE Christopher Myers, Norfolk State: 6'6 | 240
TEAM ROBINSON (Black Jerseys)
Head Coaches:
Willie Simmons - Florida A&M
Gabe Giardina - Albany State
Jersey Pos. First Last, School" Height | Weight
#0 DB Jalon Thigpen, Arkansas-Pine Bluff: 6'1 | 190
#1 DE Michael Badejo, Texas Southern: 6'2 | 255
#1 QB Jawon Pass, Prairie View A&M: 6'5 | 230
#2 DL Loren Young, Langston University: 6'2 | 240
#2 QB Felix Harper, Alcorn State: 5'11 | 175
#3 WR Trey Harrell, Arkansas-Pine Bluff: 6'0 | 195
#3 TE Taron Mallard, Bethune-Cookmen: 6'6 | 250
#4 QB Aqeel Glass, Alabama A&M: 6'4 | 225
#5 DB Coemba Jones Jr., Albany State: 5'7 | 170
#7 WR Tyrin Ralph, Arkansas-Pine Bluff: 5'9 | 160
#8 RB Ladarius Skelton, Southern: 6'0 | 225
#10 K Rigoberto Tinoco, Benedict College: 5'7 | 195
#10 WR Ke'Lenn Davis, Texas Southern: 6'2 | 190
#11 WR Joshua Wilkes, Arkansas-Pine Bluff: 6'2 1/2 | 190
#12 DB Zach Anderson, Fort Valley State: 5'11 | 185
#12 WR Dee Anderson, Alabama A&M: 6'5 | 218
#13 RB Bishop Bonnett, Florida A&M: 5'7 | 165
#15 DB Daniel Norman, Morehouse: 6'2 | 210
#17 DB Marvin Grunshie, Savanah State: 6'1 | 185
#17 WR Shemar Bridges, Fort Valley State: 6'4 | 210
#18 DE Kailon Davis, Arkansas-Pine Bluff: 6'3 | 255
#20 RB Ezra Gray, Alabama State: 5'9 | 180
#21 DB Juwan Taylor, Alcorn State: 5'10 | 195
#23 DB Rodney Coleman, Miles College: 5'11 | 170
#23 RB Brett Sylve, Kentucky State: 5'8 | 210
#29 DB Al Young, Jackson State: 6'0 | 195
#30 P Jonatan Ward, Kentucky State: 6'3 | 200
#32 LB Untareo Johnson, Bethune-Cookman: 6'0 | 250
#33 DL Jeremiah Caine, Mississippi Valley State: 6'2 | 300
#40 LB Keonte Hampton, Jackson State: 6'2 | 215
#41 LB Tim Walton, Texas Southern: 6'2 | 230
#43 DB Antwan Collier, Florida A&M: 6'4 | 195
#44 LB Derrick Mayweather, Florida A&M: 6'0 | 240
#50 DL Savion Williams, Florida A&M: 6'4 | 300
#52 OL Nathaniel Hines, Texas Southern: 6'4 | 305
#57 OL Miquail Harvey, Albany State: 6'2 | 285
#59 OL Jalen Spady, Florida A&M: 6'3 | 314
#60 OL Amari Catchings, Jackson State: 6'4 | 320
#61 LS Luke Barnes, Alabama State: 6'0 | 225
#63 OL Jamal Savage, Bethune-Cookmen: 6'6 | 320
#66 OL Jordan Ighofose, Grambling State: 6'3 | 330
#70 OL Danny Garza, Prairie View A&M: 6'3 | 305
#73 OL Keenan Forbes, Florida A&M: 6'3 | 330
#74 OL Columbus Willis, Alcorn State: 6'5 | 325
#75 OL Jay Jackson-Williams, Florida A&M: 6'5 | 300
#82 WR LeCharles Pringle, Alcorn State: 6'0 | 195
#86 TE Montavious Tinch, Miles College: 6'3 | 258
#92 DE Jerry Garner, Mississippi Valley State: 6'2 | 260
#94 DL Christian Clark, Alabama State: 6'1 | 340
#99 DL Antwan Owens, Jackson State: 6'4 | 270
CLICK BELOW FOR MORE NFL DRAFT CONTENT
Latest Podcast Episodes