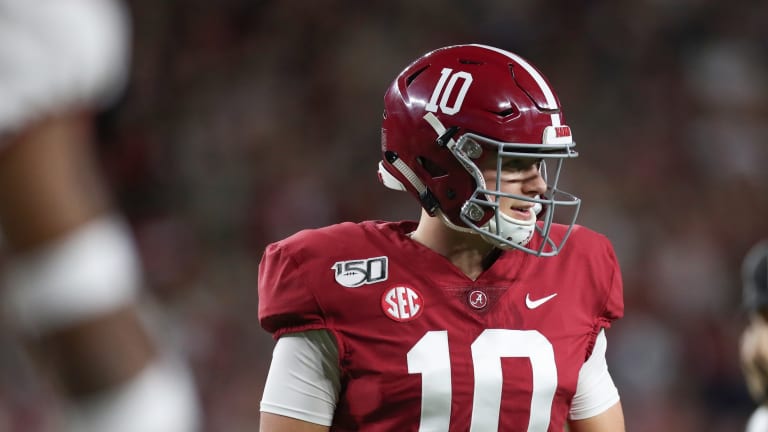 Mac Jones has impressive first career start, helps guide Alabama to 48-7 win over Arkansas
Alabama quarterback Mac Jones had three touchdown passes and just four incompletions during first career start
TUSCALOOSA, Ala. — Alabama quarterback Mac Jones has the nickname of "Joker" due to his goofy smile and charisma.
However, his performance during the Crimson Tide's 48-7 win over Arkansas was no laughing matter on Saturday night.
Jones diced up the Razorback defense for 235 yards and three touchdowns. He completing over 81 percent of his passes in relief of junior starter Tua Tagovailoa, who was out due to an ankle injury suffered last week against Tennessee.
"I thought it was a good game," Jones said. "I told everyone in the huddle to do their job and I thought everyone executed pretty well. There were a few nerves at first, but that is part of the game. I felt prepared and so did everyone else."
Offensive coordinator Steve Sarkisian eased Jones into the game plan during the first two quarters, especially the opening drive. 
Jones' first throws were quick shovel and screen passes to junior wide receivers De'Vonta Smith and Jerry Jeudy. He finished the drive completing all but one of his six attempts for 39 yards, leading the Crimson Tide offense to a 31-yard field goal. 
"That was a good starting lineup in terms of plays," Jones said. "I had reads on certain plays and I did not want to over complicate it. It is great to get the ball into the hands of those playmakers. That is what makes football such a great team sport. You throw it five yards and they do the rest of the work."
His first half numbers were impressive, completing 16 of 20 passes for 186 yards and two touchdowns, but the defining moment of Jones' night came on the first drive of the second half.
With his confidence rising, Jones stepped back to launch a deep ball and dropped a dime into the hands of Jeudy for a 40-yard touchdown strike. It essentially slammed the door shut on any slim chance the Razorbacks had at clawing their way back into the game.
"I saw that Jerry beat his man and I had to let it rip," Jones said. "I did not want to overthink it. It was a good play, the offensive line blocked really well and Jerry did his part."
With Alabama up 48-0, Jones took a seat having completed 18 of 22 attempts, and with a stellar 216.5 passer rating. 
In the process, he established new career highs for passing yards and passing touchdowns — and eased a lot of the angst among fans about his potentially taking over the starting job down the line.
"Mac did a really good job with executing the offense," Nick Saban said. "He was very efficient and effective in the passing game. Did a nice job on third down and kept a lot of drives going."
Earlier in the week, Saban was asked if there was a plan to expedite freshman Taulia Tagovailoa's progression as a quarterback and get him on the field quickly against the Razorbacks.
"We are going to play the best players that we can to win the game," a heated Saban responded on Wednesday. "We are not going to assume that it is going to be an easy game or assume that we will just play anybody who wants to play. We are going to play everybody who can expedite us winning the game."
However, the younger Tagovailoa did see playing time, entering the game with 10:56 remaining in the third quarter. He finished 6-for-8 for 45 yards.
Saban and his squad are now approaching their second bye of the season and, after that, the showdown with No. 2-ranked LSU. 
Many Crimson Tide fans will now focus their attention on the health of Tagovailoa and his ankle in the days leading up to that contest.
"We expect Tua to be back at practice by mid-week next," Saban said during his postgame press conference. "I am not sure yet what he will be able to do, but that is our prognosis for where we are right now."