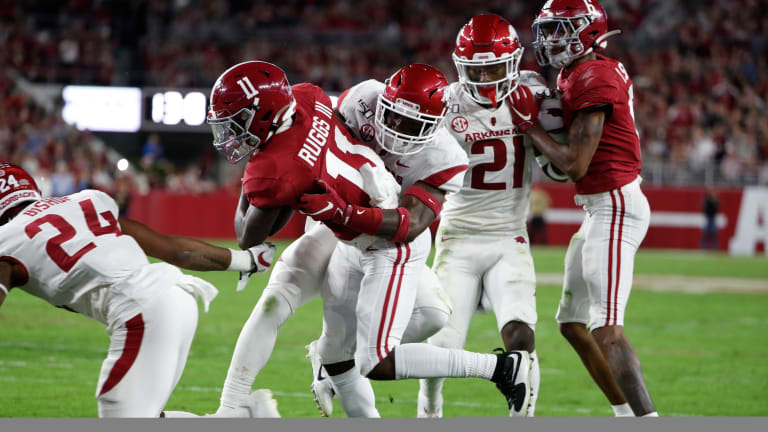 What Arkansas Had To Say After 48-7 loss to No. 1 Alabama
Razorbacks coach Chad Morris left Bryant-Denny Stadium impressed with the No. 1 Crimson Tide
TUSCALOOSA, Ala. — It was a deflating loss for Arkansas. Not only did Alabama schedule it  for homecoming, but the Razorbacks lost in a 48-7 rout at Bryant-Denny Stadium on Saturday night. 
Arkansas was out-gained 459-213, had four turnovers that led to 24 points for the Crimson Tide, and averaged 3.5 rushing yards per carry. 
About the only thing that went right for the Razorbacks (2-6, 0-5 SEC) was that they avoided the shutout with a 13-play touchdown drive. 
Here's what Arkansas had to say after the loss to No. 1 Alabama (8-0, 5-0 SEC), beginning with head coach Chad Morris
"We'll definitely want to credit Alabama. Obviously, they're the No. 1 team in the country for a reason. We had entirely too many mistakes against a really good football team. We knew we were going to have to play really well. You know, turnovers, turning the ball over, giving 24 points off in the first half off of turnovers are not that. That's not what this is about. We've got to do a better job protecting the football. 
"It was a rough start out of the game — 17 points in four or five minutes. I thought our defense, when we came out, held them to three points, held them to a field goal, we did some good things there. But you can't spot the No. 1 team in the country 24 points in the first half and expect to come out of that. We're onto Mississippi State. We're ready to get back home and get into the month of November."
On the play of Alabama quarterback Mac Jones:
"I think that they, as we knew they would, put a plan together for him that they felt comfortable in — getting the ball underneath in space and letting his athletes and his wide receivers get out in space. And that's been a challenge not just for us, but for every team they've played. I thought they did a great job of that. I thought he came in and played well."
On how impressive Alabama is:
"I think they're a really good football team. Again, you spot them a short field and we made them better, you know. And you can't do that. You can't do that against a team of that caliber. They're very well coached, they're sound, they've got depth. There's a reason they're ranked No. 1 in the country, and I'm very impressed. You watch them on film, and there's not many deficiencies, and I've said that all week long. Even in their special teams. 
"That's why I was pleased with the way Sam [Loy] punted the ball tonight. Our plan was to try to get the ball up and worry more about sky and the height of the punt more than the distance of the punt to try to keep it off their return. And I thought we did some good things in that regard. There were some good things, but again, there were too many mistakes against a good opponent."
Quarterback John Stephen Jones
"I just played to the best of my ability. I am going to watch it tomorrow and figure it out from there."
On knowing when he knew how much he would play in this game:
"We started putting together a few packages this week, and I practiced those a little bit so that I was ready to go."
Defensive back Joe Foucha
On the Alabama offense, specifically Mac Jones:
"I think they put a pretty good plan for him. They kept it simple with him. With Tua (Tagovailoa) being out, I think they executed pretty well."
On holding Alabama to a field goal following their first offensive drive:
"We were feeling pretty good. We had a game plan to stop the offense, and I think it worked out pretty well. We just have to keep fighting at the end of the day."