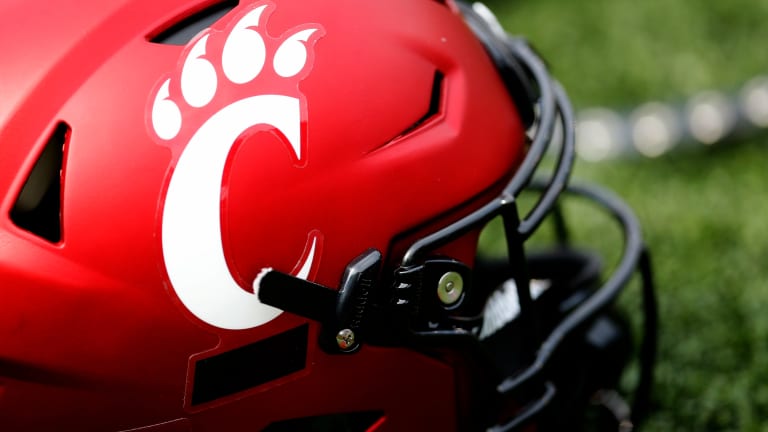 Four-Star 2024 Defensive Lineman Omar White Puts UC in Top-10 Schools
The big fella has Cincinnati grouped with some major power five programs.
CINCINNATI — The UC football staff got some good news over the weekend when four-star 2024 defensive tackle Omar White out of Lee County (Georgia) placed the school in his top-10 options.
UC is grouped with Alabama, Michigan State, Florida State, Oregon, Oklahoma, Jackson State, Texas A&M, Georgia, and Clemson. According to On3, White is the 98th-ranked player nationally and the 10th-ranked defensive lineman.
White has earned the distinction as arguably a top-100 prospect in the class with his dominant ability in the middle of the trenches. At 6-foot-4, 310 pounds, White is already a man amongst boys as a nose guard. He wins a lot of matchups with bull rushes using that harrowing frame, but he also mixes in a nice swim move.
He can rush the passer head up on any interior lineman and also flashed some snaps at five and three-tech as a sophomore. He would be the next mauler in line to take over the nose guard spot in Luke Fickell's 3-3-5 hybrid defense. White could easily follow in the line of names like Curtis Brooks, and Jowon Briggs. Check out his highlights here.
He will be the highest-rated UC recruit in the 247Sports era if he chooses Cincinnati out of these major programs.
Make sure you bookmark All Bearcats for the latest news, exclusive interviews, film breakdowns and so much more.
You May Also Like:
UC Football's Toughest Games in 2022
UC Football Five Bold Predictions: Defensive Line
Corey Kiner, UC Football Roster Rock Uniforms in Team Photoshoot
Michael Rothstein: Marcus Mariota 'Far Ahead' of Desmond Ridder
Three Bearcats Named to Phil Steele's 2022 Preseason All-American Team
UC Commit Brady Drogosh Gets off to Slow Start in 2022 Elite 11 Finals
Perry Eliano: Coby Bryant Took Unseen Work 'to a Whole Other Level'
UC Football Recruiting Rankings Check-In
Recruiting Roundup: UC Offers Four-Star 2024 Sharpshooter, Rising 2023 Guard
Seven Things That Need to Happen for Bearcats to Have Successful Season
Over/Under: Bearcats Win Total Set for 2022 Season
Ahmad Gardner Notches Pick-Six, Impresses in Jets' Final Open Minicamp Practice
Watch: Ahmad Gardner Makes Virtual Visit to New York-Area Children's Hospital
Falcons Head Coach Arthur Smith: Desmond Ridder 'Light Years Ahead of Most Young QBs'
Report: Ahmad Gardner Paid $50,000 for New York Jets Jersey Number
Three-Star 2023 CB Cameron Calhoun Commits to UC
John Cunningham: UC Increasing Media Revenue 'More Than Two Times' With Big 12 Move
UC Football Sells out of 2022 Season Tickets
UC Offers Local 2024 Center Raleigh Burgess; Four-Star Guard Trey Green Discusses Recruitment
Sporting News Names Luke Fickell Fifth-Best Coach in College Football
Three-Star 2023 Defensive Lineman Kamari Burns Commits to UC; Class of 2023 now Highest-Rated in School History
Four-Star Wide Receiver Ayden Greene Commits to UC
Four-Star Safety Daeh McCullough Commits to UC
The 2022 NFL Schedule: Bearcats Edition
Bearcats Peppered Across NFL Rookie of the Year Betting Markets
Five UC Football Players That Could be Drafted in 2023
-----
Be sure to keep it locked on All Bearcats all the time!
Follow All Bearcats on Twitter: @AllBearcats
Like All Bearcats on FaceBook: All Bearcats
Follow All Bearcats on Instagram: @BearcatsTalk