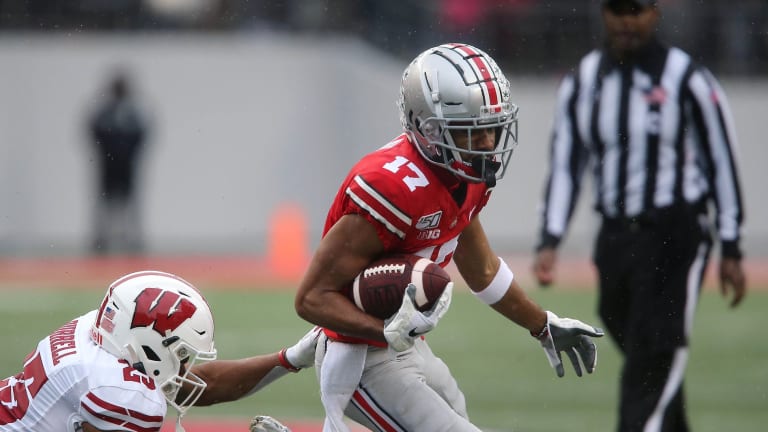 SECOND HALF: Ohio State vs. Wisconsin
Buckeyes trying to build on 10-0 halftime lead in rain at OSU
Join us for a LIVE BLOG throughout the game.
It's easy and free to be part of the conversation.
Go to the top of the site and on the right side of the SI Buckeye Maven logo click the follow button.
Post in comment section.
Buckeyes get the ball to start the second half but go three-and-out, with a sack on third down. Then Drue Chrisman's punt gets partially blocked.
Wisconsin sets up inside the 30 and on third down, Jack Coan hits A.J. Taylor between Sean Wade and Jeff Okudah for the 26-yard touchdown.
That makes it, 10-7 with 12:08 left in the third quarter.
OSU responds with an immediate answer. Fields finds Chris Olave twice and J.K.  Dobbins' 26-yard run puts the Buckeyes first-and-goal at the 10. Fields takes it from there to get the touchdown back.
Ohio State's depth and athleticism is starting to take over. Ryan Day is doing a great job getting Olave isolated on linebackers. That's a matchup Wisconsin can't win, and when the Badgers worry too much about Fields running the ball, Dobbins breaks their back.
Fields took a shot on the TD and is now being looked at in the medical tent. Now he's out and seems to be walking fine.
Coan throws wide of Jake Ferguson on third down. Badgers are 3-of-10 today. They punt and Garrett Wilson returns it to near midfield. OSU in position to put this one away.
Wisconsin is going to need at least two turnovers to make this competitive. At least.
Easy, peezy, lemon-squeezy TD drive after the Wilson punt return. Fields and Dobbins do the dirty work on the ground and now it's 24-7. The Badgers have shown none of the requisite firepower to make this one a game now.
Wisconsin moves inside the OSU 35 with a ground-oriented drive, but now faces a get-it-or-go-home fourth-and-three.
And Jonathan Taylor is not in the game. Again, head-scratching move by Paul Chryst.
An illegal procedure penalty before the fourth-down snap makes it fourth-and-8. Wisconsin single blocks Chase Young with a tight end. Or tries. And he blows up the play with a deflected pass.
The giveaway on downs puts a bloody steak in the water for the shark-like OSU offense. J.K. Dobbins goes untouched for the touchdown from 14 yards away and its 30-7 with 13:40 left.
Anybody in the Big Ten West wanna step forward to play Ohio State in the league championship game in Indy?
Fields finds Chris Olave for another touchdown and a 38-7 lead with 7:29 to play. So this one will end up looking like every other OSU game this year...a complete mismatch.
Buckeyes have won every game by 24 or more, and with an off week and then Maryland at home, and then Rutgers on the road, that has no chance of changing before Penn State's visit to Ohio Stadium on Nov. 23.
And maybe not then.