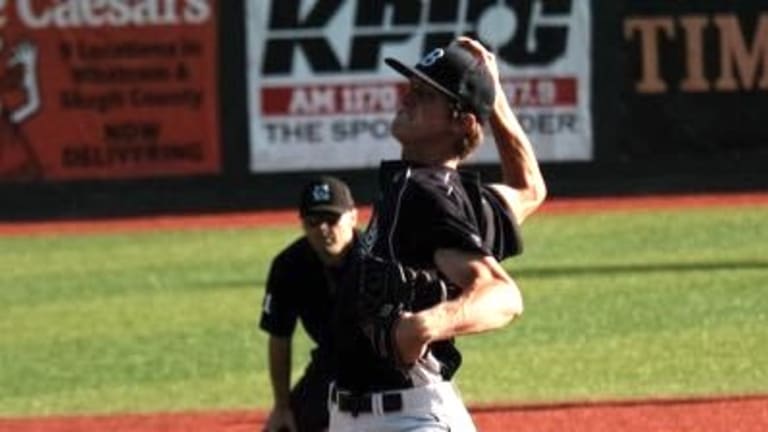 UCLA Baseball Recruiting Class Spotlight: RHP Thatcher Hurd
The top-ranked right-hander in California will take the rubber for the Bruins this spring.
UCLA baseball has 15 new players coming to Westwood this fall to replace the 10 who got picked in the 2021 MLB Draft and even more who graduated and went elsewhere. From top recruits to under-the-radar prospects and high-profile transfers, All Bruins is breaking all of them down to see what they could offer UCLA in 2022 and beyond.
Here is the scoop on incoming freshman Thatcher Hurd
Flipping from catcher to pitcher, switching from UC Santa Barbara to UCLA, the Bruins' new addition could slip into the rotation from the very start.
Coming from Mira Costa High School (CA), Thatcher Hurd brings his large 6-foot-4, 210 pound frame to the table and may be the Bruins' most physically imposing option on the mound in 2022. Rumored to go in between the second and third rounds of the 2021 MLB Draft, the right-hander opted for UCLA instead, foregoing the draft and heading to school.
Hurd expressed his reasoning for possibly heading to UCLA to Baseball Prospect Journal before making the final decision not long after.
"The best thing for me is I'm committed to my dream school in UCLA," Hurd said. "If I don't get drafted, I can go there. I am confident that if I go to UCLA, I will develop into the pitcher I want to be in my early 20s. I think it's a win-win for me."
The Manhattan Beach pitcher received high rankings from Perfect Game, being named the No. 36 best player and No. 11 right-handed pitcher in the country. Within California, Hurd is No. 2 overall and No. 1 righty in the state.
Hurd's arsenal is vast for his age and all five of his pitches should come with him when he is on the mound at Jackie Robinson Stadium. The Mira Costa alumnus features a low 90s four-seam and two-seam fastball, his best pitch which is a high 70s slider, a mid-70s curveball and a high 70s changeup. Those five pitches helped the former catcher rise up the rankings over the past year.
The spin rate on Hurd's slider is already major league-level. Averaging above 3000 RPMs on the pitch, if the righty is able to locate it, the pitch could be a big weapon at the Division I level. His fastball and curveball are also high percentile pitches spin rate wise and coach John Savage could help Hurd harness these pitches as he has done with players past.
Hurd had a brief stint in summer baseball playing with the Bellingham Bells of the West Coast League, playing alongside a plethora of fellow new Bruins who took part in the league's action.
In three games and seven innings for the Bells, the incoming freshman gave up two runs, struck out nine but also walked nine. Finding command will be a top priority in his first year in blue and gold.
Prediction
It is not often that UCLA is able to hold on to so many top-level prospects from heading to the draft. There are so many options for Savage to strategize with and Hurd is just one that will fit into his main equation. Hurd could find his way into a weekend rotation spot or a Tuesday spot early. The top left-hander in the 2021 recruiting class Gage Jump will likely start first, but Hurd brings potential to the table making any decision difficult. Foregoing the draft allows Savage to build around Hurd, making him a likely weekend starter for years to come. Hurd will have a role in year one, but it just depends whether that will be high leverage out of the bullpen or starting every so often.
Follow Royer on Twitter at @thebenroyer
Follow All Bruins on Twitter at @SI_AllBruins
Like All Bruins on Facebook at @SI.AllBruins
Subscribe to All Bruins on YouTube
Read more UCLA stories: UCLA Bruins on Sports Illustrated
Read more UCLA baseball stories: UCLA Baseball on Sports Illustrated