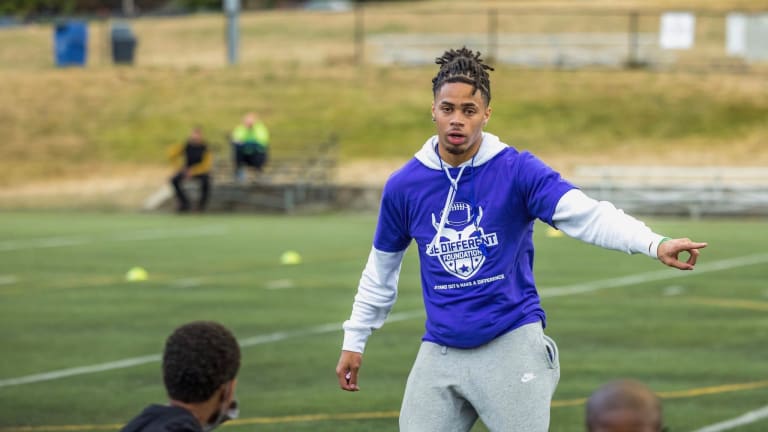 UCLA Football Offers Another Top West Coast Cornerback Caleb Presley
Chip Kelly has now offered two class of 2023 defensive backs in two days.
The Bruins are making a push to add to their future secondary.
One day after offering Cole Martin, UCLA football sent a scholarship offer to another class of 2023 cornerback on Saturday – Caleb Presley out of Rainier Beach High School (WA) in Seattle. Presley has yet to officially visit Westwood, but he managed to tour multiple teams' facilities during group workout tours through the Southeast and Southwest this summer.
Presley previously earned offers from Michigan, Notre Dame, Auburn, Alabama, LSU, Oklahoma, Michigan State, Texas, Penn State and other major programs, in addition to Pac-12 schools USC, Oregon, Oregon State, Washington, Washington State, Arizona, Arizona State, Colorado, Utah and California.
UCLA is currently targeting another recruit from Presley's Rainier Beach High School, class of 2022 offensive tackle and SI99 member Josh Conerly Jr.
Presley is rated as a four-star recruit by both 247Sports and Rivals. The 247Sports Composite has him pegged as the No. 86 player and the No. 9 cornerback in the class of 2023.
He is viewed as the No. 2 player in Washington in his class.
Based on prestige alone, Presley boasts a very similar profile to Martin. Both are top-two players in their state – Washington and Arizona, respectively – top-100 players overall and top-10 cornerbacks in the class of 2023.
Build and skillset distinguish the two corners, with Presley measuring in at 6-feet and Martin at 5-foot-9, but the timing of their offers suggests a push from coach Chip Kelly and defensive backs coach/assistant head coach Brian Norwood to gather some top-level talent on the back end of their defense moving forward.
While certainly not terribly late to the party, UCLA was far from first in line for either Presley or Martin.
Michigan is said to be making a major push for Presley, as is Notre Dame. Martin already had 25 Power Five offers before UCLA made theirs.
The Bruins' first and only 2023 commit is another four-star cornerback, Maliki Crawford. The 6-foot-3 local prospect is one of two players in his entire class to commit to a Pac-12 program at this point, lifting UCLA to the No. 1 class in the conference in the extremely early days of the cycle.
Another four-star cornerback from Southern California, Rodrick Pleasant, has a UCLA offer in his back pocket as well.
How much momentum the Bruins have with Presley, Martin and Pleasant remains undetermined, but what is becoming increasingly clear is the directive in Westwood to target the most talented corners in the West.
Follow Connon on Twitter at @SamConnon
Follow All Bruins on Twitter at @SI_AllBruins
Like All Bruins on Facebook at @SI.AllBruins
Read more UCLA stories: UCLA Bruins on Sports Illustrated
Read more UCLA football stories: UCLA Football on Sports Illustrated