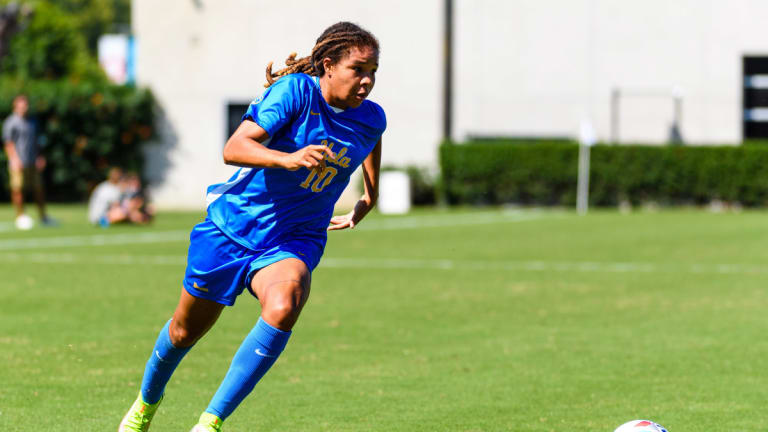 Mia Fishel Scores Twice in Hometown, UCLA Women's Soccer Wins Again
The junior forward notched a brace in the Bruins' first of two games San Diego.
The Bruins' most prolific scorer opened up her weekend back home with a bang.
Junior forward Mia Fishel scored both of No. 3 UCLA women's soccer's (7-0) goals in the team's 2-0 win over San Diego (4-3) on Thursday night. Fishel, who was born and raised in San Diego, called out to her hometown fans, friends and family earlier in the day asking for them to show up Thursday against the Toreos and Sunday against San Diego State.
And in front of that hometown crowd, Fishel posted her first brace of the 2021 season and lifted the Bruins to victory.
The first of Fishel's two goals came in the 36th minute, when redshirt sophomore forward Sunshine Fontes chipped one off her left foot to lead Fishel into the box. Fishel let the ball bounce twice, then directed it to the bottom left corner of the goal to put UCLA up 1-0.
Just as the first half was winding down, freshman forward Lexi Wright tapped one to to redshirt junior midfielder Madelyn Desiano as she approached to top left corner of the box. Desiano settled it and sent it across the field to the 6-yard line, barely clearing the head of a San Diego defender.
Diving toward the ball, Fishel struck it strong with her head, stumbling to the ground and sliding on her chest as she found the open left side yet again.
The match also marked the Bruins' sixth-consecutive shutout with senior keeper Lauren Brzykcy standing tall in goal yet again.
Brzykcy had to make eight and six saves in each of her last two starts, but needed just two in order to keep the Toreos off the board Thursday. Both of San Diego's shots on goal came before Fishel put either of her chances away, however, so the lead was still at stake when Brzykcy was in the spotlight.
The UCLA defense stopped San Diego from getting another shot on goal for the final 70 minutes of the match, and their final shot of the night came in the 49th minute.
The Bruins' 0.143 goals allowed per game mark still ranks fourth in the nation. UCLA hasn't allowed a goal since its season opener against UC Irvine, and Brzykcy alone has put up 540 consecutive scoreless minutes to start the campaign.
Fishel has now tied sophomore forward Reilyn Turner atop the team leaderboards with six goals on the season.
UCLA will continue its brief San Diego road trip with a match against San Diego State on Sunday, kicking off at 6 p.m.
Follow Connon on Twitter at @SamConnon
Follow All Bruins on Twitter at @SI_AllBruins
Like All Bruins on Facebook at @SI.AllBruins
Read more UCLA stories: UCLA Bruins on Sports Illustrated
Read more UCLA Olympic sports stories: UCLA Olympic Sports on Sports Illustrated