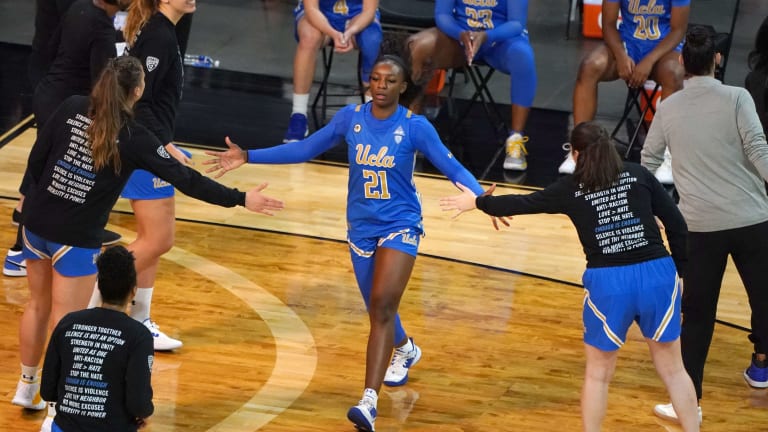 Michaela Onyenwere Wins AP WNBA Rookie of the Year in Unanimous Vote
The former UCLA women's basketball forward won all four Rookie of the Month honors throughout the season.
The trail of smaller honors has expectedly led to the main one for Michaela Onyenwere.
After being named Rookie of the Month all four times over the course of the 2021 season, the New York Liberty forward took home the AP WNBA Rookie of the Year award in a unanimous sweep Wednesday morning. The UCLA women's basketball alumna led rookies in games played, minutes played and points scored.
Onyenwere, who was the No. 6 overall selection in last April's draft, averaged 8.6 points and 2.9 rebounds per game on .401/.327/.836 shooting splits in 22.2 minutes a night.
The 2021 WNBA rookie class was seen as a mystery box from the start, and no other products of it came close to being the consistent contributor Onyenwere was for the Liberty. She started in 29 of her 32 appearances, while no other rookie played more than 16.5 minutes per game.
New York avoided missing the playoffs for the fourth consecutive season in 2021, getting back towards their three straight years as the No. 1 seed in the Eastern Conference under coach Bill Laimbeer from 2015 to 2017. The Liberty managed to post their best winning percentage of the post-Laimbeer era at 12-20, and both Onyenwere and former No. 1 overall pick and Oregon Duck Sabrina Ionenscu stand out as centerpieces for the franchise moving forward.
The Liberty started the season at 5-1, with Onyenwere averaging 9.3 points and 3.0 rebounds per game on .438/.450/.833 shooting as a starter throughout the six-game stretch.
Onyenwere's best game of the season came immediately following her team's hot start, as she put up career highs across the board with 29 points, six 3-pointers and 10 field goals in a three-point loss to the Atlanta Dream and former UCLA teammate Monique Billings on May 29.
While at UCLA, Onyenwere went to three out of a possible three NCAA tournaments, with one being canceled due to COVID-19 in 2020. She made the Elite Eight with the Bruins as a freshman, the Sweet 16 as a sophomore and then the Round of 32 in her senior year.
Onyenwere averaged 15.3 points and 7.2 rebounds per game through her collegiate career, including 18.7 and 8.2 across her final three seasons as a full-time starter.
Before Wednesday, no other former Bruin had won WNBA Rookie of the Year. Onyenwere now stands alone as the only UCLA alumna to win any WNBA annual award, with no one else staking claim to an MVP, Defensive Player of the Year, Sixth Woman or Most Improved Player award either.
Onyenwere was also named to the WNBA All-Rookie Team alongside Didi Richards, Dana Evans, Charli Collier, Aari McDonald.
Follow Connon on Twitter at @SamConnon
Follow All Bruins on Twitter at @SI_AllBruins
Like All Bruins on Facebook at @SI.AllBruins
Read more UCLA stories: UCLA Bruins on Sports Illustrated
Read more UCLA women's basketball stories: UCLA Women's Basketball on Sports Illustrated