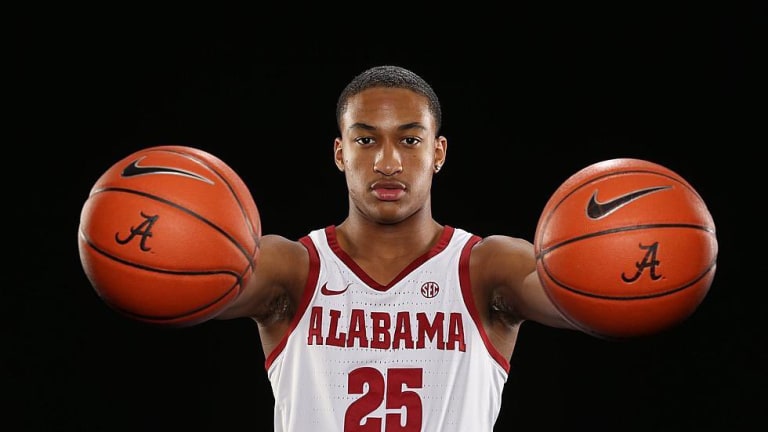 Alabama Basketball Guard Nimari Burnett Undergoes Knee Surgery, Out for Season
Reports circulated on Tuesday that Burnett had injured his knee, with Alabama Athletics confirming the worst on Wednesday morning.
TUSCALOOSA, Ala. — Alabama basketball guard Nimari Burnett, who transferred to UA from Texas Tech this past offseason, suffered a right knee injury and underwent successful surgery on Tuesday afternoon. The injury will keep Burnett sidelined for the duration of the 2021-22 season, Crimson Tide coach Nate Oats announced on Wednesday.
Dr. Lyle Cain of Andrews Sports Medicine performed the surgery. Burnett is expected to make a full recovery.
Reports circulated on Tuesday that Burnett had injured his ACL and required surgery, but the reports were confirmed by a statement issued by Alabama Athletics on Wednesday.
"We are certainly disappointed for Nimari and his family," Oats said in a statement. "Our program, his teammates and his family are going to support him throughout every step of the rehab process. Even though it's a tough loss for us, I know Nimari's work ethic combined with the fact he will be surrounded by the best of the best when it comes to our medical staff and team doctors gives me complete confidence that he will come back stronger and better than ever."
This offseason, the Crimson Tide has already had one player undergo knee surgery in forward James Rojas. Rojas tore his ACL back in June and has been on the path to recovery since.
"We are disappointed to lose Rojas, but he is as tough as they come," Alabama coach Nate Oats said in a statement back in June. "He had a similar injury two years ago on his right knee and responded well to the rehab process.
"I am confident that he will attack this rehab in an aggressive, similar fashion and will be surrounded by the best doctors, athletic trainers and sports medicine professionals to help him throughout the entire process. We are confident he will be available for us during the SEC season."
While at Texas Tech, Burnett averaged 5.3 points and 1.8 rebounds across 12 games while coming off the bench. From the free-throw line, he shot 88.9 percent but struggled from the floor, shooting just 28 percent and hitting only four of 23 three-point attempts.
With Burnett out for the season, the Crimson Tide will be down to just 11 scholarship players due to his and Rojas' absence. With Alabama basketball quickly approaching a season that contains one of the toughest non-conference schedules in the country, an injury to another key piece on the team's roster is the last thing Crimson Tide fans wanted to hear.
Here is Burnett's bio, courtesy of Alabama Athletics:
Nimari Burnett Bio
Played in 12 games as a freshman at Texas Tech in 2020-21 before opting to enter the transfer portal where he signed with Alabama in April 2021
Averaged 5.3 points, 1.8 rebounds and 1.4 steals in 17.8 minutes per contest, while connecting on 88.9 percent from the foul line (32-of-36) with the Red Raiders
Scored a season-best 12 points on 2-for-3 shooting and made all seven of his free throw attempts while earning a season-high of six steals in 15 minutes of play versus Grambling State
A five-star prospect according to ESPN, who had him ranked as the No. 22 overall player and the No. 4 guard in the country coming out of Prolific Prep in 2020
Rated as a four-star prospect by 247 sports, who also ranked him No. 38 overall and the No. 8 player at his position (2020)
During his senior season, Burnett averaged 25.5 points, 6.5 rebounds and 5.5 assists per game at Prolific Prep