No. 8 Alabama Basketball Completes Season Sweep of Auburn, 70-58
Jaden Shackelford led the Crimson Tide with 23 points and two steals to earn Alabama's 20th win of the season
TUSCALOOSA, Ala. — When the game started with an alley-oop slam dunk from wing Herbert Jones to guard John Petty Jr., you knew it was going to be that kind of night for the University of Alabama men's basketball team. 
Those two seniors and the No. 8 Crimson Tide rolled to a 70-58 victory over in-state rival Auburn on Tuesday night inside Coleman Coliseum behind a tenacious defense effort that forced 23 turnovers, which was a season-high for the Tigers.
"Our defense has been carrying us for a month now," Crimson Tide coach Nate Oats said postgame. "I can't say enough about the job our guys are doing. The job Charlie [Henry] is doing with the defense. ... Gotta clean up the rebounding, but overall I thought our defense was great tonight."
Alabama swept the season series over Auburn and hit the 20-win mark for the season, the first of the Nate Oats era. Overall, Oats is 3-1 versus coach Bruce Pearl and the Tigers since arriving at the Capstone. 
It's the first sweep of Auburn since the 2014-2015 season and first 20-win season in 10 years for Alabama.
From the jump, the Crimson Tide began the game by knocking down four of its first nine three-point attempts, taking a 24-10 lead with 9:13 left in the opening period. 
Auburn's offense was suffocated in the first half, committing 15 turnovers and only shooting 40 percent from the field. The Tigers could never get back within single digits of Alabama and trailed at intermission 37-27. 
However, in part to the Crimson Tide's ice-cold shooting to begin the second half, Auburn was able to cut the deficit down to five with 8:05 remaining but a 13-2 run led by Alabama guard Jaden Shackelford sealed the 12-point victory. 
As a whole, Alabama held Auburn to 39.6 percent from the field and 25 percent from three-point range.
"This is the best defensive team I've coached," Oats said.
Shackelford finished with a game-high 23 points on 8-of-16 shooting, including five triples. He was only shooting 25.6 percent from beyond-the-arc in SEC play before Tuesday. 
"It was great to see Shack making some shots," Oats said. "He works so hard in the gym. He's a great kid. Just keep telling him to take open shots and he took them. Finally got himself going. Maybe we can get some of our other shooters to follow him up. We needed him tonight offensively."
Guard Jahvon Quinerly and Petty both added 11 points a piece and Jones finished with 10 points on 5-of-11 shooting. However, Alabama only went 10-of-35 from deep. 
Auburn (12-14, 6-11 SEC), who missed star freshman guard Sharife Cooper for a third straight contest due to an ankle injury, was fueled by sophomore guard Jaylin Williams who poured in a team-high  13 points.
Following the final buzzer, there was an on-court celebration for the Crimson Tide commemorating it's 2020-2021 SEC regular-season title where each player, coach and manager cut down a piece of the nets from each basket. 
"No matter what year is for me," Oats said. "It should be about the kids. Hopefully, I'm coaching for 20-25 more years but they only get one chance at this thing. I'm really happy to see the excitement, the joy, everything on their face. You could tell how emotional they were. Happy to cut down the nets. It's just unfortunate we couldn't pack the place out."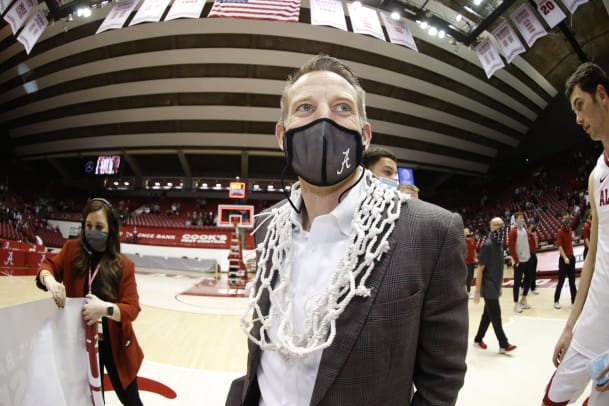 Alabama (20-6, 15-2 SEC) will close the regular season in Athens on Saturday afternoon versus the Georgia Bulldogs inside Stegeman Coliseum at 1 p.m (CT), which will be televised on CBS. 
"I thank God every day that I made the decision to come here," Petty, who finished his career in Coleman Coliseum scoring 673 points, said. "It's probably the most-right decision I've ever made in my life. Cutting the nets down, everything just went through me — all the highs and lows. It seemed like I was just getting on campus yesterday. It went by fast. 
"I haven't cried yet but I feel it coming. I'm just real happy."