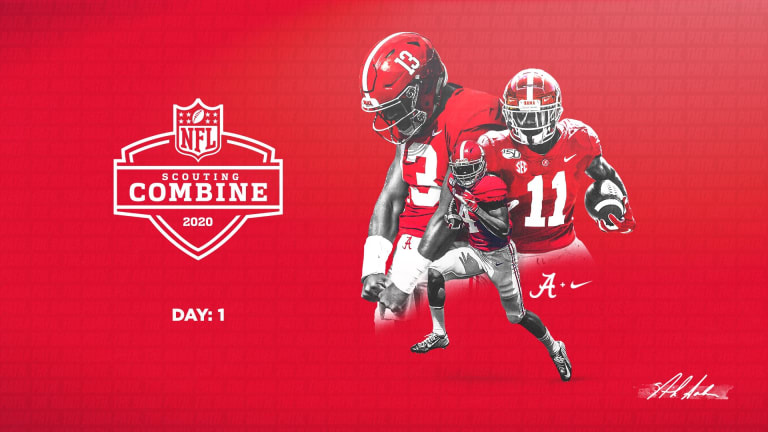 Live with the Tide: Jerry Jeudy and Henry Ruggs III Stand Out at NFL Combine
The quarterbacks, tight ends, and wide receivers will showcase their talent in front of NFL scouts and coaches at the NFL Combine on Wednesday evening
The first day of on-field drills at the 2020 NFL Combine is here. 
First up will be former University of Alabama wide receivers Jerry Jeudy and Henry Ruggs III. The schedule of events is listed below: All times are central (CT).
Vertical jump - 5:30 p.m.
Broad jump - 6:00 p.m.
40-yard dash - 7:00 p.m.
Drills - 8:00 p.m.
BamaCentral will have coverage of what happens with these two former Crimson Tide standouts in Indianapolis as it unfolds throughout the evening. 
NFL Network and ESPN will both broadcast the event from 3 p.m - 10 p.m.
Alabama Defensive Backs Get Measurements While DE/LBs Speak to the Media on Day Four of NFL Combine
Jedrick Wills, Jr. and Three Alabama Defenders Highlight Day Three of NFL Combine
What Happened With Alabama Players at Day Two of the NFL Combine?
First Former Alabama Players Start Going Through NFL Combine
10 Things Every Alabama Fan Needs to Know About the 2020 NFL Combine
Live Updates
9:40 p.m - Ruggs is out here doing what has never been done:
8:55 p.m - The broadcast showed a video of John Ross watching Ruggs run the 40 and NFL analyst Steve Smith said, "He might be watching him take his job too the way he plays."
8:50 p.m - Ruggs is done for the evening. He is getting ice on his quads now. Says he will be ready to run routes at Alabama's Pro Day on Mar. 24. 
8:45 p.m - Moving on now to the gauntlet drill, it does not appear Ruggs is on the field for this one. His official 40 time is 4.27. That is good for sixth all time at this event. 
8:35 p.m - The receivers are now going through the on-field route running drills. Jeudy missed his first deep ball. He catches one in stride on his second time through the drill. Dallas Cowboy legend Michael Irvin calls Jeudy, "Mr. Smooth."
8:25 p.m - Ruggs runs a 4.31 on his second try. Not his best, but still mighty impressive.
8:15 p.m - On his second attempt, Jeudy runs an official 4.52. That is down from his first by .06.
8:05 p.m - Ruggs does not break John Ross' record, but he does run an official 4.28 on his first try. Second try coming up for this group of receivers. 
7:55 p.m - Jeudy runs an unofficial 4.46 for his first attempt at the 40. 
7:35 p.m - Hurts helped himself a great deal tonight in all of the drills. NFL Network analyst Charles Davis said "it was not just good, it was exceptional." Jeremiah even said that he does not see Hurts falling below the second round. 
7:30 p.m - After this commercial break, Ruggs and Jeudy's 40-yard dashes should be coming up next.
6:55 p.m - Hurts' official 40 time came in at 4.54. 
6:50 p.m - Jeudy's official vertical jump was 35 inches, while his official broad jump was 10 feet. 
6:45 p.m - Ruggs finished with an official vertical jump of 42 inches. In case you needed a reminder of his hops, check out the video above. Ruggs' official broad jump was 10 feet and 11 inches. 
6:35 p.m - NFL.com's Daniel Jeremiah just said Hurt's footwork is as good as any quarterback in the class. NFL Hall of Famer Kurt Warner added that he reminds him of Russell Wilson.
6:22 p.m. - Hurts is now going through the throwing drills and so far, so good. His spiral lis tight and hitting receivers right in the chest. 
6:05 p.m. - Tua Tagovailoa and former LSU quarterback Joe Burrow chatting it up as they look the quarterbacks and wide receivers going through the drills. Tagovailoa will have his own showcase on April 9. 
5:15 p.m - While we await the wide receivers to go, former Alabama and Oklahoma quarterback Jalen Hurts just ran the fastest 40-yard dash time out of the quarterbacks so far, with a time of 4.59. His first attempt was 4.64.
This story will be updated.