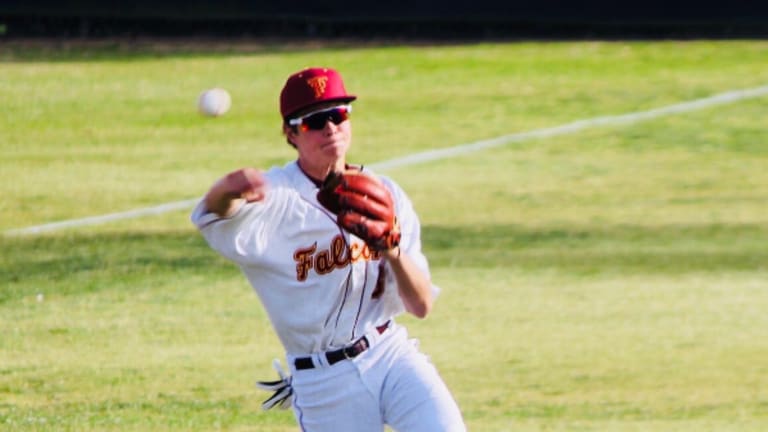 UCLA Baseball Recruiting Class Spotlight: INF Bryce Grudzielanek
The San Diego-based infielder brings versatility and a contact-first bat profile to the Bruins
UCLA baseball has 14 new players coming to Westwood this fall to replace the 10 who got picked in the 2021 MLB Draft and even more who graduated and went elsewhere. From top recruits to under-the-radar prospects and high-profile transfers, All Bruins is breaking all of them down to see what they could offer UCLA in 2022 and beyond.
Here is the scoop on incoming freshman Bryce Grudzielanek.
The son of former major leaguer Mark Grudzielanek and UCLA softball alumna Danielle Martin will look to make a name for himself with the Bruins this spring.
Joining a UCLA baseball roster that lost a lot of its starting options to graduation and the MLB Draft, Bryce Grudzielanek's infield utility background gives coach John Savage options for the young infielder's future. Playing his high school career at Torrey Pines High School (CA) in San Diego, Grudzielanek was listed as playing third base and shortstop for the majority of his playing time.
With a tool set that combines contact, speed and fielding ability, Grudzielanek ranked as a top infielder in the state.
Perfect Game has Grudzielanek nationally ranked as the No. 314 player and No. 64 middle infielder in his class. Within California, the incoming freshman ranked No. 35 overall and was the No. 12 middle infielder.
In 31 games for Torrey Pines High School, the right-handed Grudzielanek had a .363 batting average with 10 doubles and six home runs.
Being 6-foot-3 and 180 pounds, Grudzielanek has time to grow into his frame and create power from developing within the Bruins' program.
In June, Grudzielanek took part in the brand new MLB Draft Combine. The event provided opportunities for prospects to get advice and get in front of MLB scouts through the invite-only process similar to the NBA and NFL Draft Combines.
Prospects Live described Grudzielanek with the following short statement: "Short to the ball despite long levers, gets good extension. Uses all fields approach, doesn't sell out for loft. Plus arm."
Grudzielanek was one of many Bruins to play summer baseball prior to joining UCLA for their freshman campaigns.
Playing for the Yakima Valley Pippins in the West Coast League alongside new UCLA teammate Alex Fernandes, Grudzielanek went to the WCL championship with the Pippins. They ultimately came up short after losing game three, and Grudzielanek did not appear at all in the three-game series.
In 20 games for the Pippins, Grudzielanek hit .229 with seven RBIs, three doubles and five stolen bases. He shuffled through three positions while in Yakima Valley, playing seven games at third base, two at first base, and one at shortstop.
Though not known as a power threat, there are expectations from his prior baseball experience that Grudzielanek could develop sneaky pop at the college level, hitting the occasional home run like he did in high school.
His father Mark hit eight home runs per 162 games as a middle infielder in 15 MLB seasons, so Bryce becoming a power hitter would be a departure from his dad's playstyle.
Prediction
Likely slotting behind fellow freshman infielder Cody Schrier on the depth chart, Grudzielanek will find ample opportunity to jump off the bench into playing time. Midweek contests and defensive substitutions may be the first way the middle infielder gets involved this spring. Senior infielder Jake Moberg will be ahead of most new Bruins trying to play on the left side of the infield, but Savage will have a lot of options to fill out his lineup – including answering the dilemma of which position he would like to see Grudzielanek play on his team.
With Mikey Perez gone, second base seems like a good spot for Grudzielanek to start off at, but he still probably won't be a day one starter there either. Down the road, he has the body of a third baseman or shortstop. As it always is with these deep Pac-12 squads, it's going to be all about timing, depth, fit and luck.
Follow Royer on Twitter at @thebenroyer
Follow All Bruins on Twitter at @SI_AllBruins
Like All Bruins on Facebook at @SI.AllBruins
Read more UCLA stories: UCLA Bruins on Sports Illustrated
Read more UCLA Baseball stories: UCLA Baseball on Sports Illustrated