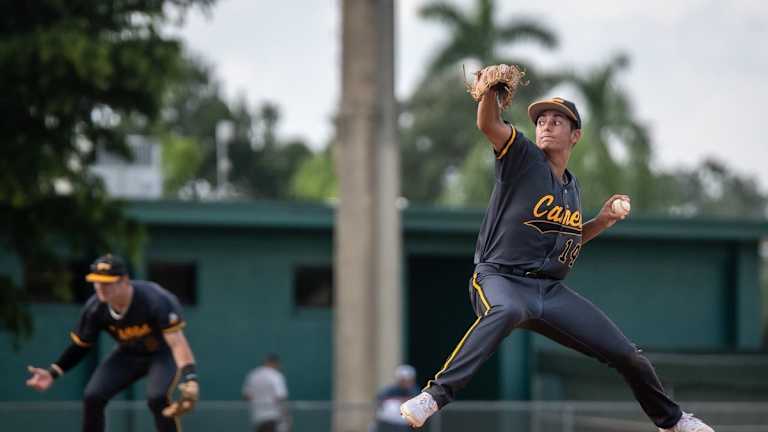 UCLA Baseball Recruiting Spotlight: LHP Gage Jump
The Bruins' top-ranked lefty will bring big expectations to Westwood packed into a small frame.
UCLA baseball has 15 new players coming to Westwood this fall to replace the 10 who got picked in the 2021 MLB Draft and even more who graduated and went elsewhere. From top recruits to under-the-radar prospects and high-profile transfers, All Bruins is breaking all of them down to see what they could offer UCLA in 2022 and beyond.
Here is the report on incoming freshman Gage Jump.
The top left-hander in California is set to be a Bruin.
The top-ranked pitcher from Orange County chose college over the pros. UCLA baseball has seen this once before with Gerrit Cole, and now it is Gage Jump's turn. Though those are lofty expectations, Jump's early high-profile nature makes it similar to the attention Cole received after choosing the Bruins over a first-round signing bonus over a decade ago.
After foregoing the 2021 MLB Draft in favor of college baseball in July, the southpaw was still selected by the San Diego Padres in the 18th round, signaling the risk Major League teams are willing to take on his talent knowing full well he wouldn't sign.
Playing at JSerra Catholic High School (CA), Jump went undefeated in his senior season. The left-hander went 9-0 with 107 strikeouts and a 0.63 ERA all within 56 innings – yes, that's good for a 17.2 K/9. If Jump's numbers in high school were a show of what is to come, coach John Savage will try and get the southpaw involved early.
Similar to his new teammate and fellow incoming freshman pitcher Thatcher Hurd, Jump received high rankings coming out of high school. Perfect Game had Jump ranked as the No. 45 player and No. 7 left-handed pitcher in the country. Within California, Hurd is No. 4 overall and the No. 1 southpaw in the state. MLB.com had Jump ranked as the No. 43 player in the entire 2021 draft class were he to be selected, good enough for some mock drafts to have Jump going as early as the first round.
Though Jump has a small frame at 5-foot-11 and 170 pounds, he slings the ball in from the left side with velocity. Already sitting at low-to-mid-90s with his fastball, the lefty mixes the heat with a curveball, slider and changeup. His consistent, overarm delivery creates deception with his breaking options.
Jump expressed how he attacks batters to Scorebook Live in June.
"I act like I'm 6-foot-6 out there," Jump said. "I look at the batter, look him in his eyes, and I really think I'm going to beat him."
Coming to UCLA alongside former JSerra teammates Cody Schrier and Luke Jewett, Jump will have familiar faces around him freshman year with the three being a rare trio making the leap to the same school for college.
Prediction
Savage has the luxury of many options to start for the Bruins in the spring and Jump should be one of them. Pitchers Jared Karros and Max Rajcic should have the Friday and Saturday spots wrapped up with some certainty, but Jump could push for one of their roles by season's end. Jump's main competition for a Sunday starting role would be pitcher Jake Brooks, who made the Cape Cod Baseball League All-Star team this summer, or pitcher Kelly Austin, who was the Orange Empire Conference Pitcher of the Year in the junior college ranks. Savage knows he has a prized prospect on his hands and will treat the lefty with care in year one, but Jump should start and create an impact with the likely revolving door of pitchers in 2022.
Follow Royer on Twitter at @thebenroyer
Follow All Bruins on Twitter at @SI_AllBruins
Like All Bruins on Facebook at @SI.AllBruins
Subscribe to All Bruins on YouTube
Read more UCLA stories: UCLA Bruins on Sports Illustrated
Read more UCLA baseball stories: UCLA Baseball on Sports Illustrated