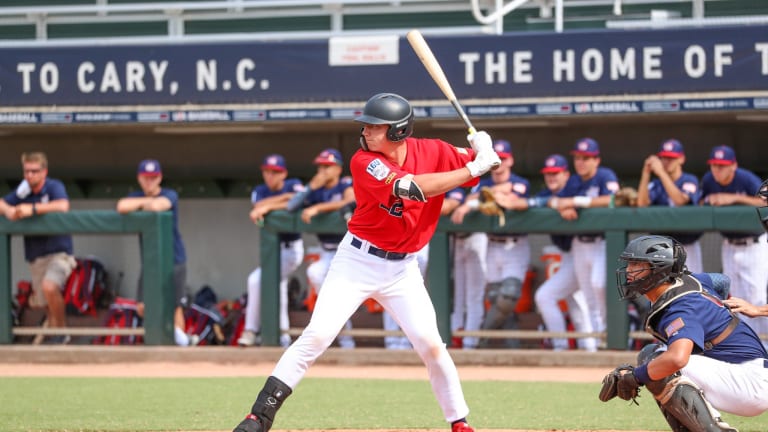 UCLA Baseball Recruiting Class Spotlight: C Jack Holman
One of the top-ranked backstops in California is set to come to Westwood in the spring
UCLA baseball has 14 new players coming to Westwood this fall to replace the 10 who got picked in the 2021 MLB Draft and even more who graduated and went elsewhere. From top recruits to under-the-radar prospects and high-profile transfers, All Bruins is breaking all of them down to see what they could offer UCLA in 2022 and beyond.
Here's everything you need to know about incoming freshman Jack Holman.
The Bruins' new arrival could grab playing time right off the bat with some serious pop at the catcher position.
Moving into the fold at UCLA this spring, Jack Holman provides depth at a position that is suddenly inexperienced after three-year starter Noah Cardenas was drafted this July. Playing his previous four years at Etiwanda High School (CA), Holman led the Eagles in multiple offensive categories. Holman now supplies coach John Savage with a lot to think about regarding who plays at catcher in 2022.
Playing in 25 games his senior year at Etiwanda, Holman hit a team-high .462 with three home runs, four triples, four doubles and 23 RBIs. Hitting at an average just below .500 sets Holman up to carry that hit tool over to the Bruins' lineup, even if the number itself won't translate one-to-one.
Perfect Game has Holman ranked as the No. 292 player and No. 27 catcher in the 2021 recruiting class. Within California, the Wrightwood native is ranked the No. 33 player and No. 3 backstop.
With his 6-foot-4 frame, Holman is built to have power potential at the plate. His batting stance draws similarities to Bruin alumnus Michael Togila. The catcher has a wide stance and swing that opens to pull the ball more often than not. Similarly to Togila, Holman could be driving balls over the right field wall at Jackie Robinson Stadium and into The Jack and Rhodine Gifford Hitting Facility.
Take a look at these two videos of Togila and Holma's swings:
This summer, Holman played with the Port Angeles Lefties of the West Coast League. While he did not set the world on fire overall, the left-handed hitter did showcase the raw power he possesses.
In a departure from his high school ball, Holman hit .194 with four home runs, nine doubles and 12 RBIs in 45 games with the Lefties.
A report from Baseball Factory in July 2020 shows Holman hitting the ball with an exit velocity of 100 mph. Heading into the spring, if the Bruins are looking at hitters from an analytical perspective, Holman could succeed early just from hitting the ball harder than anyone else.
Prediction
Catchers Darius Perry and Tommy Beres have both only started one game apiece in their collegiate careers, leaving a lot up for grabs behind the plate with opening day months away. Being a junior, Perry likely has the nod to become starting catcher, but Holman has a case as well despite starting out on the raw side. Playing in the same summer league before their freshman campaigns, Holman showed a more polished hitting ability than Perry did in 2019, at least statistically. Holman likely starts the 2022 season as the backup catcher just ahead of Beres on the depth chart, but one that rotates in often. All three Bruin catchers should see the field, either way, this spring.
Follow Royer on Twitter at @thebenroyer
Follow All Bruins on Twitter at @SI_AllBruins
Like All Bruins on Facebook at @SI.AllBruins
Read more UCLA stories: UCLA Bruins on Sports Illustrated
Read more UCLA baseball stories: UCLA Baseball on Sports Illustrated