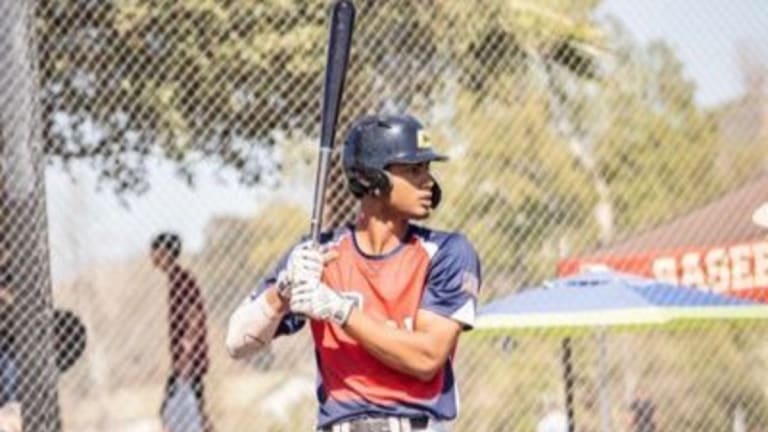 UCLA Baseball Recruiting Class Spotlight: OF Malakhi Knight
One of the Bruins' two commits from Washington was the top-ranked player in the Evergreen State.
UCLA baseball has 14 new players coming to Westwood this fall to replace the 10 who got picked in the 2021 MLB Draft and even more who graduated and went elsewhere. From top recruits to under-the-radar prospects and high-profile transfers, All Bruins is breaking all of them down to see what they could offer UCLA in 2022 and beyond.
Here's a quick introduction to incoming freshman Malakhi Knight.
Initially committed to Oregon State, UCLA swooped in and secured the No. 1 player in Washington to play in Westwood this spring.
A two-sport athlete in high school, Malakhi Knight was The Herald's 2021 Boys Basketball Player of the Year for the second-straight season whilst simultaneously being a top MLB Draft prospect. Playing both sports at Marysville Getchell High School (WA), Knight was both sports' top player this past season.
When the MLB Draft came around in July, Knight withdrew from being a possible selection. He had been rumored to be as high as a second round pick according to his advisor, CAA's Joe Urbon.
According to Perfect Game, Knight was ranked as the top outfielder and overall player in Washington. The right-handed hitter was also ranked as No. 8 outfielder and No. 26 player in the country.
During his varsity baseball career at Marysville Getchell, Knight slashed .352/.458/.514 with one home run, 20 RBIs and 18 stolen bases.
Knight played summer baseball with the Bellingham Bells of the West Coast League, putting up some of the better statistics of any Bruin this summer.
In 37 games with the Bells, Knight hit .342 with three home runs and 23 RBIs, all while stealing eight bases and walking 23 times. Knight even had a few player of the game efforts as well.
In a scouting report from Prime Time Sports Talk, this is what they had to say about Knight's strength at the plate:
Loud contact. Just those two words should intrigue major league scouts. Knight has a natural lift to his swing and can clobber the ball. He doesn't have much movement as far as leg kick or stride to his swing and he extends his arms well. The bat-to-ball skills are very good at Knight's age and will improve. He has the speed to beat out groundballs and steal a few bags at the major league level as well.
Knight's swing creates power as the pitch comes to the plate. Knight stays on his back leg before exploding at the pitch. This swing shows his raw power in action:
Joe Doyle from Prospects Live breaks down this swing by Knight, relating it to the outfielder's new Los Angeles neighbor, former AL MVP Mookie Betts.
Knight has potential to create problems for Pac-12 opponents with his raw power and speed, much like Garrett Mitchell did from 2018 to 2020, even if it didn't always lead to home runs. Coach John Savage will likely get three years out of Knight before his draft eligible season.
Prediction
Knight likely slots in as a day one starter on the Bruins' roster. Savage has a much larger decision deciding who starts next to Knight and transfer outfielder Kenny Oyama. Knight can move to play all three outfield positions, but left field and right field are where Knight will likely start in the Spring. Mitchell and Matt McLain both were top MLB Draft picks, and although Knight was technically not drafted in July, the incoming freshman carries a similarly high profile that those two had too. In three years, don't be surprised to see Knight get selected in the first round.
Follow Royer on Twitter at @thebenroyer
Follow All Bruins on Twitter at @SI_AllBruins
Like All Bruins on Facebook at @SI.AllBruins
Read more UCLA stories: UCLA Bruins on Sports Illustrated
Read more UCLA baseball stories: UCLA Baseball on Sports Illustrated