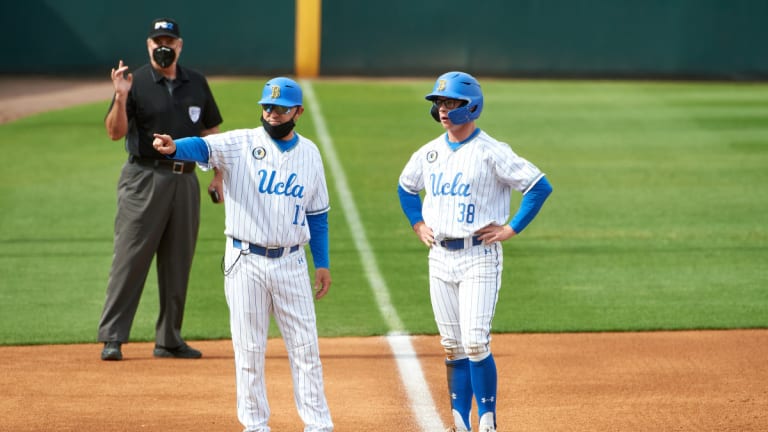 Coach John Savage Makes Changes to UCLA Baseball Staff, Longtime Assistant Retires
Former Bruin players Niko Gallego and David Berg received promotions, while 10-year assistant Rex Peters retired.
The Bruins have made some adjustments in the dugout with one longtime coach saying goodbye.
Coach John Savage announced changes to UCLA baseball's staff for the upcoming spring season Tuesday afternoon. Rex Peters, who has spent the past 10 years as an assistant coach with the Bruins, will retire, ending his 29-year career as a coach in college baseball. Former players Niko Gallego and David Berg have been promoted in response, with Gallego taking on Peters' role as a full-time assistant coach and Berg moving into Gallego's role as a volunteer assistant.
Peters joined the Bruins in 2012 after two stints as a head coach at UC Davis and Chapman. The veteran coach was part of the staff that helped bring home the program's first NCAA championship in 2013.
"Rex was an assistant that showed tremendous loyalty and consistency over his 10 years at UCLA," Savage said in a statement. "He was the consummate professional, and we won several Pac-12 Championships and a National Championship with Rex being a major part of our program."
Gallego joined UCLA after five seasons in the minor leagues and a collegiate career with the Bruins. A part of the long line of Bruin shortstops, Gallego was a two-time All-Pac-10 player and started more games than any other Bruin in 2010.
"Niko has clearly paid his dues in our program," Savage said in a statement. "From being an all-conference player to an assistant coach, he knows the program and our standards very well. His ability to communicate with the players – and get the most out of them – is something Niko is very natural at, and will help develop many Bruins in the future.
Joining the Bruins as an undergraduate assistant coach prior to the 2015 season, he had previously been promoted to the volunteer assistant role that same year. Gallego has mainly worked with the infielders and joins Savage and assistant coach Bryant Ward on the recruiting trail.
Berg, who holds a handful of spots in the UCLA record books, grabbed a promotion as well.
Playing with the Bruins from 2012 to 2015, Berg holds the NCAA record in career appearances and single-season saves with 175 and 24, respectively.
After two seasons in minor league baseball, Berg made the jump to the UCLA staff in 2019 as an undergrad assistant coach, similarly to Gallego. In the same year, Berg earned a promotion to being the Director of Baseball Operations. Now taking on the role that Gallego held previously, Berg will move into a more hands-on position as a coach.
"David is one of the greatest Bruin baseball players that has ever played at UCLA," Savage said in a statement. "He has done a terrific job as our operations person, and now he will begin his coaching career. His knowledge of our program and his wealth of information will add to the depth of our coaching staff."
UCLA is set to return to campus for fall camp and will get back to competition next February.
Follow Royer on Twitter at @thebenroyer
Follow All Bruins on Twitter at @SI_AllBruins
Like All Bruins on Facebook at @SI.AllBruins
Read more UCLA stories: UCLA Bruins on Sports Illustrated
Read more UCLA baseball stories: UCLA Baseball on Sports Illustrated