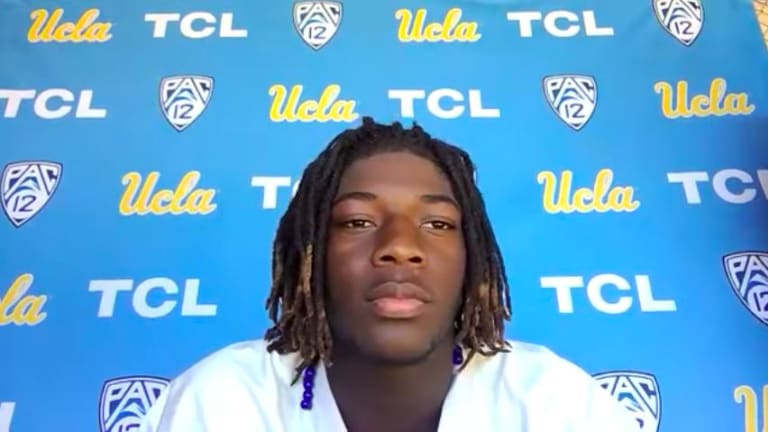 WATCH: Myles Jackson, Brittain Brown on Late Success vs. Arizona, Lessons Learned
The Bruins rushed for over 300 yards against Arizona and had three sacks in the fourth quarter.
UCLA football linebacker Myles Jackson and running back Brittain Brown met with reporters over Zoom following Tuesday's practice.
Jackson talked about how the Bruins broke through and started finishing plays down the stretch against Arizona and what he expects to see out of Washington on Saturday. Brown talked about the benefits of having Zach Charbonnet as a teammate and the recent performance of the UCLA offensive line.
MYLES JACKSON
Expectations for Washington?
Washington's offense, up front, they're pretty tough and physical. They're a tough team, just like us, so I feel like the coaches have given us a good game plan, put us in a position to execute. I feel like it's gonna be a good game though, they're a pretty solid team.
Defense was attacking less against Arizona? More moving forward?
Honestly, I'm not too sure. We just – I'm pretty sure it just depends on ebbs and flows of the game, pretty much, just a week-by-week basis of our game plan. So as players, we just do our best to execute whatever the coach is giving us.
Defense has to tune out the news?
Well, just because the outside is the outside, we have to believe in ourselves first and trust in our teammates. We have enough love and belief in ourselves to know that when we execute and do it the right way, we can get it done, no matter what game plan the coaches give us.
Something changed that helped the pressure get home towards the end?
There's not really anything that we pretty much changed up, per se, it was just a matter of, like – pretty sure just the timing and everything, we just kept trying to execute, eventually started getting there. It wasn't too much scheme emphasis or anything like that, it was just a matter of us coming together and knowing we had to execute and fight hard to hit and that's what we were able to do.
Otito strip sack open the flood gates? Ride momentum?
We definitely did, we picked up momentum in the second half. We knew it was gonna be a tough game, ups and downs, but we knew the team that played harder for longer was gonna come out with the win at the end of the day, so that's what we tried to focus on.
BRITTAIN BROWN
Where does your 48-yard TD run rank among your favorites?
For my whole career, I'm not sure; it was definitely a satisfying run, that whole game we were getting off on them boys and as soon as I saw that hole, that little sliver to the right of me, I just hit that thing, so it felt natural and it felt good to break off a 48-yard touchdown run like that.
What goes into rotations with Zach?
Yeah, we don't really worry about who's going in first or who's starting or anything like that. We run the ball so much, we know we're both going to get a good amount of carries and even if you don't, it's really about seizing the opportunities that they give you. So, I mean, whoever gets less, whoever gets more, it's just going with the ebbs and flows of the game. I love the way we're running, we're both doing our thing and if we've got two, it's a lot easier to rely on your brother just to know you've got somebody else too.
Keep you both fresh?
I'd definitely say I feel a lot fresher than most years I've stayed healthy—y'all know I've had a couple of injuries in my career back in the day, so it's been really good so far and fingers crossed, I'm not trying to jinx myself or nothing like that, but yeah, it's definitely keeping our legs fresh.
Sean Rhyan and Paul Grattan helping run again against Arizona?
Uh, yeah, they were able to get behind their pads and with those guys out there, I remember a play specifically, I wasn't in the game but I was watching the edge and Sean Rhyan caught somebody when Zach hit that 37-yard run, so I mean, every time they're out there, we have the potential to break a long run and we know that, so just running behind those guys is really good for us and I know they're going to keep doing their thing and keep doing a good job on that left side. Duke doing the center, we had to move guys around a couple of times with Sam Marrazzo being out too, so I'm proud of him as well.
Washington bad run defense?
Yeah, we've just been watching the explosive runs, really. Our coach always tells us to be ready for your moment. We haven't watched that much film yet but just starting to get into it. I know they like to blitz from the outside, so we're just going to take advantage of the game plan and keep doing what we've been doing, really.
Run game extra important when pass game isn't working?
Yeah, it's easy to take what the defense is giving us, you know what I mean? We could see that the run was working in the first half, we were hitting for like seven yards a carry, so it's like, why would you stop and try to do something different? You know, we tried to hit a couple of play-action passes too just to kind of [inaudible] things out but you know, when you run for 300 rushing yards or something like that, you know you're going to be able to rely on the run and if people adjust to that, we're going to go back to the passing game, just whatever the defense gives us.
Give you confidence with so many rushing weapons?
I'm very confident because we've really got three running backs, four running backs that we can rely upon, including Dorian—he's going to do it with his legs too. I think it helps a lot because it keeps teams from blitzing us too much because he'll get out of there real quick and bust off a 50-yard run as well and when Zach's in there and he breaks a long one, they've got to worry about me if I'm in there breaking a long one, they've got to worry about a fresh Zach coming in there, so I think it's easy to rely on the run game and the line loves blocking for us and they love running the ball, I think that's one of their favorite things to do, so we'll keep on with the keep on.
Relationship with OL? Best friends?
I'm probably best buddies with Paul Grattan, just cause we're about the same age, both 24, old dudes up here, and we both came in together as well so that's my guy.
Fernea played Saturday, inspiring to see him play with club?
Oh yeah, that's a bronco. I knew he wasn't gonna stay out too long. This is his sixth year too, so he was really telling me he wanted to get back as fast as he could. They gave him the option to club it up, wrap that cast up and he's been back out here, ready to go. So I think he's back in the rotation too, so you might see him at RB a couple times, you never know.
Get you pumped up seeing him return so fast?
Yeah, it just goes to show you that we're all determined to play, we all want to play. Never had a team that wants to be on the field so bad, we've got so many people, we've got a deep depth chart and it just shows you that we love the game and we don't ever want to stop playing this game, just gonna play for as long as we can. If this is our last opportunity and you can get back as fast as you want to, then you might as well come back and try and play. Nobody's gonna be 100% during a game, this is halfway through the season now.
Follow Connon on Twitter at @SamConnon
Follow All Bruins on Twitter at @SI_AllBruins
Like All Bruins on Facebook at @SI.AllBruins
Subscribe to All Bruins on YouTube
Read more UCLA stories: UCLA Bruins on Sports Illustrated
Read more UCLA football stories: UCLA Football on Sports Illustrated