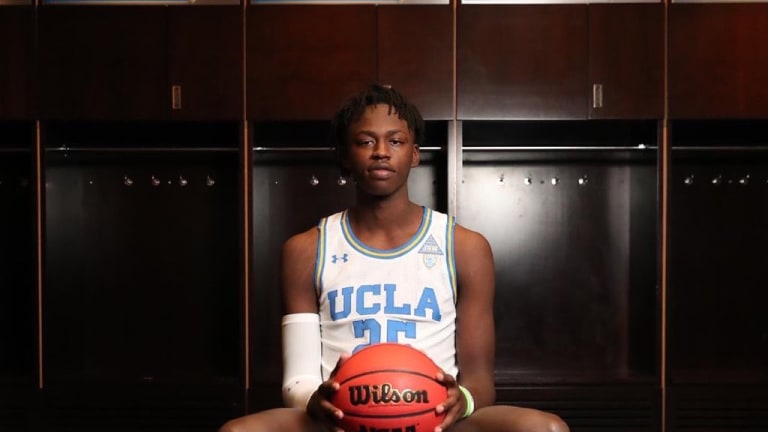 2022 SF Mark Mitchell lists final four, UCLA men's basketball in the running
One of the top-rated wings in the country is considering the Bruins as he looks to make his decision in December or January
The Bruins are officially in the running for one of the top remaining recruits in the country.
Class of 2022 small forward Mark Mitchell announced his top four schools Saturday morning, and UCLA men's basketball made the cut alongside Duke, Kansas and Missouri. Mitchell had also received offers from North Carolina, USC, Illinois, Kentucky, Michigan, Texas and Virginia, among others.
The rising senior at Sunrise Christian Academy (KS) is rated as a five-star prospect by Rivals and 247Sports, while ESPN has him pegged as a high four-star. The three outlets have him ranked as the No. 8, 9 and 17 recruit in the country, respectively.
The Bruins were one of the first programs to extend Mitchell an offer back in June 2020. Mitchell took a visit to UCLA in early June 2021, and he is expected to take another official to Westwood in the next month or two.
"The campus is beautiful, for sure. The weather is great," Mitchell told Zagsblog in June. "I really love the coaching staff. They're down to earth, genuine people. And just the players They love the coaching staff, for sure. They love (Mick) Cronin. They all have dire respect and love him at the end of the day. That was something that really stood out to me."
Mitchell measures in at 6-foot-8 and 205 pounds and is known most for his athleticism and defense. The lefty also gets a lot of touches in the post, and his handle is better than expected for a wing of his size.
In his junior season at Bishop Miege (KS), Mitchell averaged 18.1 points, 6.3 rebounds 1.1 steals and 0.9 blocks per game while shooting 71.4% from the field. Even though his shooting has been regarded as an area that needs improvement, Mitchell hit 43.8% of his attempts from 3 on 1.9 tries per game and 80% from the free throw line on 3.2 attempts per game.
An injury has held Mitchell out of most summer ball.
As of January, Mitchell's brother lived in Los Angeles, and he told Zagsblog he loved the city.
UCLA already has two commits in its 2022 class – guards Amari Bailey and Dylan Andrews. Bailey is the No. 1 player in the nation, while Andrews is squarely inside the top 50.
Mitchell has previously said he is aiming to make his commitment in December or January. In adding Mitchell, UCLA could jump to the No. 1 or 2 recruiting class in the country according to the 247Sports Composite.
Follow Connon on Twitter at @SamConnon
Follow All Bruins on Twitter at @SI_AllBruins
Like All Bruins on Facebook at @SI.AllBruins
Read more UCLA stories: UCLA Bruins on Sports Illustrated
Read more UCLA men's basketball stories: UCLA Men's Basketball on Sports Illustrated