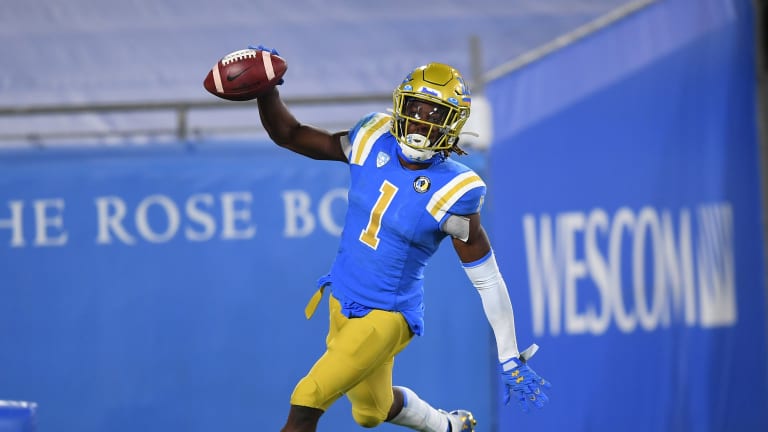 Under Armour Countersues UCLA, Cites Bruins Covering Company's Logo on Jerseys
There is another wrinkle in the nine-figure lawsuit between UCLA and its former apparel company.
The Bruins seemed to be taking a stand against racial injustice when they introduced their "Stand Together" patches in 2020.
That isn't how Under Armour sees it, apparently.
UCLA football, being the first team on campus to return to competition in the 2020-2021 academic year amid the COVID-19 pandemic, introduced a patch on the top right corner of their jerseys after an offseason dominated by Black Lives Matter, George Floyd protests and other discussions of racial inequality. It featured three Black Power fists – one blue, one black and one yellow – surrounded by a ring that read "Stand Together" on the top and "Equality-Justice-Respect" on the bottom.
Other Bruin teams followed suit and wore the same patch on their uniforms in the same spot.
A spot that happened to already be occupied by the Under Armour logo.
Under Armour had backed out of its 15-year, $280 million contract with UCLA several months earlier, which the university sued them for not long after. The apparel company had agreed to still provide teams equipment and uniforms through the 2020-2021 academic year though, so even though the Under Armour logo was covered up by the "Stand Together" patch, the jerseys were still made by Under Armour.
As a result, Under Armour countersued UCLA on Monday, as was first reported by the Los Angeles Times. Under Armour said in its countersuit that UCLA ignored the company's request to put the patch somewhere else, and that the school used the cover of social justice to undercut their company and branding.
"It became clear that UCLA used the social justice patch placement not to promote an agenda of social justice, but to act in the very 'petty and vindictive' manner that its counsel assured Under Armour would not occur," Under Armour wrote in the suit.
The company also said UCLA football coach Chip Kelly had violated the post-termination agreement by covering up the Under Armour logo on his shirts with a American Football Coaches Association logo.
Lawyers representing UCLA told the LA Times there was no intention to be petty or vindictive by damaging the Under Armour logos in any way.
UCLA sued Under Armour for $200 million in August 2020, a suit that a judged refused to dismiss at the request of Under Armour in August 2021.
The school stood with its ongoing suit Monday, claiming Under Armour's criticism of the patch and its message against racial injustice was a bad look for the company.
"It seems like the end times when you see a corporate goliath question student-athletes' commitment to social justice, as Under Armour does in its complaint," Mary Osako, UCLA vice chancellor of strategic communications, said Monday to the LA Times. "In reality, the social justice patches on UCLA jerseys last year were part of an initiative led by our amazing student-athletes. Bruins everywhere aren't sure if Under Armour can go much lower."
The next court date for UCLA and Under Armour is scheduled for Thursday.
Follow Connon on Twitter at @SamConnon
Follow All Bruins on Twitter at @SI_AllBruins
Like All Bruins on Facebook at @SI.AllBruins
Read more UCLA stories: UCLA Bruins on Sports Illustrated
Read more UCLA football stories: UCLA Football on Sports Illustrated