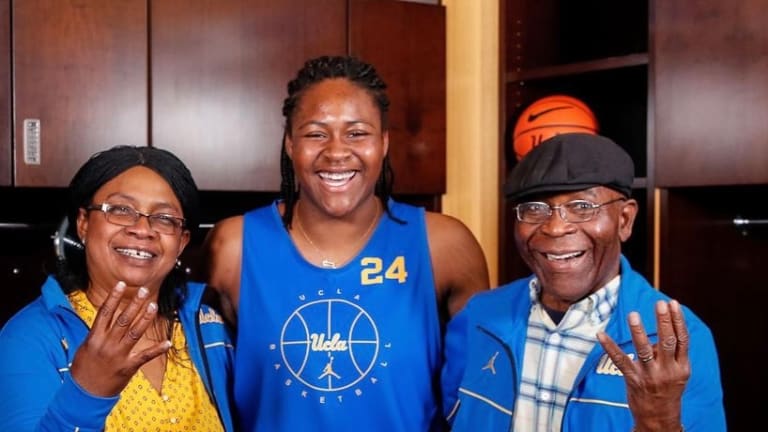 2022 Forward Christeen Iwuala Commits to UCLA Women's Basketball
The three-star commit joins the Bruins after accumulating over 1,000 career points in the Texas high school circuit.
The Bruins' upcoming recruiting class just got a little bigger.
Christeen Iwuala, a 2022 post player from San Antonio, Texas, has committed to UCLA women's basketball. Iwuala becomes the sixth member of the class, joining guards Londynn Jones, Paris Clark and Elena Buenavida as well as forwards Gabriela Jaquez and Lina Sontag.
According to the ESPN HoopGurlz rankings, Iwuala is a three-star post player who ranks No. 70 ranked in her class and No. 9 at her position. The junior from Ronald Reagan High School (TX) also has a 92 grade, according to ESPN.
With 16 Division I offers to play basketball at the collegiate level, UCLA was the only Pac-12 team to offer Iwuala. Notable schools that offered Iwuala were Alabama, Louisville, Oklahoma, Oklahoma State, TCU and Texas. According to WBB Blog, Arizona, Cal, Stanford and Utah all showed interest, but none of the four offered.
On Sept. 3, Iwuala took a visit to UCLA, posing with her family in Pauley Pavilion while donning the Bruins' blue and gold. The only other visit documented by Iwuala was a June 16 trip to Baylor.
Iwuala spoke to Spectrum News in February about her relationship with her dad, who immigrated from Nigeria in the 1980s, and how much he's pushed her through the years.
"If I can't go out and shoot like 50 shots, and he's staying up till five in the morning to do work, then honestly it's no comparison," Iwuala said.
In July, the 6-foot-4 prospect won championship game MVP honors at the Adidas Nationals Championships with her club, SA Finest. Iwuala had 18 points, seven rebounds and two steals in the contest.
At Ronald Reagan High School, Iwuala played alongside five-star wing Sammie Wagner, with the two being a duo during Iwuala's junior season.
On Iwuala's announcement post on Instagram, UCLA alumna and WNBA Rookie of the Year favorite Michaela Onyenwere let it known how she felt about the 2022 post player committing by commenting, "Looooveee it."
With Iwuala's size on the court, it could be likely that she slots into the Bruins' rotations quickly when she arrives on campus next fall, 2022. At 6-foot-4, the rebounding presence Iwuala brings could make her a key part of coach Cori Close's lineup.
UCLA now has six freshmen set to take the court in the 2022-2023 season, presumably taking care of the depth issues that plagued the team last season for future iterations of the Bruins.
Follow Royer on Twitter at @thebenroyer
Follow All Bruins on Twitter at @SI_AllBruins
Like All Bruins on Facebook at @SI.AllBruins
Read more UCLA stories: UCLA Bruins on Sports Illustrated
Read more UCLA women's basketball stories: UCLA Women's Basketball on Sports Illustrated