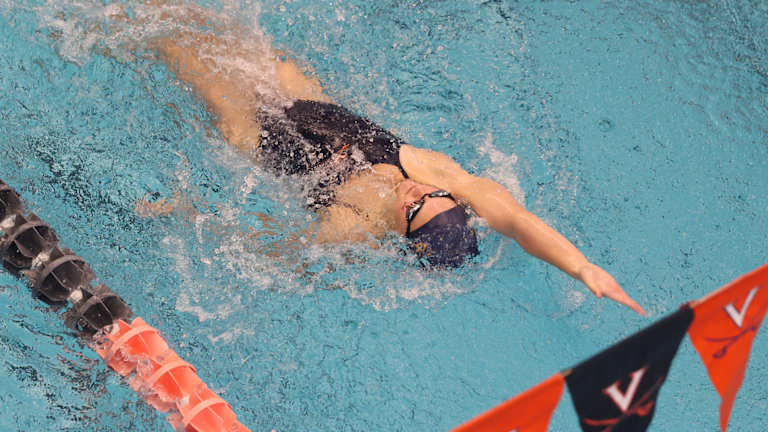 No. 1 UVA Women's Swim & Dive Dominates Virginia Tech
The top-ranked Cavaliers crushed the Hokies 193-107 in Blacksburg on Saturday
The Virginia swimming & diving teams traveled to Blacksburg on Saturday to take on Virginia Tech in the Commonwealth Clash at the Christiansburg Aquatic Center. 
The top-ranked Virginia women were utterly dominant, claiming first place in all but three events in the meet and crushing the Hokies 193-107. 
Gretchen Walsh, a first year, won three individual events, finishing first in the 200-yard backstroke, 200-yard individual medley, and 50-yard freestyle. Junior Maddie Donohoe won both the 500-yard freestyle and 1000-yard freestyle events. Sophomore Alex Walsh placed first in the 100-yard backstroke and the 100-yard butterfly. 
Fresh off of her five-medal performance at the FINA World Championships in Abu Dhabi in December, junior Kate Douglass won both the 100-yard breaststroke and the 100-yard freestyle. Senior Alexis Wenger won the 200-yard breaststroke and freshman Emma Weyant won the 200-yard freestyle. 
The Cavaliers were just as successful in the relays, claiming both first and second in the 200-yard medley relay, with the team of Kate Douglass, Ella Nelson, Abby Harter, and Alex Walsh finishing first with a time of 3:20.10. UVA's team of Ella Nelson, Ella Bathurst, Reilly Tiltmann and Alex Walsh also won the 400-yard freestyle relay in the final event of the meet. 
The 17th-ranked Virginia men's swimming & diving team fell to No. 16 Virginia Tech 187-113. 
The UVA men won three events in the meet. Sophomore Matt King won the 50-yard freestyle with a time of 20.05 and sophomore Matt Brownstead finished right behind him in second place with a time of 20.06. Senior Justin Grender claimed first place in the 200-yard backstroke and sophomore Noah Nichols won the 100-yard breaststroke. 
Grender and King also notched second-place finishes in the 100-yard backstroke and 100-yard freestyle, respectively. Virginia recorded nine podium finishes in addition to the three event wins, including second and third place finishes in the 1000-yard freestyle (sophomore Tanner Hering and freshman Peter Thompson) and the 200-yard butterfly (junior Josh Fong and senior Casey Storch). 
Virginia returns home to host North Carolina on Friday (1/21) and NC State on Saturday (1/22) at the Aquatic and Fitness Center. 
---
Read more from Cavaliers Now
Michigan State DE Jack Camper Transfers to Virginia
Virginia Linebacker West Weeks Transfers to LSU
Late Scoring Drought Dooms Virginia in 63-55 Loss to Wake Forest
Watch: Joey Blount Makes Game-Winning Interception in Hula Bowl
Air Force DBs Coach Curome Cox Joins Virginia Football Coaching Staff
Virginia OT Ryan Nelson Declares for NFL Draft
Tony Elliott Secures Two More In-State Commitments for UVA Football
Virginia QB Brennan Armstrong Announces He Will Return to UVA for Another Season